Stillwater Stoneworks
Las Vegas Fabricator & Sculptor Approaches Stone from a Different Angle
by Stacy B. Williams
Photos by Johnny Vizina (Hover cursor over images for captions)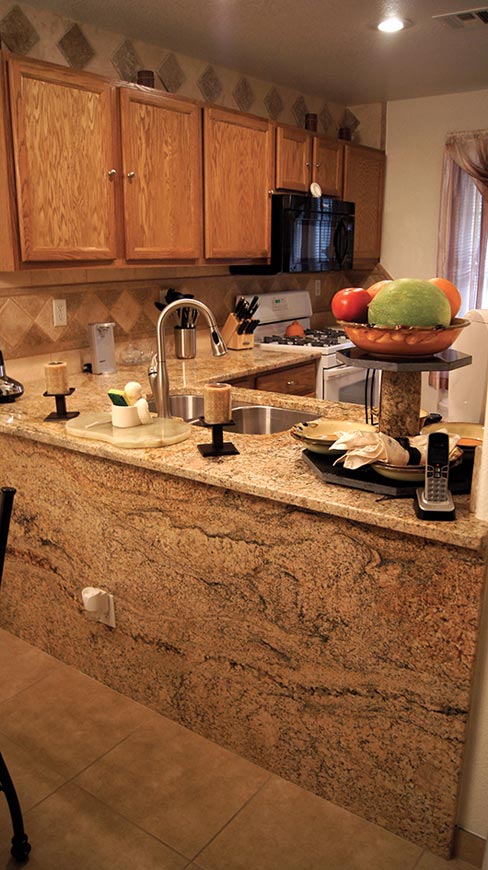 Steve Hitman does not like to call himself an artist, because he says not all art has to be functional.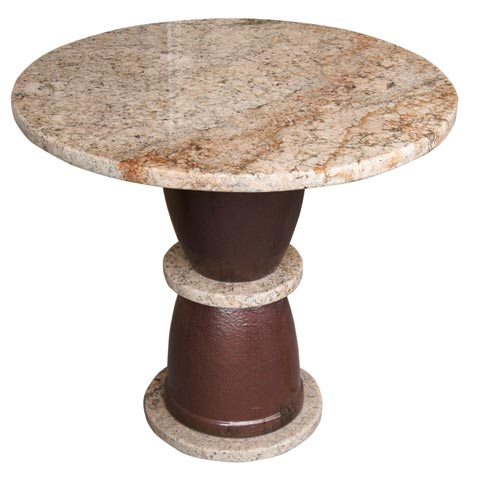 But the man with the philosophy behind Stillwater Stonework maintains a fluid balance of artistry, functionality and craftsmanship in his finished products. He just approaches things from a different angle.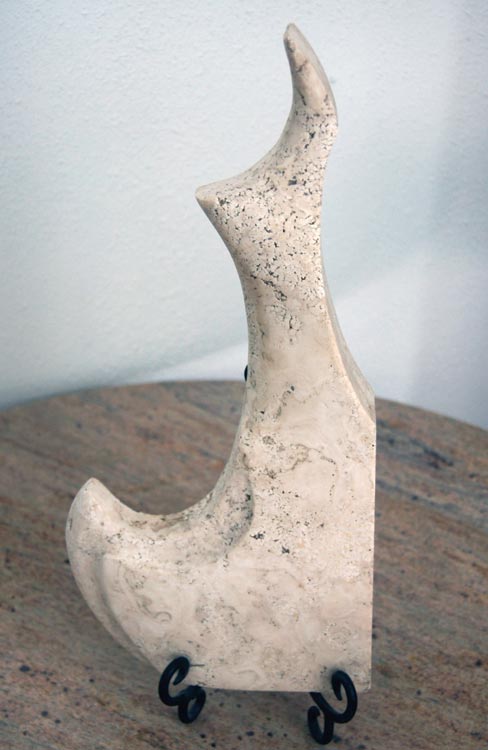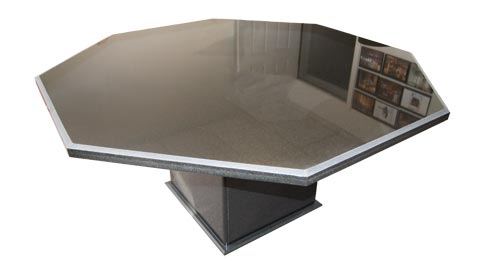 His stone furniture and home accent pieces are one-of-a-kind creative, and his philosophy comes from a deep reservoir of passion, ambition and, well, water.

He grew up on the New Jersey coast and water has always been the source of influence and inspiration in his stonework.
Hitman has been sculpting since he was a boy and made his first surfboard at age 10.
"There is constant movement in water," Hitman says, and he seeks to activate some of that movement with the stone he uses and in the sculptures he makes.
Each project is approached with innovation and fluidity according to the client's desires and space.
Whether he is installing a white travertine marble countertop or designing a granite table, Hitman strives to produce user-friendly stonework.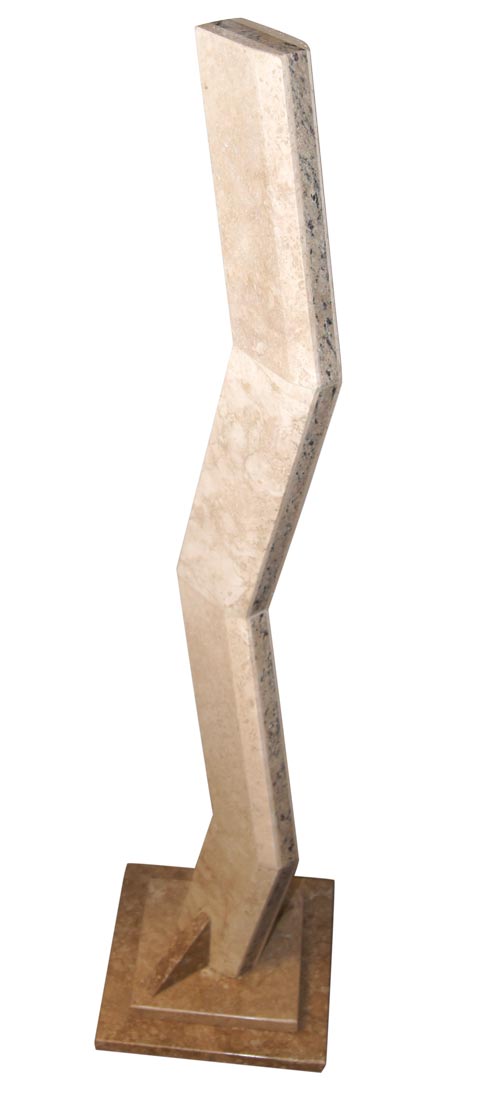 His clients should be able to move around a room as comfortably as water glides around stones in a creek.
However, he has spent the last 15 years out in the commercial landscape and desert-like heat of Las Vegas, NV.
He clearly misses the sea and all the sensory aspects it brings to its environment. The heat and sun can really make things stagnant, he explains.
"I have to really dig deep and remember that, at one time, all of this [Nevada] was under water."
Before the downturn of the economy a few years ago Hitman was doing a lot of business with projects backlogged over a year.
His website went live less than five years ago, and most of his work still comes exclusively by referral.
He has worked with clients all over the country and a large concentration of them in the Vegas area.
Some of his pieces are currently on display at Portofino Gallery, an opulent home decor and art gallery in Nevada.
"Oddly enough, a lot of my customers are transplants from the east coast," Hitman says fondly.
At the first sight of Stillwater Stonework exquisite stone furniture pieces, the artistic imagination of Hitman is clearly visible.
His sculptures can bring a majestic presence into any room. Hitman's stonework is as unique as the clients that commission the projects. But his artistic philosophy is complex, including but not limited to natural, geometric and historical elements.
He is often the first to admit that Stillwater Stonework designs are not for everyone.
In the spirit of an old-school craftsman, Hitman believes "if you want something done right, you have to do it yourself." He admits that he is a bit of a recluse and he enjoys working on his own.
He is extremely precise with his measurements and always makes large templates of the destination space first.
His aim is to minimize the install time so as not to invade or disrupt the client's home.
His workshop is a sanctuary to him, and he has the same respect for his clients' homes.
With that said, his approach to customer service, whether he is tiling a bathroom or forming a bookend, is collaborative and personal. He is quick to take a mental note of the shapes, colors and rhythms in a room to aid in his interpretation of the client's personality.
Many of his clients are involved in every step of the process, from the original design down to the final polish.
"My work is about creating their vision," he says, "But in a way, the goal is always to exceed expectations."
This ambition, in part, is what makes Stillwater Stonework stand out.
Once the overall design is decided, finding beautiful stone is the key to making the piece. Most of his materials come from local suppliers, and Hitman has an appetite for rare and exotic slabs.
His workshop has a multitude of salvaged stone scraps and tools. While creative passion fuels the initial phase of his stonework, Hitman is a bit more practical when it comes to production.
"If I could only have one tool, it would be the variable speed angle grinder by Makita. I can cut, grind, sand, water polish and everything with it."
Many of Stillwater Stonework's larger installs integrate motion into the room by combining different edges on counters and tiles.
Hitman is also known to blend the rugged aspect of stone next to its polished version to show off its versatility.
Throughout his life of shaping stone, his surroundings have also been shaping his philosophy. After spending more than a decade in the dry heat of Las Vegas, his influences and directions have shifted, but the momentum that drives his work has not wavered.
Hitman's newest design is meant to benefit and sustain a different kind of flow: the flow of conversation.
Stillwater Stonework's new octagon-shaped dining room tables are Hitman's response to frustrations of losing face-to-face communication and a perceived breakdown of the family unit.
The historical purity and purpose of the dining experience has been disrupted by society's dependence on technology and the expectation to rush in our fast-paced environment, Hitman explains. Life in Las Vegas has made this increasingly clear to him.
"I'm also just adamantly opposed to the conventional geometric configurations of dining room tables," he says.
The conceptual design of this octagon-shaped dining room table is fundamentally rooted in improving the communal dynamics of a group gathering. In fact, the piece is called Togather because that is its essential purpose (not a misspelling).
The octagon design serves two purposes, according to Hitman. Each seat at the table allows clear and easy viewing of each diner to facilitate conversation.
Additionally, all eight places are adequately fit for a full place setting on par by dining etiquette standards.
His first prototype table is a stunning specimen made entirely of Absolute Black Granite. The tabletop is about six feet in diameter with each place setting measuring about 26 inches. The beveled edges, says Hitman, create an inclusive space for the diners.
He also admits that "absolute black is very difficult to polish" so having the natural ring around the perimeter was a simple touch to give the archetype/model a clean look. He made corbels in the stand for a wing effect for outward movement.
Although being landlocked provided space for Hitman to look at movement in another way, water is still his favorite muse. He seems intent on returning to the east coast someday soon. Until his thirst is unbearable, the sky's the limit.
To find out more about Stillwater Stonework, visit the website www.stillwaterstonework.com or email Steve Hitman at steve@stillwaterstonework.com.