Gems Along the Highway
Former Dorothy Lannin Residence Located at Eisenhower Park, East Meadow, New York
Peter J. Marcucci
Special Contributor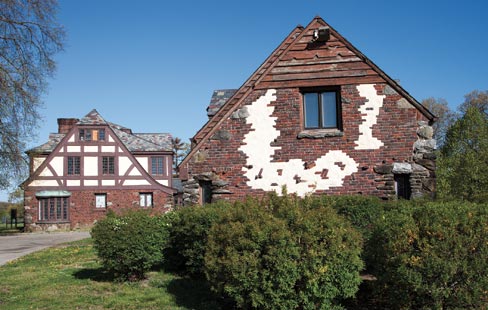 While attending this year's Long Island Marathon at Eisenhower Park in East Meadow, New York, I came across this unique architectural treasure built by Mr. Joseph John "JJ" Lannin for his only daughter and heir to his fortune, Dorothy.

The Tudor-style home, constructed around 1928 as a wedding bequest, is an eclectic blend of brick, stucco, wood and stone and topped off with a slate roof. Kept in excellent condition all these years, it currently houses Billie Jean King's "Women's Sports Foundation" headquarters.

There is also another structure on the property built with the same materials and style and possibly used as a guest home at the time. JJ Lannin, who is said to have been born penniless, is best known for his ownership of the Boston Red Sox as well as being a real estate tycoon. He was considered one of the richest men in the northeast at the time.