Stone Pro ADA Compliant Vanity Countertop Supports Now Available at Braxton-Bragg
Joel Davis
Special Contributor
(Hover cursor over images for captions)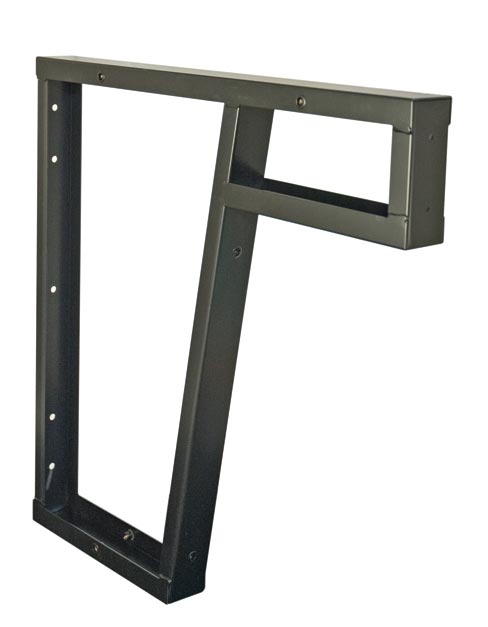 Braxton-Bragg is the first distributor to offer the new Americans with Disabilities Act compliant Wall Mount Vanity Brackets from Stone Pro Equipment Co.
The sturdy brackets simplify and streamline the installation of vanity sinks in commercial settings where volume is key. General Manager Brad Winn of Stone Pro said the products offer several advantages to fabricators and contractors.
"It would be time savings for one thing," he said. "The other thing is all these are going to be exactly the same. Consistency is going to be a plus. If you had to custom make every one of these brackets for sinks in 200 bathrooms, that adds up to a lot of time."

These brackets mount to the wall and form a free-standing anchor for granite tops with sink cutouts, allowing full access to the floor for cleaning, and access to the plumbing from underneath. End closures and apron panels along with front closure panels are easily attached, giving the installer the choice of using stone, laminated or wood panels for a sleek, modern look that hides the plumbing without the boxy cabinet.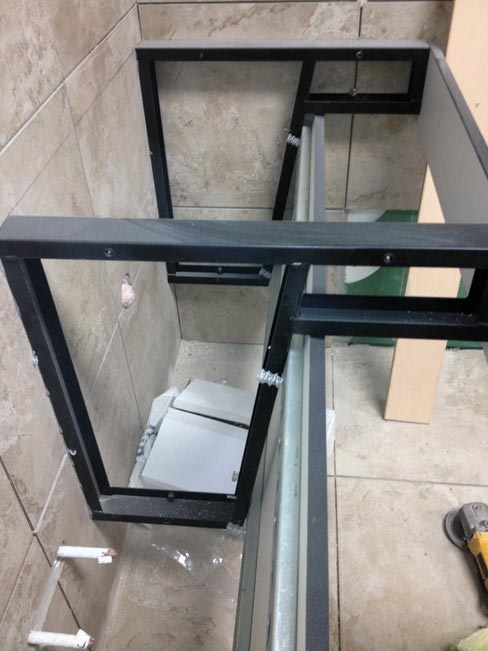 Nothing could be simpler than using the Stone Pro Wall Mount Vanity Brackets, Winn said. "You just bolt them up. It's one stop, one item you can put in place. It's there, and you don't have to custom build everything. With custom building you start getting random results. This would be consistent."
Contractors could turn to other methods to install the sinks but none offer the advantages of the brackets, Winn said. "It could quite frankly be done quite crudely and simply by putting cleats in the wall and putting your stone on it, but you want something that is a cookie cutter product that you can put in place and, boom, everything is the same."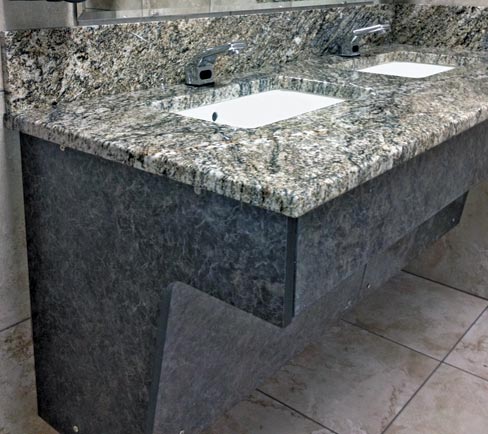 Using the brackets provides benefits for the end user, too, when it comes to maintenance and upkeep. "You have full access to the floor for cleaning purposes or easy access to plumbing fixtures," Winn said. "You can access them by simply removing a couple of screws on the cover panel. You have 100 percent access to get underneath the sink."
The use of Stone Pro Wall Mount Vanity Brackets is not confined to one setting, either. "This typically would be used in a commercial application, but it could also be used in a residential application, too," Winn said.
Contractors need to be aware of how federal regulations regarding handicapped accessibility affect the products they can offer. The Department of Justice published revised regulations for Titles II and III of the Americans with Disabilities Act of 1990 in September 2010. These regulations adopted revised, enforceable accessibility standards called the 2010 ADA Standards for Accessible Design. The 2010 Standards set minimum requirements, both scoping and technical, for newly designed and constructed or altered state and local government facilities, public accommodations, and commercial facilities to be readily accessible to and usable by individuals with disabilities.
A percentage of public facilities must meet the guides for accessibility, and the Stone Pro Wall Mount Vanity Bracket may be the first such product designed to help meet ADA specs, Winn said. "I don't know if there are any products like this in the stone market. I've been in the stone industry for close to 10 years, and I've never seen this bracket used in this application."
The Stone Pro Wall Mount Vanity Brackets address a common application for commercial contractors. "ADA specification calls for sinks to be a certain height from the floor and a certain depth from the top of the vanity," Winn said. "You have to have that sink back so far so they can reach the controls from a wheel chair."
The brackets make it easier to build sinks to meet those standards, Winn said. "It has to meet certain specification for handicapped people. It would be up to the installer to put it to the correct height. You basically have to have it 34 inches off the floor to the very top of the vanity. You have to allow for the thickness of the top obviously to be compliant with ADA specifications."
Where the bracket shines is in settings that require the installation of many sinks at a time. "if you were in a bathroom in a hotel or anywhere it may be and if you had to do multiple vanities, you could use these brackets for a consistant, professionally finished design,' Winn said.
By placing three brackets every five feet, a contractor could place up to three sinks in a 10 foot span, he said.
Stone Pro looked outside the stone industry for the inspiration for the new product, Winn said. "We actually have joined up with another company who used these in a different environment," he said. "The people that we got the idea from are a big commercial cabinet factory. They use laminate (products).
"They have been doing a lot of commercial and government work for 30 years. We have joined with them in trying to bring something new to the stone industry. What really sparked our interest in this initially is we had a remodeling job on a restaurant. It was very old, and when you remodel, you have to bring it up to ADA specs. The company we worked with in conjunction with on the project came to us and said, 'We want granite tops on this bracket'."
Upon seeing the brackets in action, it was obvious that they had an application in the stone industry, too, Winn said. "It was no brainstorm upon my part by any means, but we saw a need for it in our industry."
Stone Pro Equipment Co. is an Effingham, Illinois-based producer of user-friendly equipment and devices made for fabricators by fabricators. The company takes pride in the design and manufacture of equipment for the long haul.
Braxton-Bragg offers a full range of fabrication tooling and installation accessories including sinks, installation hardware, and every tool and piece of equipment needed to run a professional stone, tile, and polished concrete shop.
For more information on the Stone Pro Wall Mount Vanity Brackets, contact Braxton-Bragg toll-free at 800-575-4401 or visit the website www.braxton-bragg.com for current sales and new products.