Concrete Decor 2014 Announces Call for Trainers/Speakers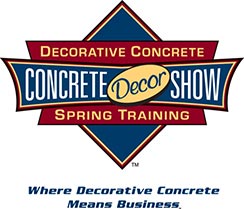 The 2014 Concrete Decor Show invites concrete industry professionals to share their knowledge, experience and business expertise through teaching.
Speakers are invited to submit a proposal for an educational seminar, hands-on workshop or panel discussion for next year's show, which will be held Sept. 29th through Oct. 3, 2014 at the Fort Worth Convention Center in Fort Worth, Texas. Final proposals are due by December 6, 2013. Trainers/Speakers will be notified of acceptance by January 25, 2014.
The Concrete Decor Show's fifth annual conference is designed for construction professionals who work in any of the residential, commercial or public concrete markets. An important purpose of the show is to provide high-quality educational sessions for contractors, distributors and building professionals. Our five day, multi-track format is focused on both hands-on workshops and educational seminars on topics that focus on current and emerging issues in management, design, application, and maintenance.
The following categories represent broad content guidelines for the 2014 educational program:
Construction Business Strategies
The Creative Contractor
Decorative Concrete Best Practices
Design & Innovation
Installation & Application
Restoration & Maintenance
For more details regarding the submission process, please visit the Concrete Decor Show website http://www.concretedecorshow.com. All proposals must be submitted online to at the Concrete Decor website. For further information on the show and the call for trainers, please e-mail Emily Dixon at emily@protradepubinc.com.