Top Ten Tools for 2014
Joel Davis
Special Contributor
Slippery Rock's New Year's resolution is to continue providing the stone industry with in-depth reviews on ever better, faster, and more economical products We interviewed Braxton-Bragg Product Manager Steve Bussell to find and showcase the Top Ten Tools for 2014. We recommend the following new and unique tools, and some tried and trusted ones, guaranteed to save you money, labor, and installation headaches.
Raimondi Large Format Free Cut Tile Guides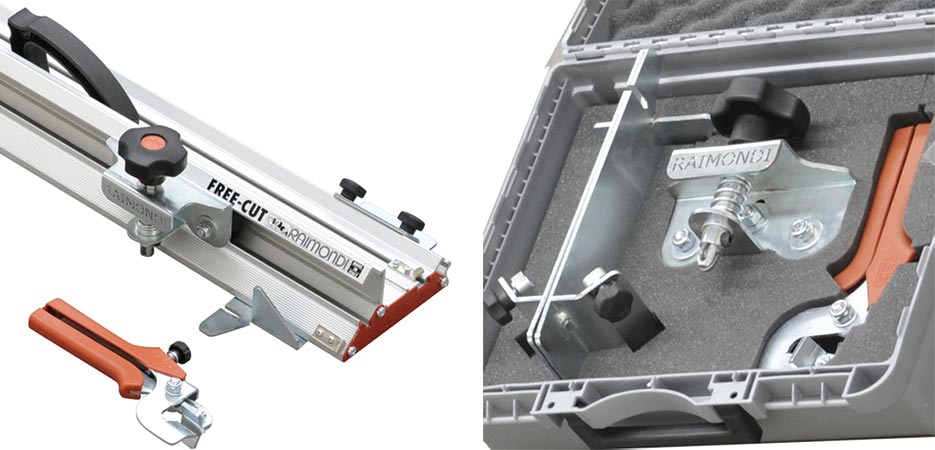 With the increased popularity and use of large format tiles during home remodels comes increased risk to businesses. Breaking one or more of the expensive tiles due to outdated cutting tools can break your bottom line, too.
That's where Raimondi comes in — inventing the right tools to easily cut big tiles in one pass, said Braxton-Bragg Product Manager Steve Bussell.
"One of the new trends in tile is large format designs," he said. "They can come in sheets that are five-feet long or even 10-feet long and maybe even greater. If you can fit it in one piece rather than having individual tiles to set, you can think how fast that can really go if you don't have joints to deal with. You can do walls and floors quickly."
The challenge, however, is cutting sheets exactly, Bussell said. This is where a cutting guide pays for itself. "The large format tiles are very expensive. Some sheets of it can be $1,000. Raimondi Cutting Guides are valuable for those customers. They allow them to score porcelain large-format tiles. You just can't do it with a regular saw."
The tile guides offer:
5-foot guide for cutting large format tile up to 10 feet long (with extension)
Three suction cups to lock onto the tile
Dismountable for the ease of transport and handling
Breaking pliers for up to 1/4˝ thick tile
1/2˝ cutting wheel
----------------------------------------------------------------------------------------------------------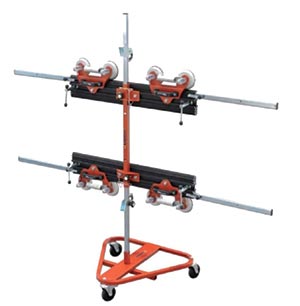 Raimondi Large Format Tile Free Mover
Designed for moving big tiles around the shop and homes doing a remodel or new construction, the Raimondi Large Format Tile Free Mover helps protect the significant investment that a business has made in materials.
Workers can freely move large format tiles and take the slabs out of the crates with ease and safety. Slabs are held in a vertical position for applying adhesive on the back.
Large format tiles can pose additional installation challenges, Bussell said.
"It's not just the weight you're dealing with, it's keeping the tile from doing any kind of flexing. This is going to hold it rigid so you can move the tile on the job site. You can also keep the tile rigid and supported as you apply it to the wall.
"No one wants to bump and chip an edge if they are installing it free hand. It's just so expensive. This will hold the tile in position and prevent damage as you guide it into place. You can have a perfect placement with this."
----------------------------------------------------------------------------------------------------------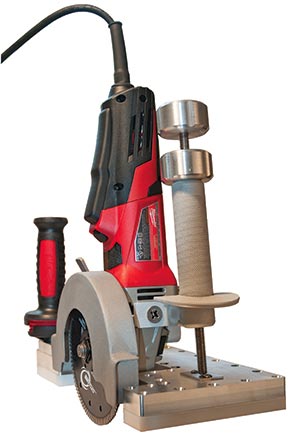 Raptor Aqua-Plate Rail Saw
"I love this saw because of the speed and the smoothness of the cut that it delivers," Bussell said.
"It cuts on one pass. It has a water base that it glides on so you don't have to worry about wheels clogging up or debris scratching the material."
The Raptor can cut through 3 cm stone at a speed that approaches a bridge saw.
No step cutting is required.
It cuts twice as fast as a current rail saw and allows small tapered cuts that weren't possible before.
Using a high-quality 6-inch Cyclone Silent Core Turbo Diamond Dry Granite Blade, the Raptor does not require expensive specialty blades.
It uses 120 volt power so it can be used in any shop or on the job site.
"It is simple, but it has several improvements that make it cut better, faster and more accurately than any saw you get out of a box," Bussell said.
"It will speed up production and extend the life of the blade a very long time."
----------------------------------------------------------------------------------------------------------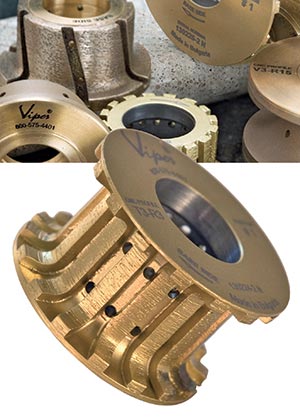 Viper ® CNC Tooling
Braxton-Bragg is offering its high-quality Viper ® CNC Tooling line to customers at prices that are about 40 percent less than their biggest competitor.
During the past 10 years, the cost of manufacturing CNC tooling has dropped by an average of 35 percent, while customers continued paying higher prices.
Not anymore.
"We wanted the same quality as the very best of the CNC tooling that is on the market both in cutting speed and cutting quality," Bussell said.
"You don't give up anything, but it is 40 percent less expensive than the leading brand."
Viper ® is the only CNC tooling system featuring a 6 mm layer of diamonds on each profile wheel, including the polishing steps, to ensure the longest tool life in the industry.
The manufacturer spent more than $1.2 million dollars to develop the tools, which offer consistency and world-class standards of precision.
----------------------------------------------------------------------------------------------------------
Talon™Quartz 4-Step Polishing Pads
Braxton-Bragg is offering shops a way to cut labor costs by half when polishing quartz.
"Everyone offers polishing pads for quartz, but, typically, they have required seven or eight steps to reach the required finish," Bussell said.
"This will save you 50 percent of the labor and will give you the same finish."
The pads produced a cleaner finish with no transfer of color onto the material.
"This is a one-of a-kind pad," Bussell said. "There's is no marking, no bleeding, and no marring the stone."
----------------------------------------------------------------------------------------------------------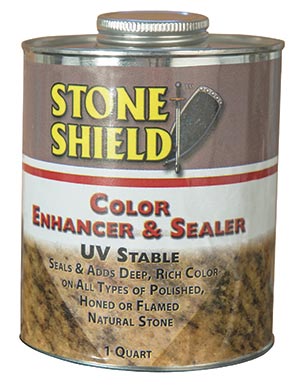 Stone Shield™ Color Enhancer and Sealer
Stone Shield™ Color Enhancer and Sealer is Braxton-Bragg's newest offering for professionals seeking economical and high quality color enhancement for all types of granite, marble and travertine.
Product Manager Steve Bussell said Stone Shield Color Enhancer and Sealer is a made-in-America product that addresses a common problem faced by fabricators.
"One of the realities is that lot of stones are now resined with epoxies," Bussell said. "That allows quarries to use more of the stone that they mine, slabs that used to be fragile and unusable. It's added to the variety of colors and stones available."
Cutting into the resined stone can reveal an interior that does not match the appearance of the surface, Bussell said. "The trouble is when you go to cut the edge of the stone, the edge now looks lighter or doesn't match the surface."

Advantages of Stone Shield Color Enhancer and Sealer include:
UV stable
Offers a wet look indoors and outdoors
Does not change color when exposed to the sun
Provides deep rich color
Works as both a stone color enhancer and a high-quality sealer
Stone Shield Color Enhancer and Sealer does not require scheduled maintenance to maintain its appearance. It can be used on polished, flamed, rough or sanded surfaces. It can be used to disguise small scratches and is suitable to protect surfaces against oil and water.
"Sometimes people run into problems with micro-fissures on exotic stones," Bussell said. "You can see this almost chalky, little spider-webbing through the stone. With this product, you can apply it using a Q-Tip or cloth – it will fill those areas without over-saturating."
----------------------------------------------------------------------------------------------------------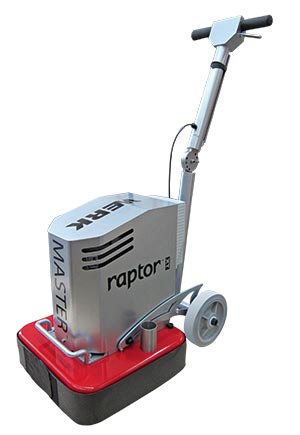 WerkMaster™ Raptor XT
The Raptor XT is the most powerful surface prep machine in its class.
It is widely used for retail and small commercial projects, serving as a grinder, stripper, sander, polisher, buffer, burnisher, polisher, and edger.
"This is a heavy-duty machine with a small 17-inch footprint." Bussell said.
"It's just a convenient size for working in close quarters where you can't get huge machines into the work area. It's a hard-working machine – a real beast on floor grinding."
Running wet or dry on concrete, stone, terrazzo, or VCT tile floors, the Raptor XT removes thin-set, epoxy, glue, paint and mastic; works on spalled or rained out concrete; and is excellent for use on hardwood floors.
Featuring WerkMaster Octi-Disc technology with eight counter-rotating heads, the Raptor XT edges to within 1/8˝ of the wall.
It weighs only 270 pounds and runs on single phase or 3 phase power.
----------------------------------------------------------------------------------------------------------
Talon™ Premium AX Turbo Blades
"This high-quality blade is back by popular demand," Bussell said.
"It will deliver a good, smooth, clean cut at a great price. It is ideal for cutting granite or quartz. Doesn't matter if it's engineered or natural stone."
Talon™ AX Turbo blades cut smoothly because of the segment style – the teeth are placed close together, with no sacrifice of cutting speed, using a bond that balances a smooth cut with an aggressive cut.
Talon™ Premium AX represents the latest technology in diamond turbo blades.
It is free–cutting, reducing user fatigue.
The blades offer high diamond concentration and quality for extended life and can be used for dry or wet cutting.
----------------------------------------------------------------------------------------------------------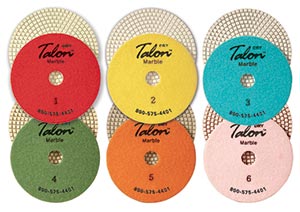 Talon™ Marble 6-Step Hybrid Polishing Pads
These hybrid pads can be used dry or wet on marble and other softer stones.
The resins in these pads are non-marking and won't bleed on light-colored stone.
"The diamonds in these pads are in a unique resin that holds them in place without melting or glazing from the friction, and they can be used dry," Bussell said.
"When used dry, there is no water in your way to prevent you from seeing how far you are along in the polishing process. A lot of people prefer to do it dry so they see exactly the stage they are at so there is no waste of time."
The Talon™ Hybrid pads are great for polishing countertops and floor restorations.
They can be used with the WerkMaster Scarab floor machine and with hand polishers.
----------------------------------------------------------------------------------------------------------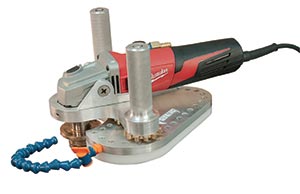 Predator Edge Profiling Machine
"I love that little machine," Bussell said. "It's very powerful. The designer wanted to be able to profile more efficiently and do the fastest, most accurate job he could and still keep the machine simple to use. He looked at the process from a fresh viewpoint and designed the Predator so it can be used easily and removed a lot of the cost by eliminating features that were of little value."
The Predator is designed for ease of use, Bussell emphasized. "Balance is important in a router, so you don't tip the machine. From the design and shape of the plate to its size, the Predator is designed for balance so it's easier to get the grinding and shaping process right."
The tool offers a hydroplane base that helps to keep the work area free of stone grit and uses standard router bits. "The customer doesn't have to purchase some special tooling in order to make this work."
The Predator offers a 3.5 horsepower motor that directly drives the router bit. "There is nothing between the motor and the tool to bog it down," Bussell said. "There are great features like precise height adjustment and several other built-in features that are really ingenious. Even the aqua-base delivers water more efficiently than other base designs."
For information on these and other great new products for 2014, call your Braxton-Bragg sales representative toll-free at 800-575-4401 or visit them online at www.braxton-bragg.com.