Florim USA Introduces Pietra Romana
Classic Roman Travertine Emulated via State-of-the-Art Porcelain Tile Production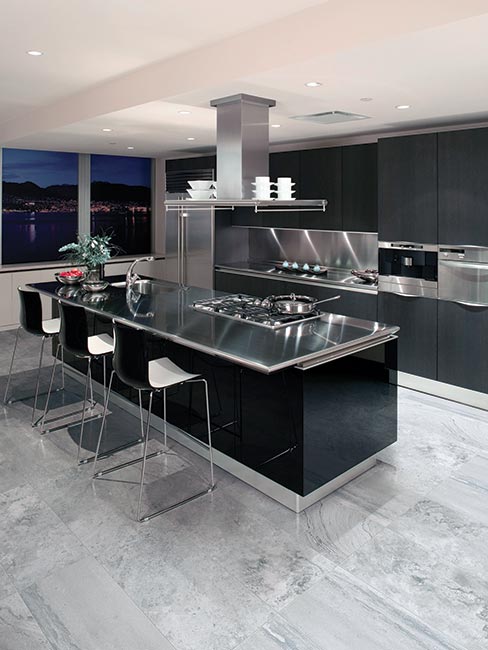 Florim USA has introduced its Pietra Romana Collection to North America. Beautiful porcelain tile for both residential and commercial applications, with the "look" of natural travertine found in yesterday's, today's and tomorrow's Rome.
Offered in four stunning colors – Avorio, Dark Grey, Noce and Silver – Pietra Romana may be selected in the following large format modular sizes (in inches): 18 x 36, 6 x 36, 12 x 24, 18 x 18 and 3 x12. The collection also includes bullnose pieces as well as 2 x 2 inch mosaics mounted on a 12 x 12 inch sheet.
It should be noted that the 6 x 36 inch tile is a highly contemporary size offering not just a classic look, but because each unit is not overly long, only one person is needed to install it. Generally speaking, longer porcelain tile units require two contractors, and thus end up costing customers considerably more. And, each glazed porcelain Pietra Romana tile is produced using High Definition Graphic (HDG) Technology, a state-of-the art inkjet process creating a stone-look that is so realistic… it might just cause a geologist to reach for his magnifying glass!
According to Stefano Rabaioli, Florim USA's VP Sales and Marketing, "Pietra Romana had a great response at the shows. The U.S. market loves travertine. Whereas initially this product appears to be mainly residential, its 18 x 36 inch format has raised much interest in customers focused on the commercial marketplace, as well. The large rectangular format is an ideal size for lobbies, retail stores and even for wall applications. The color palette enhances classic earth-tones typically used in residential design, as a result this tile is an ideal choice for those wanting to invest in a house and increase its value by selecting one of the longest-lasting, most durable, flooring options in the entire industry!"
To find out more about Florim USA, visit the website www.florimusa.com or call 1-877-FLORIM 1.