Sims-Lohman Fine Kitchens and Granite
Meeting the Challenge of Transformation and Growth Head-On with Twelve Locations
by Peter J. Marcucci
Photos Courtesy Sims-Lohman and by Larry Hood
(Hover over photos to see captions)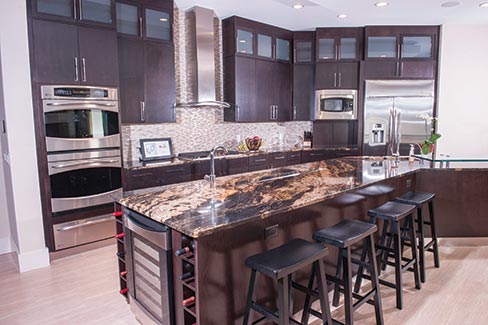 Our narrative begins in the late 1990s, when the Steinman family acquired Moellering Industries, a quality cabinet supplier in Cincinnati, Ohio.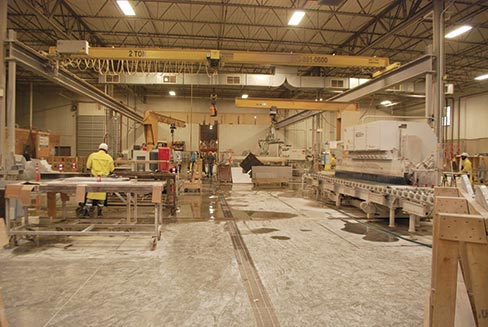 Resolute and committed, they did so knowing that the road to success is paved with a myriad of twists, turns and crossroads and is sometimes strewn with the remnants of previous entrepreneurs.
Choosing to fast track the journey, Steve Steinman, along with John Beiersdorfer, President of Sims-Lohman, and a cohesive working group of talent, switched on their internal GPS's, buckled their seat belts, and accelerated the ride by adding acquisition after acquisition to their portfolio of premium companies in the greater Cincinnati, Ohio region to create Sims-Lohman Fine Kitchens and Granite.
Spanning four states and employing over 300 people, Sims-Lohman has since dotted that roadmap with eight locations within Ohio, two in Indiana, one in Kentucky, and their latest acquisition in Pittsburgh, Pennsylvania.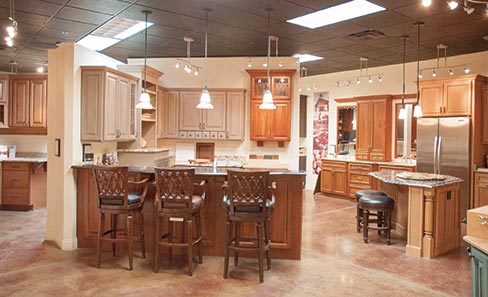 All twelve locations are sales showrooms, with four being fabrication facilities, strategically arranged, to maximize efficiency.
"The Steinmans bought Moellering Industries in 1998 from Tom Moellering," explained John Beiersdorfer.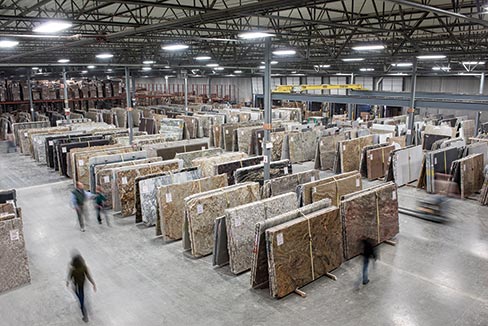 "Then, in 2007, after purchasing Sims-Lohman, a design-oriented cabinet company, we adopted that name. Following this acquisition, we acquired two granite fabricators, thereby entering the granite business. Adding natural stone to our cabinet business was quite a challenge for us. In the late 1990s, solid surface countertops, in this market, was the upper end material of choice but sales really fell off as stone became more popular and cost effective. A lot of companies in the countertop world either made that switch, or they didn't stay in the game."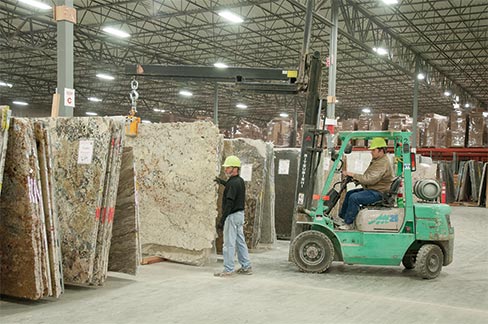 Much of Sims-Lohman focus is geared to selling to professionals, so a lot of their clients, according to Beiersdorfer, are custom residential builders, apartment and single family home builders, as well as designers and architects.
The company also serves big box stores Home Depot and Lowes in some of their markets as well as serving the hospitality and commercial sectors such as hotels, restaurants and hospitals.
As a cabinet supplier, two customer bases they do not serve are kitchen and bath dealers, because in most cases those types of businesses view Sims-Lohman as a competitive threat.
Also, according to Beiersdorfer, the company does not drive retail sales but does, occasionally, have retail customers walk into the company's twelve showrooms.
"All of our showrooms have vignettes to display our cabinets and countertops, and our typical showroom includes a consultation room which consists of a big screen TV and computers to design kitchen layouts for cabinets. This allows us to meet and design with the homeowner and offer a grand presentation by showing cabinets and countertops on the big screen and close the deal.
"When you take out the big box portion of our business, I'd say that 80 percent of our customers are buying cabinets with countertops, and ultimately what we really try to sell is the complete package, whether it is to a remodeler, custom builder or a multi-family builder. We really try to cover the whole cabinet and countertop solution for them so they are not looking for multiple vendors, and we do it with a very efficient and fast turnaround time. Every job is installed in five days or less after templating.
"Our professional clients don't like to wait two or three weeks to have a countertop fabricated, so the process of moving that build cycle along for them is critical. It is also a little unique to each market whether we install cabinets or don't; in some cases we just deliver the cabinets to the job site, and their trim carpenters install them. We also typically provide sinks and cabinet hardware but usually don't go beyond that by providing faucets or fixtures. Supplying those things really isn't in our core business. Those decisions are tied to the plumbing company and don't tie into what we do."
Cincinnati is Sims-Lohman's main hub and, in this case, where the rubber meets the road. With their Indianapolis and Columbus operations about an hour and a half away, Cincinnati also services Lexington, Louisville and Indianapolis, with those being about ninety to a hundred and twenty miles away from each other. The company is also developing a northern hub centered in Cleveland.
"We deliver cabinets from our Cincinnati hub location to our other markets. Our ability to make those deliveries by truck the same day is very critical for that distribution model at this time, and we are creating another distribution point in the Cleveland market that will drive that territory for us."
Equipping their four fabrication shops with mostly Park Industries equipment to support the demand of those operations was, much of the time, by choice, explained Beiersdorfer, adding that a lot of equipment and new team members came along with the many purchases of newly acquired companies.
"The company we bought in Columbus was a fairly big operation and came with two saws, two CNCs and a line polisher already in play. The acquisition of the fabrication shop in Cincinnati was a small one and brought with it four folks. Two of them are still with us. The operation in Columbus was a larger facility with about thirty employees, and about two thirds of them are still with us. Our people are our company, and the most important component of our organization is people, people and people. Anyone can buy a building, equipment and stone, but it's the people in your organization that get the work done.
Once a month at each of our locations we bring our team members together. We are all on the same team and pulling in the same direction, and we meet to talk about our performance at each location as well as company-wide. We pay quarterly incentives based on how we are doing, and then at the end of the year we pay profit sharing based upon how well we've done financially for that year. We spend a lot of time with our folks, working with them and listening to their challenges and concerns, and it is my job to remove any barriers that don't allow them to do their jobs. At the end of the day, their performance is what makes or breaks us."
The Transformation
A big part of the credit for Sims-Lohman's continued success, according to Beiersdorfer, was the strong financial position and aggressive posture the company took from the very beginning.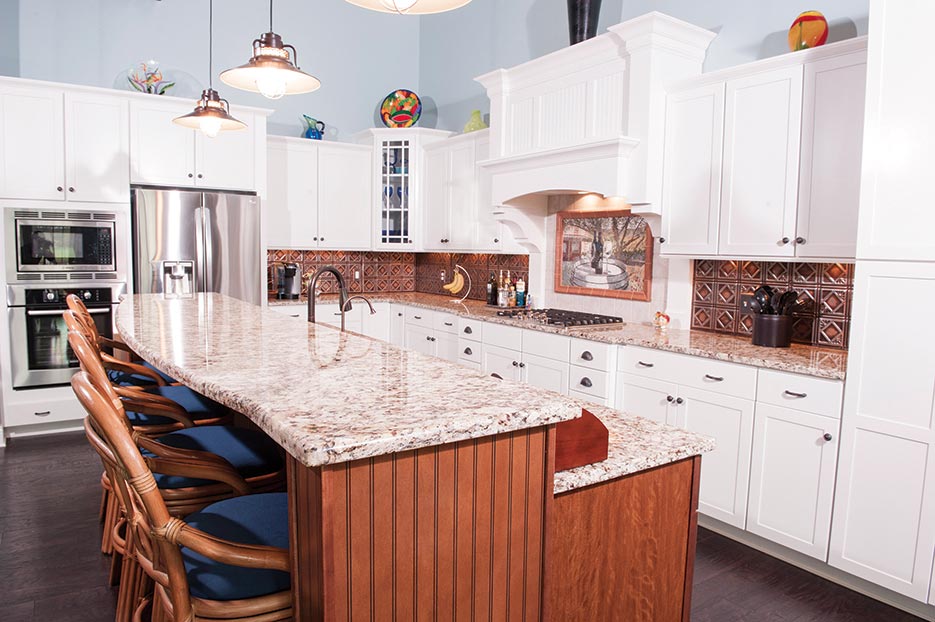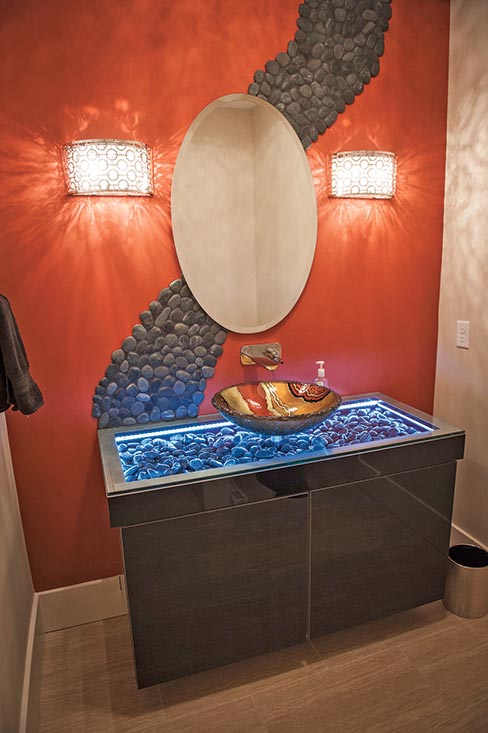 "Our business plan was to diversify. I can't say we were smart enough to have known that, fundamentally, the business world was going to change in the near future—we weren't that smart! But we did sit down and say that we were going to diversify as a means to grow the business and, through luck, that allowed us to insulate ourselves from the financial crisis and set us up for these last few years.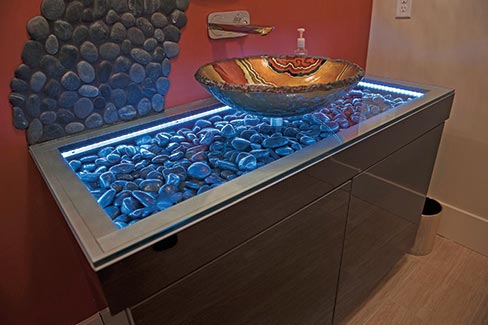 For an industry it was a difficult time period, but we actually sailed through that financial crisis, and it was an opportunity for us to get some very good talent on our team and expand our reach and markets. Because we were in a strong financial position, we were aggressive and began diversifying just before things got tough. The company name that we now use, Sims-Lohman, was a strong player in Cincinnati, selling cabinets to custom builders and remodelers, and Moellering Industries was the strong production supplier.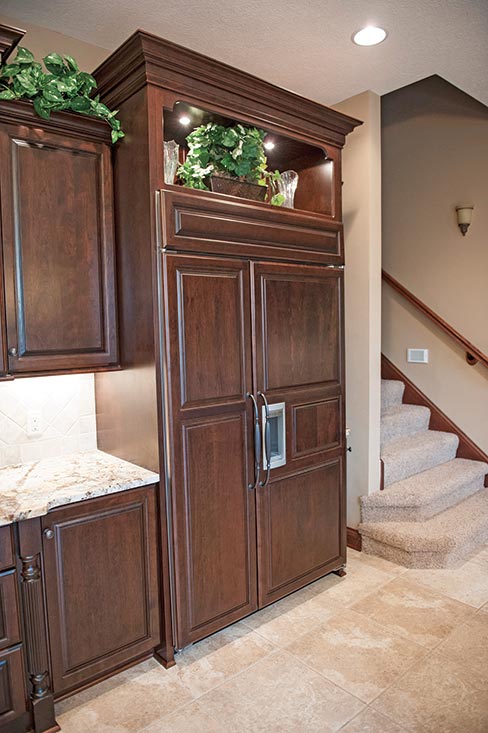 So the one thing that we did, right before the downturn, is that we diversified, and when we began losing some of our production builder business, we had an increase on the design side from our acquisition of Sims-Lohman, and we were able to expand our reach and refill volume. Obviously the only way you can do that is to not be highly leveraged and have the ability to expand. If you are leveraged, that is not possible."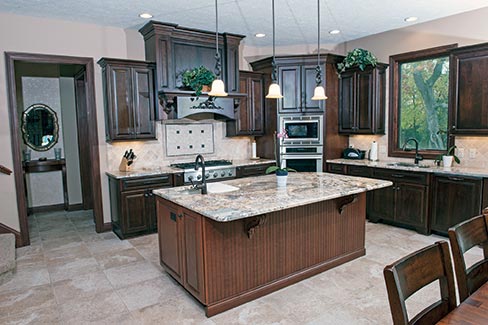 Doing everything from thousand dollar kitchens in a multifamily apartment complex, to one hundred thousand dollar kitchens in five million dollar homes, the bulk of Sims-Lohman's work is the middle of the road selling $3,000 to $10,000 cabinet packages for homes in the $250,000 to $500,000 range. That, according to John, is where the bulk of the volume is, and if you are going to run volume that's where the world exists.
"There aren't a lot of companies that look like us that do both cabinets and granite. We will bump up against companies that compete against us on the countertop side and some that compete on cabinets, but we don't view that we are in a very competitive market. The competition is very fractured out there, and we've set ourselves apart in this area, and we are focused on growth and not trying to fight off our competition. Over the last five years we've grown by an average of thirty percent, per year, and obviously one of the challenges as you're growing is finding good people. Since 2007 we've acquired five granite fabrication shops, and we are always looking for additional shops to acquire as well as the managers, fabricators and installers to operate them."
Safety for his team members is a very big thing, given the potential for accidents, explained John, noting that Sims-Lohman employs a full time safety director who runs their programs and visits all of their facilities.
"Safety is my number one agenda item in our staff meetings as well as our local area meetings.
We've just completed OSHA onsite audits of our Cincinnati and Columbus facilities. This is where OSHA comes in and walks through with you on a collaborative basis and reviews and offers suggestions in terms of what improvements need to be made. We've just completed the changes needed in both of those locations, and we are fully OSHA compliant. We've also just completed construction of our new facility in Indianapolis, and we will certainly be doing OSHA audits in that location as well as our new Pittsburgh location when we get our feet on the ground over there. All of us spend a lot of time talking about safety and spend a lot of time working on it, and we do what we can to make sure our team members are safe."
Drilling down into the numbers, Sims-Lohman installs about one thousand 3cm jobs per month with a ratio of 80 percent granite and 20 percent quartz,. with most including cabinets.
To achieve those numbers, their Cincinnati operation and main headquarters is a one hundred and fifty thousand square foot facility where they fabricate as well as do all of their cabinet warehousing.
Their second fabrication facility, in Columbus, Ohio, is a thirty five thousand foot facility. In 2013 the team put a brand spankin' new fifty two thousand square foot facility in Indianapolis, and several months ago purchased a twenty two thousand square foot facility in Pittsburgh where they fabricate as well. Being a custom granite fabricator as well, about ten percent of Sims-Lohman's work requires custom slab layout with the client; they perform the layout using templates on slabs while discussing vein flow and seams, but, according to John, the majority of their work doesn't require slab layout.
"Most of our home builders don't want to have things slowed down by doing custom layout, and the big box stores have no need for this process either. It is only when we are working with a remodeler or custom builder that we do this, but it is not a big piece of our work. We do, however, have the people and space to easily perform this if necessary. It is an art, and our team members do a good job with the homeowner. It usually takes the client a little while to see it, but eventually they get it. Layout is sometimes an important piece of the puzzle when doing those complicated jobs."
The end quality of fabricated stone work is always of paramount importance as well as is the final installed product, but of equal importance is the respect shown by Sims-Lohman's many installers who, day after day, walk into clients' homes and set up temporary shop.
"We complete about fifty granite installations per day within our total geography, so it's roughly two jobs per day per crew, and twenty five crews per day. We do have the capacity to flex that up to a higher number, and if our volume demands this, we will slide a few people back and forth within our organization. All of our fabrication and installations are done by our team members, and we do not subcontract any of our work.
"One of the unique things in all of our markets is that we do installations five days after the templating, so if we've been given all the information, and once we do the template, be it electronic or hard, we are going to be back five days later, or sooner, to install that job. We do that whether we are busy or slow. So if we see a heavy volume in, say, Columbus or Indianapolis, we will sometimes look at our other operations to support that work that is out of their area.
"As far as a post installation follow-up, we do a variety of things. On new construction jobs, our installation managers perform random audits. For remodel (lived in) work, we'll send out a follow- up care package including a survey card and a gift cutting board. For our home center work, we call the customer with a short survey."
In regard to purchasing stone, Sims-Lohman buys all of their materials from wholesalers within the United States, and when asked how that squared with importing, John said: "With our relationship with the big box companies, we are driven into purchasing relationships with MS International on the Home Depot side, and Cosentino, and International Logistics and Stone Distribution on the Lowes side. We also work with suppliers such as Dal Tile and Mont Granite. We are not importing any containers at all. We've evaluated doing that, but due to safety and economic factors we do not import. In each one of our fabrication facilities we have an indoor slab showroom, and we are showing somewhere in the range of seven hundred and fifty thousand dollars worth of material in each one of them, and in total, we hold three and a half million dollars worth of slab inventory."
Growth & a Brilliant Future
"This industry has come through a pretty tough time, and we have been very successful through this period. We are well capitalized, are members of the Marble Institute of America, and in 2009 we were a $24 million per year company. This year we are going to finish up at around $69 million with an average growth of 30 percent per year, and we have continuing plans for that double digit growth. We have very high customer satisfaction ratings, and we measure everything, every day. Our customer service and execution time is also very important to us with quick lead times and five day turnarounds. On top of that, we believe we have a fun and exciting place to work. It is work, and it is serious, but at the end of the day it's only cabinets and countertops, and none of us take our jobs too seriously. We really strive to have a good and fun working environment.
"That said, our long-term goals are to continue to develop our existing markets and grow, as well as to look at surrounding markets in both the granite and cabinet end of things, and to have fun doing it. After this story comes out, I would love to hear the phone ring with people saying, 'I read your story and would love to come to work for you,' or an owner who says, 'I've been in the business for 15 years and don't have an exit plan. Would you be interested in talking?'"
Visit their new website at www.sims-lohman.com or call 513-651-3510. For employment opportunities, contact Jodi Burke-Toncar at 513-667-3457, hresources@sims-lohman.com.