Artistic Stone Design Rocks the Richmond, Virgina Market
by Peter J. Marcucci
Photos Courtesy Artistic Stone Design
Additional Photos by Zack Smyser
When Jon Rathke showed up at Artistic Stone Design in Richmond, Virginia, he did so in search of a white collar career change. He had absolutely no idea that he would be donning boots and apron to learn wet polishing—nor did he think the company would morph into a major stone repair business.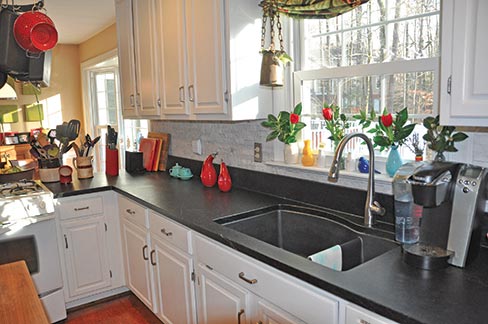 At the time the then fledgling company had been on a roll since its conception around the millennium by its previous owner, a local builder who saw the need for a quality fabricator. The Richmond area was in a hot and heavy building boom, and the stone trade was wide open.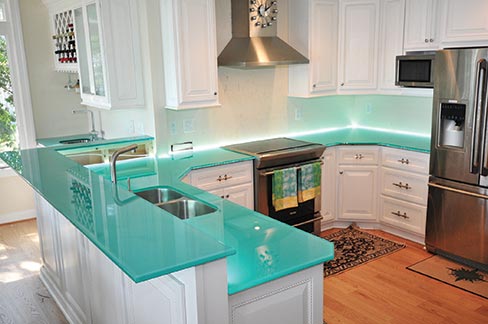 "Artistic Stone Design was established in 2000 by a good friend of mine, Tom Del Monaco," explained Jon Rathke, Owner of Artistic Stone Design since 2010.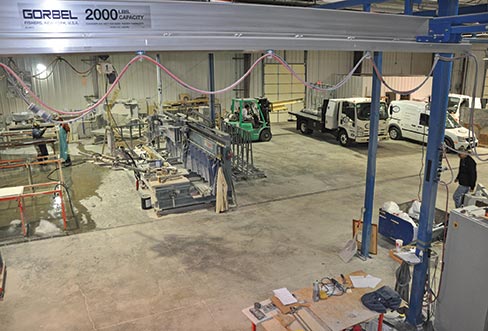 "At that same time, I was getting tired of my desk job with John Deere and wanted to make a change in my career, and when I talked to Tom he said, 'I've got a tiger by the tail, and I need some help!' I then said I'm the guy for you, and in 2002, I came on board. When I first walked in the door Tom gave me an apron and boots and said, 'Go ahead and practice polishing that backsplash.' It wasn't my intention to wet polish granite back then, nor was it his, but it's all part of the game, and it's important to know what the guys in the shop do every day. Tom knew how important it was to have a fast turnaround of fabricated kitchens and vanities, and there weren't very many fabricators in the Richmond area. Construction at the time was so brisk that people were coming in to Artistic Stone Design with checkbooks in hand saying, 'I gotta have some granite, gotta, gotta—just get me some.' It was almost like a drug back then. So we rode the construction wave from 2000 till 2007."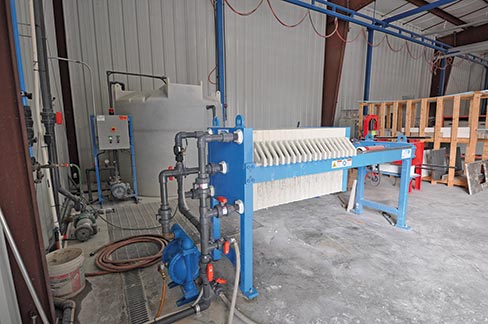 That narrative of success continued, and the byproduct of the company's main product: the turn-key installation of finely crafted granite countertops that also, according to Jon, continued to evolve.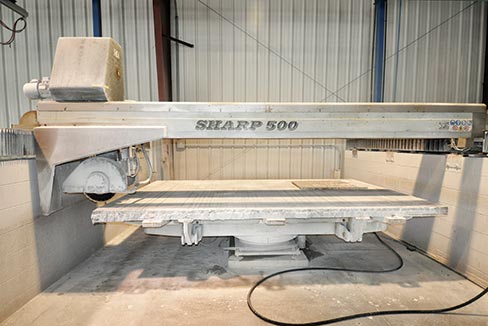 "So we had become well established with the area builders, who at that time were our core business. Most were smaller builders that did twelve to fifteen houses per year.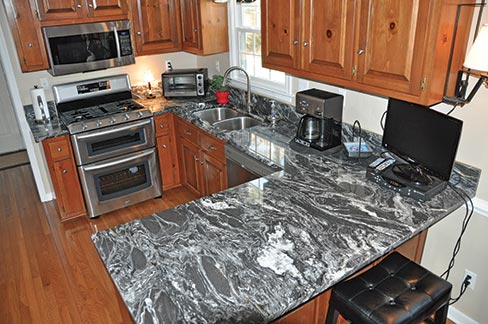 At that same time, we were also supplying cabinet shops and had a pretty good retail business as well. One of the things that put us on the map with our retail business was dealing directly with our homeowners and doing turn-key installations.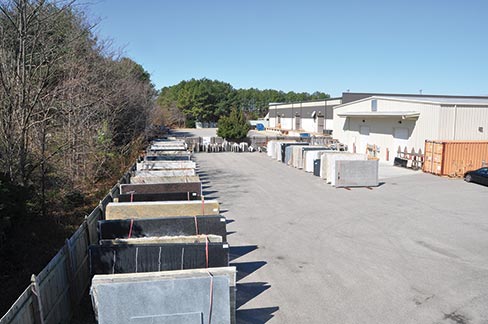 "We would essentially go into the clients' home in the morning, take out their old tops, put in their new tops, mount the sink and range, and replace the dishwasher. We would then reattach the wires and finish by having a licensed plumber come in after lunch to hook-up the plumbing. So the homeowner was down and back up the same day.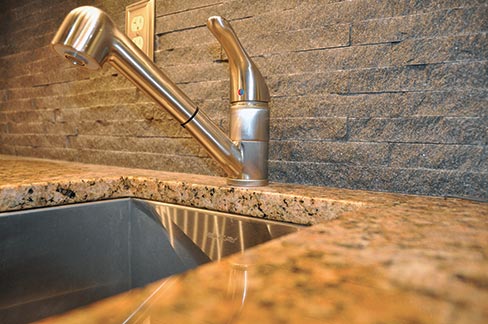 They would have breakfast with their old countertops and dinner with their new ones.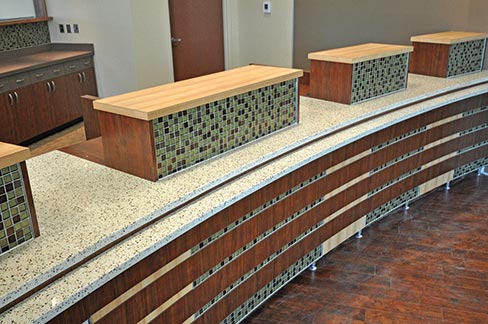 "People to this day really love that, because it is such a convenience and an incredible service. A lot of companies install a kitchen over several days; we do it in one day, and that gets a lot of business for us."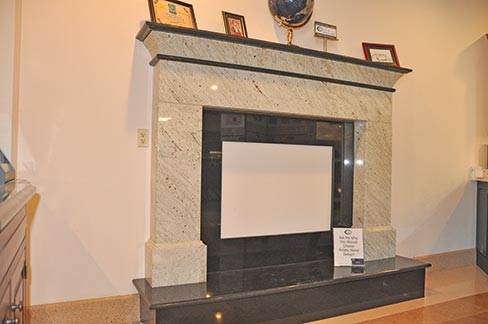 According to Jon, the company does all of their own installations, and all fabrication is done in-house. Usually call backs, if any, happen within the first few months and not really that often. "We are not perfect by any means, nor is anyone else. Usually we can tie most of our callbacks to the cabinets, and not our installation. If it's a seam that busts loose we probably won't charge them, but if it's a chip we will."
The Facility – the Cornerstone of the Company
Jon referred to his shop as being analog. It consists of a Z. Bavelloni Sharp 500 bridge saw; two Thibaut radial arm machines used primarily for sink cutouts, honing and texturing; and two hand-guided edge routers for profile work. The shop's orderly design is engineered for easy maneuvering of both large and small slabs using two Gorbel overhead bridge cranes and either Woods or Manzelli vacuum lifters. A Water Treatment Technologies recycling system takes care of the slurry. According to Jon, slabs come in one door and make a loop during production. Finished products are then placed on any number of A-frames purchased from Braxton-Bragg. As needed, these frames are fork-lifted onto the company's cab-over delivery trucks. Those trucks are also fitted with secure storage for sinks and tool boxes as well as voltage inverters that allow cutting and grinding without having to run extension cords from the home. Jon proudly noted that ninety percent of their work is merely measured and then drawn on paper, adding, that they do have a LT 55 laser templater, and use it for ten percent of their jobs which they then plot on plastic.
Drilling into the numbers, Artistic Stone Design sits on 1.2 acres with the all-under-one-roof building's footprint being a total of 12,000 square feet. The shop encompasses 9,000 square feet with the remaining 3,000 square feet being office and showroom. The 24 X 50 foot showroom features thought inspiring vignettes of granite, marble and soapstone as well as a wide selection of color samples. A wide range of kitchen sinks and vanity bowls are also on display. According to Jon, engineered stone such as Silestone, Cambria, Caesarstone and Zodiaq are normally ordered and shipped in as needed, while at any one time 150-200 slabs of 3cm granite can be found in the outdoor slab yard. The company also cuts a lot of Alberene soapstone that's quarried just 80 miles away by new owner Polycor.
Quality Products
"We are a granite fabricator all-in-all, that's where we cut our teeth," Jon articulated. "I would say approximately seventy percent of what we cut is 3cm granite with a final thirty percent being engineered stone, marble or soapstone. This year there is definitely an uptick in exotics and that's a good thing. Some of the bigger homes in our wealthier areas are using these exotics, and we are doing better and better with these materials. We are also doing more honed and textured surfaces with these higher end stones.
"We love to educate our clients about what is eventually going to happen with soapstone or marble if used in their kitchen and find out if they're okay with that. If they're not, then we tell them to look at something else. The same thing holds true for exotic granites and quartzites. Our sales people continually strive to give our clients the greatest service possible. We treat people like we would expect to be treated."
People – the Keystone of Artistic Stone Design
Speaking of people, Artistic Stone Design has eleven employees total. All are cross trained and very flexible, and most have been with the company for many years.
"Our employees are by far the backbone of this company and have been key to our success. All of us have fun working here, and it's not a burden—most times anyway. There are some tough days, but we try to have fun doing what we do because we spend so many hours doing it. There are four of us up front; two of them are sales people, then myself, and then Sharon Koehler who's in charge of inside sales, social media, bookkeeping and coordinating our website. Sharon, like all of our people, is a very valuable person. Our shop consists of three fabricators, two installers, one very dedicated repair technician, and is managed by Mike Sexton, a veteran fabricator of twenty five years."
A Thriving Repair Division
"There has always been a need for repairs in the stone business, but it's been my experience that no one really embraced that need. Here, at one point, it was always left up to the installers, but they weren't going to go out and do a repair until they were done with their installations. If they were busy the repair just got pushed back and pushed back again, sometimes to the point where it would take us three to four weeks to arrive at a client's home. Either way, no one wanted to do it or didn't have the time to do it, and we didn't take it seriously. At that time, to us, and frankly to most fabricators around the country, repairs were a pain in the neck but still necessary. So what I decided to do was first get a van and then fill it with everything we thought was necessary to do repairs: glues, shims, grinders, vacuum, cords, chemicals and anything to do face polishing. We also stocked it with items that we could sell such as sealers and maintenance products."
Jon continues, "We also installed an A-frame so one man could deliver and carry in a small vanity. The cool thing is, we've got a guy and that's all he does, and when we get a call for maintenance or repairs, most of the time we are able to respond with a visit to the home within a week. What we do as far as appointments is block out an eight hour day into three segments. So normally there is plenty of time to do the rounds. The bread and butter of our repair business seems to be mostly chips, caulk and sealing. Those items are relatively easy to do, but when it comes to going into a home and polishing etched marble, that's more time consuming, and a different story.
"When finished, our repairman can then suggest steps the homeowner can take to maintain his newly refinished stone. Typically there are two products that we can sell them: one is spray, with our label, that is applied like furniture polish. It goes on easily and renews the shine and makes the top shine like a new penny. It also contains a small amount of sealer that helps a little too.
"For those clients that are a little more concerned, especially about marble, we sell them a spray cleaner and an aerosol sealer. For homeowners that feel they can apply sealer on stone, we offer small cans of Pro Seal. So doing repairs in this way has taken a lot of pressure off our installers."
Artistic Stone Design: Success In Selling – Is Not Selling At All
"Our mission statement at Artistic Stone Design is 'We help people love being at home,' and we truly believe that. Our clients make memories making cookies on those granite countertops with their grandkids, or entertaining, or they just like coming home to a nice comfortable kitchen. A client may have beautiful cabinets, but good stonework makes them look a whole lot better. But we don't sell here—we get people to buy, and embracing a concept like this is a really, really high hurdle for most to overcome.
"A good example of this is when our salesman, Billy, goes out for an in-home quote. Billy will easily spend an hour and a half with a client just talking about what her needs are and to try to understand, in detail, what their project is, and answer any questions they might have. That's difficult as you might imagine.
"Sometimes he'll come back to the office and tell us that the last fabrication company that visited that homeowner showed up, stayed for twenty minutes, handed them a price quote, and then left. Fabrication companies like this are in a race to the bottom. If you think about it, it's this guy's price against mine, and the next two bidders are against him; and then one of them may think, 'If I can just get my price a little lower, I'll get the job and everything will be fine.' Well, that's fine—except you're leaving gross profit on the table when you walk out the door. We are a small company, and we cannot afford to sell low like those other guys. So we want to get people to buy from us, but for us there is no such thing as sell. You have to be different in this business—otherwise you're just like everybody else. You have got to have a unique selling proposition. Our job is a little fabrication, a whole lot of education and not selling."
Extra Profit Centers, The Other Cornerstone
Another lucrative profit center that Artistic Stone Design has developed is working in conjunction with four area restoration companies that repair water and fire damage, Jon explained.
"You would be surprised to know how many leaky pipes there are in the world like the ice maker or dishwasher that leaked. So we will get calls from these contractors for, let's say, an island with granite on it that needs to be removed. Typically the homeowners have temporarily moved out, and we will store these tops in a garage or bedroom that is not being worked on. The contractor will remove the cabinets and subfloor, dry things out, and then re-install everything that was damaged. Then we will go back and replace the stone. According to the statistics, there is at least one leak on every city block at any given time, and on average we do this four times per week.
"Our other profit center is using our Tomahawk Stone Splitter purchased from Braxton-Bragg. We use it to make three quarter inch strips out of remnants. We call these strips SNS (Split Natural Stone), and we sell these strips as backsplash. We pack them in boxes that hold three square feet and either sell them cash-and-carry or install them ourselves. The Tomahawk can do pavers and things like that, but we use it strictly for making these rustic backsplashes. That's one way to make use of material that we would have otherwise thrown in the dumpster.
"A week ago we installed a thirty-two square foot backsplash. It's not a big part of our business and all of these little things don't make us a lot of money; but they do make money, and that helps us keep one person busy or helps us buy a month's worth of health insurance."
The Future
"I do think the economy is picking up. A lot of builders that we haven't done work for in several years are now busy and are again calling us. Just a few years ago, every kitchen we did was under fifty square feet. Now we are seeing eighty to a hundred and ten square foot kitchens, every day. Cabinet shops are busier too with more commercial work. Some of this is due to the shift in what the builders are doing. So I see slow controlled growth. I could easily go and get more equipment, hire more sales people and things like that and take business up a notch or two, but it's not in our DNA to do that. There is a point where you get too big to be small, and are too small to be big, and that's a horrible place to be. We then become what I don't want to be, and that is one of those companies that a customer calls up, and goes through eight people before they can get an answer to their question.
"I do think the next piece of equipment on my list will be a straight line edge polisher. It would improve our productions speed while also taking some of the monotony out of those tasks.
"A key thing here is that it's not bad to be a small company. I've seen articles that feature companies that have lots of saws and CNCs and 50,000 square foot buildings. They are factories. There is a whole other world out there of fabricators, like us, that are small. I also think that if you're just cutting granite for kitchens you're missing a lot of opportunities. The way I look at it—the more things you do, such as repairs or tile work—the better known you become and the more referrals you get. We are a strong referral-based company, and that's how we got through the tough times over the last seven years."
Artistic Stone Design has been awarded the Angie's List Super Service award two years in a row and carries an A+ rating with the Better Business Bureau. Best of all, in 2013, Artistic Stone Design was voted "Best In Richmond" in 2 different categories. The company is also a dedicated member of the Marble Institute of America.
"But we don't sell here –we get people to buy." Interesting concept – don't you think?
For more information about Artistic Stone Design please visit their website www.artisticstonerichmond.com.
Marketing 101–A Simple Approach
How Artistic Stone Design Does It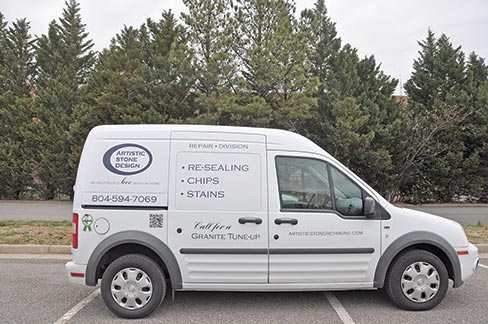 Artistic Stone Design is a front-runner in the Richmond, Virginia area market in part because of its reputation, goodwill and ethics. But these three advantages are only just part of the successful equation; an organized marketing plan and image helps to spread the word about what sets them apart.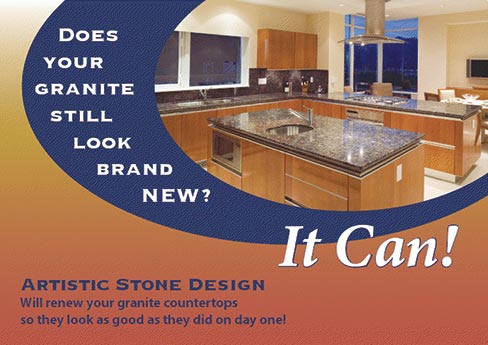 "We market for a few reasons," explained Sharon Koehler, Head of Marketing for Artistic Stone Design.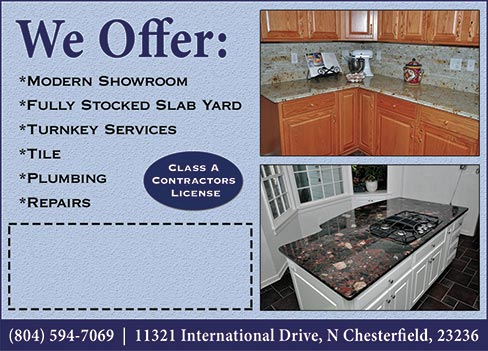 "Word of mouth is fantastic, and we love those referrals and look forward to them, but that doesn't take care of all your business."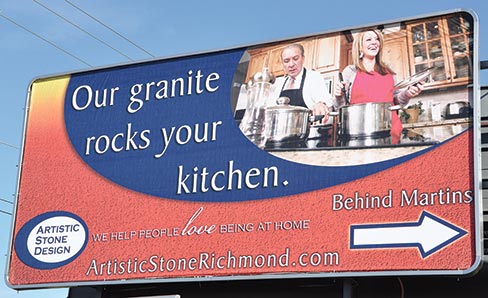 "You have to continually get your company name out there to let people know who you are, where you are, and what you do. So consequently, we have a series of roadside billboards that we've put up."
"We do that four or five times per year, usually in two different high traffic locations close to our shop."
"We also regularly advertise in many local weekly shopper papers in our area like the Powhatan Shopper and the Goochland Shopper, and we have just placed an ad in the Angie's List Richmond Edition for marble and granite repairs. In the past we've also done what's called 'Every Door Direct Mail' (a large, colorful, two sided card loaded with marketing facts), mailed through the U.S. Post Office targeting areas you want them to be sent to. Lately we've been sending out what's called 'Flyer For Hire,' where people go to houses and hand deliver our marketing materials into mailboxes."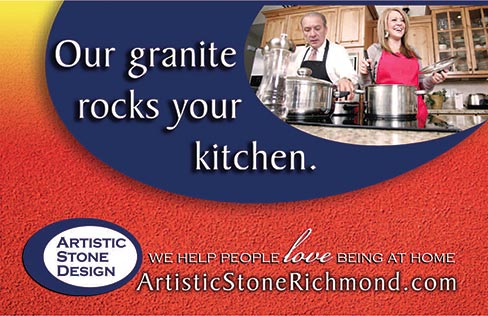 But, Sharon said, there's one more important but much overlooked marketing tool: turning a name brand product, such as stone cleaner, into your store brand.
Basically, it's when you re-label an existing product or, better yet, when you order enough quantity of a product so that the maker or the distributor puts your company name on it, thereby creating your company's private label.
This makes good sense.
Now, your established client, instead of looking for a past receipt or business card, can easily take out a purchased can of your private label from their storage, and pass on your company name and phone number to a curious friend.
A pretty slick and easy way to keep your company name front and center of your customers at all times, don't you think?
"Some clients may love what you've done for them in the past but may not remember your name or get it wrong," noted Sharon.
"So you want to keep your name in front of them whenever possible."
So if sales could be better and you're scratching your head wondering what you can do to change the equation, consider the innovative marketing and branding tool that the folks from Artistic Stone Design use.