Stone Spectrum: High Output, High Quality and a Full Spectrum of Stone Products
by Peter J. Marcucci
Photos by Gilbert Goodall
Mouse over photos for captions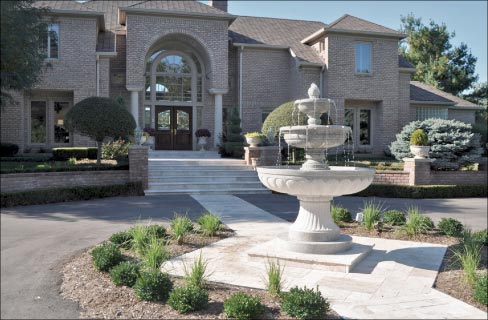 Servicing the greater Indianapolis area as well as four surrounding states, Stone Spectrum LLC —a family owned company since 2003—has stayed focused on speed, accuracy and customer satisfaction. Firmly positioned for success with experienced staff and cutting-edge technology, the company has captured and sustained its residential and commercial markets, while supplementing its success within burgeoning submarkets.
The Embryonic Stage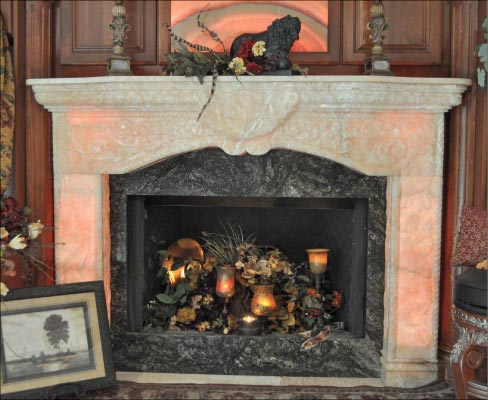 Currently led by Josh Spencer, Stone Spectrum LLC of Arcadia, Indiana was originally begun by its owner in search of a hand- carved headstone. Upon satisfying that need the owner, now inspired by sculpture, began making trips to countries beyond the sea in search of hand carvings.
"He couldn't find someone to hand carve a monument for his deceased father, so he traveled the world to find someone that could," explained Operations Director, Josh Spencer. "He found people in other countries who were, in fact, hand carving monuments, and wondered why he couldn't find someone in the U.S. to do it."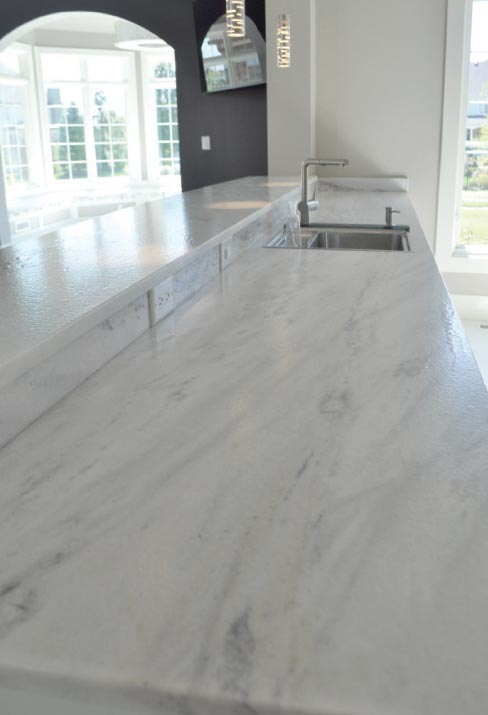 Not one to overlook an underserved market, the doors of Stone Spectrum were opened in 2003. At the time the main goal was to carve or import statuary, monuments and fountains. Soon after, the owner figured that slab fabrication was a good thing to diversify into, and decided to produce stone countertops.
"By the time I came onboard in 2009, we were doing one to two kitchens per week, and carving quite a few fountains per year," explained Josh. "We were highly focused on designing headstones and, additionally, serving the home and garden market wanting hand-carved fountains and statues. I came from eighteen years of stone fabrication, and my biggest agenda was to get out and build a company from the ground up. So I talked with the owner about it. His main business here in Indiana is masonry, and it's still our parent company. He told me, 'If this is what you want to do, you just do it.'
"My understanding of production and quality went hand in hand, and I was a good fit. When I came into the mix we started doing more countertops, and the goal was to build on that market. We had this huge building and wondered how could we fill it and make it productive. Additionally, our goal was to, (how should I say it), fit into our britches."
A Growth Machine is Awakened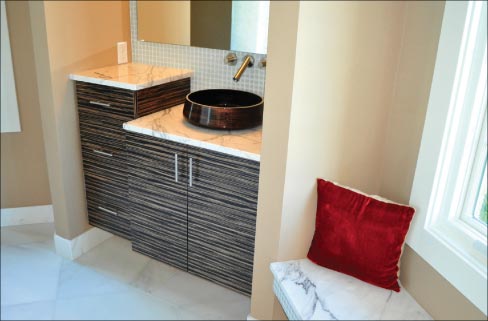 "It was difficult because we weren't as automated as we are now, and there was a lot to do," continued Josh. "My belief from day one, and you hear it in our industry all the time, was to not make a client wait an excessive amount of time for their installations. I've always been able to build a schedule, as long as everything is in order on the jobsite, and a fast turnaround time was key for keeping our customers who wanted it done right and tomorrow!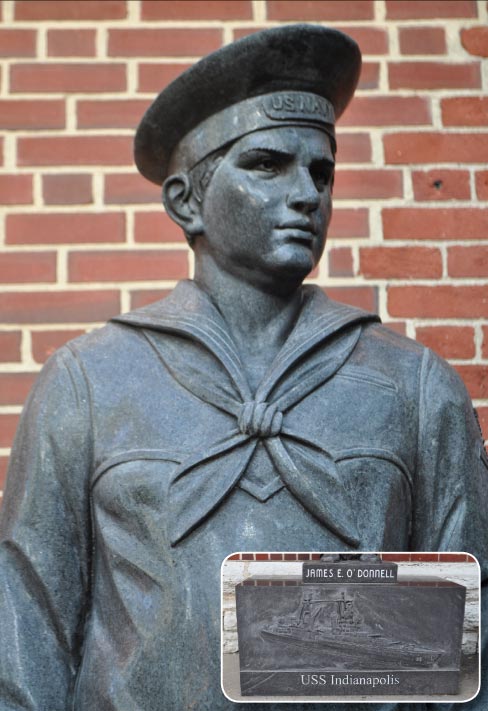 "When contractors are putting up a big building and need twenty kitchens per week, they need a company that can supply that demand. So one big reason for our growth has been that we've been able to keep up with any demand and complete deadlines on time."
Client Education: The Key to New Clients and Fewer Callbacks
Currently Stone Spectrum has a fifty-fifty mix of residential work versus commercial work. Residential, according to Josh, includes home builders (both upscale and mid-market), cabinet shops and walk-in homeowners; hotels and apartments are classified as commercial work. Satisfying those diverse demographics with emerging materials and new colors can be quite challenging, to say the least.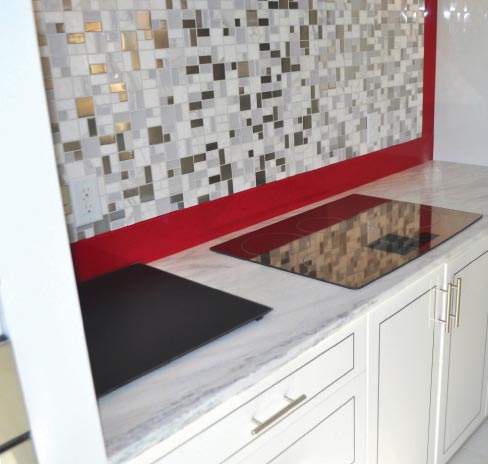 "You're always going to have callbacks. Sometimes it is just a service call and we have to go back and explain things to them. We always produce the best quality, but you are always going to have callbacks. It is part of the nature of the materials and the end users.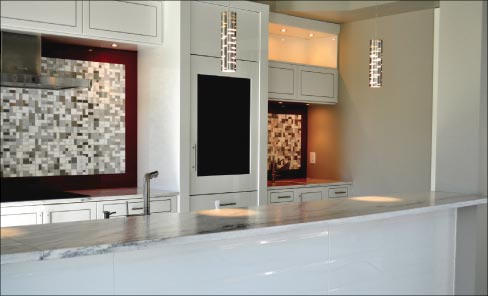 "We always try and educate our clients to avoid potential problems. It's my job as a professional and leader of a company that sells products made from natural stone. Exotic stone as well as quartz (engineered stone) is on the rise, and training those clients is a priority. Exotic materials keep coming in and they bring along more issues that the public doesn't understand. So we go through those facts to help rectify those problems, to make it easier on the front end, and to avoid them on the back end. All of our installers are very knowledgeable, and upon completion of an installation they'll do a walk through with the homeowner to answer any questions. Typically, after they have finished the installation, it's easier to work through any problems that may exist. That has worked the best for us."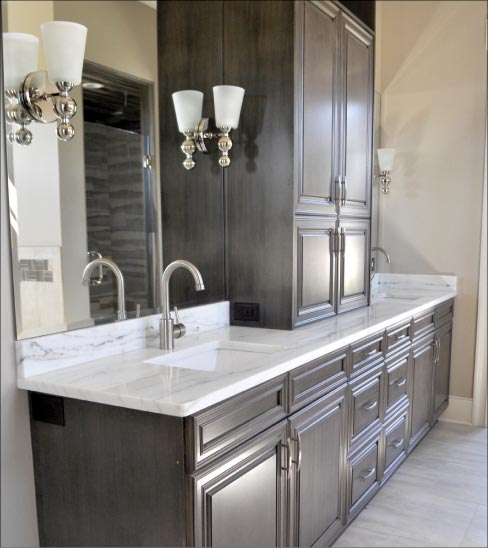 Stone Spectrum LLC imports container loads of material each month, including blocks of Bedford Limestone. They warehouse over 2,000 slabs, stocking everything from travertine and limestone, to granite, marble, quartzite and engineered stone. Josh says their maximum output is eight to ten thousand square-feet of slab production per month, "Production can vary drastically," said Josh, adding, "We are able to change to any market to make what the market wants. We are able to do high-end work one day, and turn the lights on the next day and run twenty-five commercial kitchens of the same quality. We've got the inventory, the people and the machines to do that."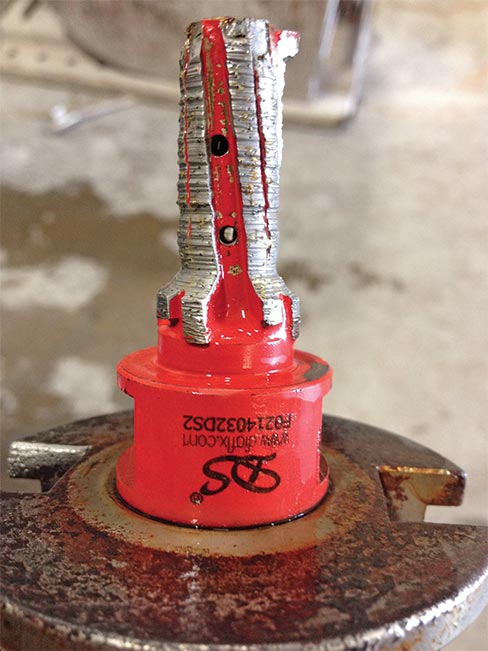 According to Josh, even through the recession business had always been steady, and it was never a cutthroat market. Regarding what they did to get the company through the last five years, Josh said: "It was finding better ways to do the same thing, and additionally, offering new and unique materials.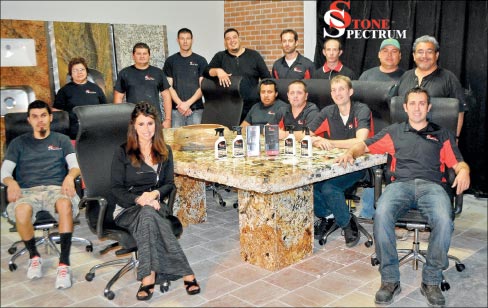 "Our market in Indiana is totally different from ten years ago. People now want more exotic materials. So traveling from the mountains of Brazil to the peaks in Norway, the owner selects materials from the top quarries. He has longstanding relationships that are very unique to specific places. With us, it's not just about bringing in Ubatuba—it's about bringing in materials that no one has seen before. You can never beat the beauty of natural stone. That said, the quartz market has jumped, and recently we have been bringing in more quartz slabs. We've been very competitive in that market, and we have our own line that competes well with other brands. This line is of quartz material is manufactured on Breton assembly lines. It is a high-end exotic line and made to look like natural stone. What we call 'nature' some clients call 'imperfections,' so not all customers are for natural stone. We ask them, 'Do you want an exotic look and don't want maintenance issues? If so, you probably want quartz.' So we educate those that may have wanted cultured marble or Corian and pushed that market by bringing in quantity and kept our pricing aggressive by buying direct."
People, Machines, Tooling: Three Keys to Successful High Production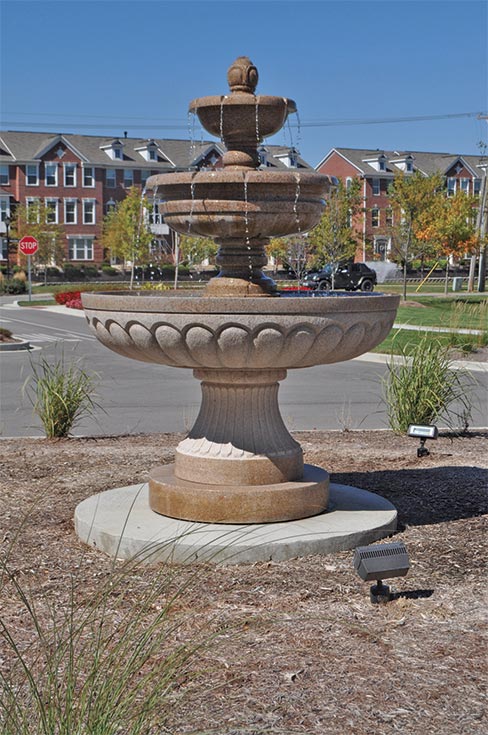 On the commercial side Stone Spectrum services all of Indiana as well as Michigan, Illinois, Ohio and Kentucky. On the residential side, the company's service spans a 150 mile radius from its center in Arcadia, with a strong presence in Indianapolis. To accomplish this, the company employs a staff totaling twenty-two, consisting of two dedicated sales people as well as in-house designers and architects who also sell. A small group of clerical staff keep things in order, while the fabrication side staffs two fabricators, two saw operators and two CNC operators.
"We are very lucky on our fabrication side," said Josh. "We have some very, very good people that will work 10-12 hours per day. They are here early and will stay late for as long as we have the work. I don't separate commercial and residential. We all work together as a team on all projects, and I wouldn't trade them for anything. All of our guys are cross-trained to work on everything except our CNCs. Nobody can do work by hand like a CNC that has a good operator and that, in part, is why we've been so successful.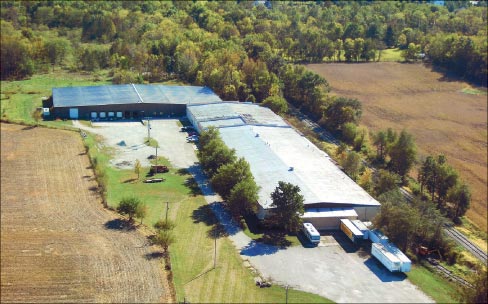 "Our two CNC operators have nine years of experience and our saw men and installers are very qualified as well. Other companies will have forty employees, but I would rather have twenty people rather than the forty and know that they are going to be here every day, on time, and put out quality work.
"They are excited to see our company grow, and they are just as excited to come in every day as I am and put out more work than last week, at the same quality.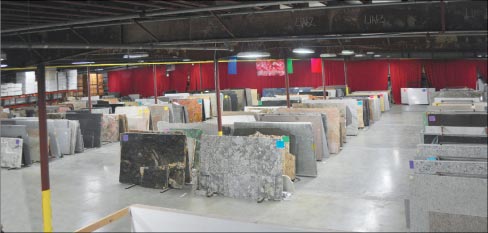 "We are also fortunate on our templating side. All templating is done digitally, and those guys are completely experienced and help to streamline production. Templaters will always help our five to six installers when needed, but their main job is templating. Working with the same guys everyday and keeping people long term has also helped bring us great success. They've helped build this company."
Stone Spectrum's "all under one roof" facility is 110,000 square-feet, and sits atop 15 acres. Equipped with a showroom featuring vignettes and samples to whet the appetite of walk-ins, it also features a comfortable conference room where clients can finalize selection. The company's slab yard and warehouse combined encompass a total of 40,000 square-feet, while the highly mechanized 30,000 square-foot shop houses two bridge saws, two inline polishers, three CNC machines and two backsplash edge machines. The company uses Jib and rail cranes to facilitate the safe and efficient movement of materials throughout the shop.
"We bought our first Northwood Machine CNC earlier this year. Hands down they are one of the best machine makers on the market. They are amazing. Northwood is constantly updating, and they are always there for us. We had worked with them for awhile and had to wait until production volume was high enough to add another CNC." You can have the biggest building, the best people and the latest machines—but without fast, reliable tooling — products won't go out the door promptly.
"We've worked side-by-side with a lot of different tooling manufacturers, and spent a lot of time testing tools to make our quality better in a more efficient time factor. We've been a Braxton-Bragg customer for four years, and when Mike King called me I told him, 'We do the majority of our business with Braxton-Bragg, and you guys have cut our costs down by a huge margin with free shipping and matching prices on things that we normally buy.'
"Mike then suggested using more of Braxton-Bragg's stuff, and stated a guaranteed tool life for one of his finger bits. Now, 'guaranteed life' is something I had heard in the past from a lot of manufacturers and suppliers. Everybody says that, no matter who you talk to. A finger bit is the one thing that you're going to wear out more than anything else, so the first thing you're going to look for is who has the best.
"Our machines tell us how many linear-feet come out of every tool, and we try and get that tool to outlast the next one. At the time we were running a Braxton-Bragg competitor's bit and were getting 300-500 linear-feet out of it. We thought that was huge, but Mike was willing to give me the challenge, and I said 'Mike, I'll make you a deal — you send me one, and I'll tell you how good it is! My guys are good machine operators—they don't tear up tools, they don't snap tools. I will run it and tell you how good it is.'
"So Mike was kind enough to get Braxton-Bragg to comp us a finger bit, and after running it extensively we took if off and it still had life on it after cutting 1,068 feet. The cost of that bit was just a little less than the bit we had previously been using, and we realized it had given us over double the linear-feet of work from any finger bit. So I found out, maybe through beginners luck.
"Meanwhile, my guys just said, 'Keep buying these bits—this is crazy.' CNC guys don't want to stop a machine and change tools—who does? Plus, they saw the savings in it; so I bought the next one, and we put it on. Now It's been on a month and it's only halfway worn. I've got 700 plus feet on it as of today, and I'm looking to get 1,200 feet out of it! Everything I've been told by Braxton-Bragg usually works.
"Here's another thing. We are also performing tests on Braxton-Bragg core bits.
This core bit has 230 plus holes on it so far, and it's not even half-way worn. Usually other core bits get between 200-300 holes—so we'll see how this one lasts.
"I do expect we'll see the same great wear factor as the finger bit, and I'm not saying the wear factor has to be double or even triple. Even if the wear factor is the same as the others, combined with better shipping and service, Braxton-Bragg shouldn't have a problem at all in the market. Some of the other tool companies tell me how good their tooling is—I hear it all the time, and I just tell them 'If you're that confident, send me one.' Usually they won't.
"We are people of our word here, and we wouldn't be where we are today without good machines, good people, and good tooling. If Braxton-Bragg saves us a dollar—that lets us put that dollar into more material, and now clients don't have to buy Ubatuba — they can afford Delicatus. We make more money, and they save money and get something they didn't think they could get. As far as other new high-speed tooling for CNCs — I haven't tried anything from Braxton-Bragg, yet, but that is the next step. With their ninety-day guarantee, how could I not try it!
Local Relationships: The Key Opening The Door to Extended Sales
Josh will tell you he doesn't sell material by the slab, and only charges for the square footage that's used. So if a client wants a corner cut out of a slab, he only charges them for that corner and at the same square footage price as a whole kitchen. "We open our arms to the other fabricators in town, and sell those smaller pieces. That's unheard of, because most of our competitors won't. They consider them competition. I don't look at them as a competitor; I look at them as someone I'm working alongside of.
"The fabricator down the road that doesn't have the machines or materials to do the job may not need to buy a whole slab for just two vanities. We'll sell them cut-to-size or fully fabricated, and they'll leave with fabricated pieces, and all they do is install it. So we've tried to progress and get bigger while still helping the smaller guys and not forgetting where we came from. We feel that as long as it makes sense for both of us, this is what we'll do. As a result we still get the sale down the road. I have ten of these small companies that come in and say 'It's so much cheaper to do it this way,' and they've found themselves doing more volume with less risk. If it breaks, I've got to re-cut it — not them."
A Commitment to Safety – The Final Key to Long Term Success
According to Josh, Stone Spectrum has never had any major injuries or workman's compensation claims. It's about the good training of good people, he'll tell you. "We've had stuff get under safety glasses and sometimes someone cuts their hands or fingers on a sharp end of granite, but we've been very lucky. It all goes back to new employees getting trained from the bottom up. We take a lot of time in the beginning to train our people because, like any industry, much of the time, it's the rookies that have accidents. So the first day a trainee starts here, his first job is safety, making sure the tools and work area are cleaned up, till I'm ready for him to train for the next steps."
Looking Toward a Productive Future
"I think the biggest thing in our future is more investment in new production lines. As we expand commercially, being able to cut bigger stone and blocks of limestone is in our future. We have designers and architects walk in all the time, and not just from Indiana. We are starting to do more and more work out of state. Some of the general contractors that we've previously done work for come in and want us to do one of their out of state projects, much of the time because we had turned their projects in forty-eight hours. Lately, we've even had out of state contractors call us for quick turnaround. Even if it costs a little more, these guys are on deadlines. So we keep reaching out into other states. Today, I have guys in Cincinnati, Ohio, a three hour drive, doing restaurant work.
"So we are going to invest in bigger and more automated equipment to run more efficiently, so we don't see that work being produced overseas. And if I can keep some production here and not have to order it and wait on, that's another goal. It's a time sensitive and demand thing, and we want to be the company that can meet those demands.
"It's been easier to buy pre-cuts from Asia and we want to be able to compete with that directly with new cutting systems. So that's the future—to bring things here to this country that are not here, or have slowly faded away. We want to be able to say, 'Yes, that can be done here!' "
The newly redesigned www.stonespectrum.com website offers visitors the ability to see great selections of products.
A companion website, www.tonespectrummonuments.com offers a selection of stone monuments, vases, urns and plaques. The future of the website is to build a broad base of stone selections for their customers' ease and convenience. The websites allow customers to view a wide variety of selections of countertops, sinks, fountains, planters, benches, fireplace surrounds, pedestals and even more.
As with any good consumer-oriented website, Stone Spectrum's websites are updated on a regular basis to keep track of the changes that occur within the their warehouse.