Rules for Hanging Out
Ben Cole
Stone Industry Consultant
Mouse over photo for caption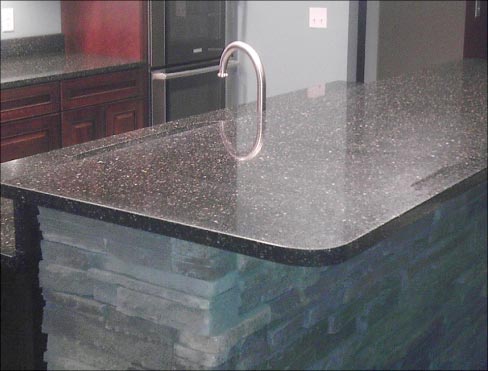 Being a stone fabricator entails being educated on what seems like endless amounts of information, from understanding the differences of multiple types of stone, to fabrication processes, along with other business aspects such as company health care and accounting.
One often overlooked area where I see wide spread confusion and misinformation among builders, designers, customers, and even fabricators is with the amount of overhang that should be used, and when extra supports become necessary to support a large overhang.
As a fabricator, you should be knowledgeable about what the standard overhangs are, when supports are required, how much length a granite top can span prior to needing additional support, and how much stone is required to cantilever and overhang.
The best source for this information and virtually all of the guidelines in the stone industry can be found in the Dimension Stone Design Manual, a book published by the Marble Institute of America, the leading authority on information and guidelines in the stone industry.
One of the most common questions a fabricator will hear when it comes to overhangs involves how much overhang is possible on an island top before supports are necessary.
The MIA guidelines specify that any overhang exceeding six inches for ¾ inch (2cm) material and any overhang surpassing ten inches for 1-¼ inch (3cm) material should be supported.
I know most fabricators I have talked with would argue that twelve inches, the most commonly used standard overhang for seating areas, is safe and is the maximum amount of overhang that can be used prior to supports being necessary. Realistically, only a structural engineer presented with such facts as the stone's flexural strength, compressive strength, etc., could give an accurate answer on exactly what overhang would be acceptable for a specific stone.
However, I think most seasoned fabricators with a good understanding of the different stones they are working with can deviate slightly from the guidelines set forth by the MIA. For instance, 3cm Black Absolute and 3cm Sapphire Blue are both extremely dense and strong stones that can easily overhang a cabinet twelve inches without additional support.
On the other hand, some exotics like 1-¼ inch (3cm) White Fantasy and 1-¼ inch Nettuno Bordeaux tend to be less dense and have more weak areas and fissures in the stone. For these stones, especially those materials with lots of movement and veining, I would suggest adhering strictly to the MIA's standards.
Erring on the side of safety and reinforcing even a ten-inch overhang with steel rods or using one of the new I-brace systems is always a good idea for fragile materials.
Now, when it comes to the necessary cantilever and spans which granite can cross prior to needing extra support, I would suggest closely following the MIA's guidelines.
For 2cm granite, a maximum span of two feet is recommended prior to supports being used to reinforce the middle of the granite overhang. A maximum span of three feet is spec'd for 3cm granite. Again, with weaker materials (less dense stones with lots of movement) I would suggest being conservative and reinforcing the stone with steel rods to strengthen the granite and protect against a disaster scenario where the material potentially breaks and someone is hurt.
For cantilevers the MIA's recommendation is very clear, two thirds of the stone should be on cabinets with one third of the stone able to overhang the cabinets. Or in other words, a top that is thirty-six inches wide should have twenty-four inches of the stone located on cabinet with twelve inches of stone able to overhang the cabinet. I strictly adhere to this myself and would recommend that you do so as well to avoid any future legal problems.
The area of overhang where I have found there to be the most debate and differences of opinion is the standard overhang off of the face of the cabinet.
For overlay doors (doors typically measure ¾ inches wide with an 1/8 inch space between the door and the cabinet face), the MIA recommends that the front edge of the stone top fall in line or exceed the cabinet door / drawer hardware. With most hardware measuring 1 inch, this typically puts the overhang at between 1-7/8 inches and 2 inches for overlay doors.
Now, I find that many fabricators and designers will argue that this is too much overhang and typically stick to a 1-1/2 inch overhang in this scenario. In truth, this is purely a matter of preference and the designer and homeowner should be consulted to what they would like to see.
In most cases, if a fabricator has a standard overhang the homeowner will typically go with their suggestion as they often look to the expert to help make these types of decisions. When it comes to doors that are flush with the cabinet, the MIA again specifies extending the overhang to or past the hardware.
My typical rule of thumb would be to keep the overhang between 7/8 inch to 1-1/4 inch in this scenario. If the overhang is on a furniture top or a vanity top where you are going for a furniture-piece look, then typically a very minimal overhang is used, ranging from 3/8 inch to 5/8 inch.
It is a fabricators duty to be educated and to educate their staff on the overhang guidelines and all guidelines set for the stone trade. The MIA is the ultimate source to go to for guidelines and also provides the fabricator with a leg to stand on if any issues or accidents ever occur.
Also, being knowledgeable and citing industry sources when dealing with builders, designers, and architects makes you look like the true professional and craftsman that you are.
Ben Cole grew up in the stone industry working in his family's shop and currently manages a family-owned fabrication shop in southern New Jersey.