Pyramid Marble and Granite Field Tests New Talon™ Miter Cut Blade
Joel Davis
Special Contributor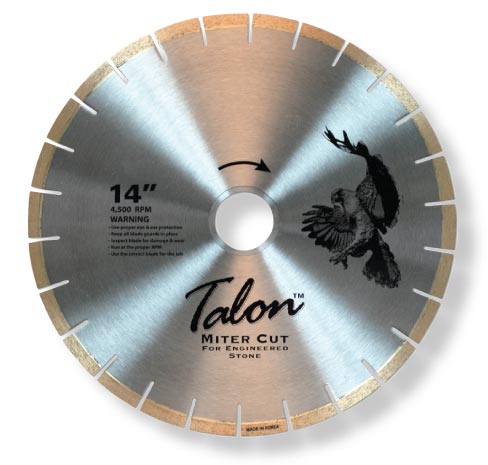 Fabricators can get miters right the first time using the newest addition to Braxton-Bragg's high-end tooling line: the Talon Miter Cut Quartz, Granite, and Marble Bridge Saw Blades.
Designed to cut sharp, smooth, chip-free edges on miters, the new blades offer consistency and quality that will save time and money in the day-to-day operations of fabrication shops, said Braxton-Bragg Product Manager Steve Bussell.
"With miter blades the quality of cut is a real concern," he said. "You can't afford any kind of wobbling or chipping because that miter is right there for everyone to see. While a lot of fabricators are very good at filling and matching and patching, the more accurate the cut, the faster the process works for them."
Designed to cut very hard materials, the Talon Miter Cut blades feature a specially formulated soft bond that maintains the cutting power of the blade all the way through the job.
After testing them out in the real-world conditions of a working shop, Jason Brandt, CNC Programming Manager for Effingham, Illinois-based Pyramid Marble and Granite, said he would definitely recommend the Talon Miter Cut blades to other fabricators.
"They chip way less than anything else we've used," he said. "We use them on a Northwood Sawjet for cutting miters when we do drop aprons and things along that line. The miters need to be straight, but a lot of blades wave in and out. The cuts are a lot straighter from end to end than other blades we've used."
The Talon Miter Cut blades demonstrated their value on the job for Pyramid Marble and Granite: reducing labor time and providing consistent quality. They can do the same for other fabricators, Bussell said. "It performed beautifully in a very high-end shop. They got excellent results. Their miter was virtually chip-free. Production was able to move smoothly and not stop to care for breakouts or anything like that."
Shops are seeing more demand for the use of miters on their products as customer tastes change. "A miter edge is very popular," Bussell said. "It doesn't have a country look and is used in kitchens that are designed to be more modern looking. The cut is more popular than ever. That is why we came out with the blade."
Benefits of the Talon Miter Cut blades include speed, accuracy, lack of flexing, and consistent, clean cuts. "It keeps a consistent 45-degree bevel if that is what you are cutting," Bussell said. "It is also a fast cutting blade, using a softer bond to compensate for harder materials such as quartz, granite, and marble. It's just the best way to go about cutting."
The Talon Miter Cut blades are designed specifically for cutting miters, knowing the stresses that are unique to that type of cut. They are meant to compensate for the shortfalls of using generic blades, Bussell said. "Typically, your saw is going to be running a straight line. Now you're asking it to go 45 degrees. You get some lift on the blade. What can happens on the end, if it's not really cutting cleanly, is it can flare up on you."
Instead of taking a Swiss Army knife approach, Talon Miter Cut blades are meant to do a specific job very well, Bussell said. "This blade was designed to do the very best with the technology that is available to prevent those breakouts at the end while providing an accurate 45 degree bevel."
The formulation of the bond keeps the blade sharp by refreshing the diamond cutting surfaces that would be quickly dulled by the hardness of granite and other stones. "If you are working with soft materials, you want a hard bond," Bussell said. "If you are working with hard materials, you want a soft bond. While a hard bond may work in some cases on miter cuts, it puts a lot of stress on the machine as the blade dulls. You want to avoid increasing the amps and getting that undesired lifting on the saw."
The Talon line is Braxton-Bragg's premium brand of tooling. Each product brings the benefits of the latest technology to shops and is chosen for its ability to save fabricators time and effort.
About Braxton-Bragg
Braxton-Bragg offers a full range of fabrication tooling and installation accessories including sinks, installation hardware, and every tool and piece of equipment needed to run a professional stone, tile, and polished concrete shop.
For more information about Braxton-Bragg and its publications and products, contact them toll-free at 800-575-4401 or visit the websites www.braxton-bragg.com and www.slipperyrockgazette.net for current and archived issues.