Bellavita Introduces Large Format Glass Mosaics with Canterra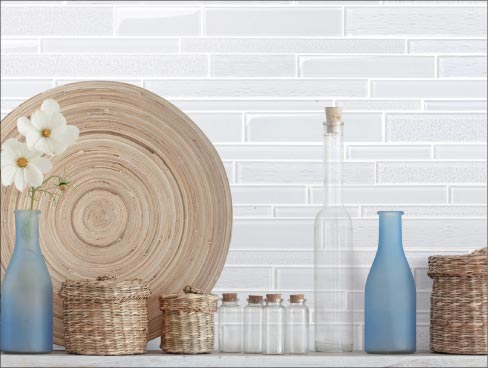 Bellavita Tile, a leader in design and innovation for the North American tile industry, has brought to market the Canterra Collection, a large-format glass mosaic range.
"Canterra is the start of a new style of product design exploration for us," stated Mike Ward, VP of Sales for Bellavita Tile. "The thought process behind this innovative product was to take the best attributes of natural materials and then re-interpret them in glass. So far, the reception for our luminous version of worked-stone in the Canterra Collection, has been phenomenal."
For centuries, architecture has revolved around the time-tested beauty of worked-stone. Canterra showcases inspiration from iconic examples of worked-stone such as bush hammer & chenille, in a deep, glossy translucent glass mosaic.
Offered in 5.5x27˝ sheets, Canterra is a huge format for a mosaic begging for larger spaces. Reminiscent of stacked stone style mosaics, Canterra dazzles in four inviting earthtones that sparkle as only fused glass tile can. The mosaic itself is composed of three stone textures presented on both front and rear faces of the glass… resulting in optimal backdrops for any design. Canterra brings the soul of the quarry, adding a unique, natural beauty to any space.
For more Bellavita Tile information, visit www.bellavitatile.com or contact them directly at project-info@bellavitatile.com.
Tile Installers should note that Braxton-Bragg offers tools designed to handle and install large format tiles, including the Raimondi Tile Leveling system, Tavy spacers, and the Raimondi Large Format Tile Mover.
See www.braxton-bragg.com for a complete array of tools for tile installation.