Stones of the World: The Majestic Colors of India
Peter J. Marcucci
Special Contributor
Photos courtesy of Madhav Marbles & Granites Limited
Mouse over photos for captions
In the world of "Living Large," stone from India is on every fashion taste-maker's palette of colors, when exotic elegance is essential to the project.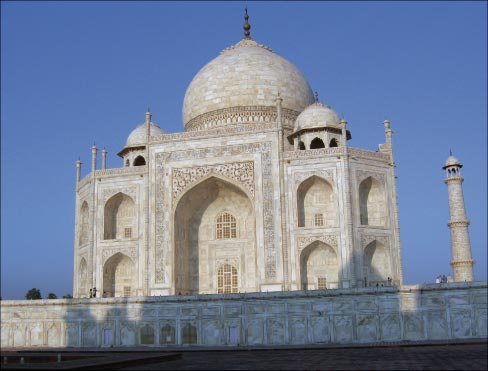 Moreover, stone from India continues to remain the most desired materials of the worlds' foremost designers looking to add context to their clients' projects. Exaggerate the essential—leave the obvious vague—and add context with a trove of majestic colors from India!
This story begins between India's northern borders of Pakistan and the lofty Himalayas, to its saltwater-kissed shores to the south and all points east and west.
Considered a South Asian subcontinent, famous cities include New Delhi, Mumbai and Bangalore, while a few of the world-famous notable structures include the Taj Mahal, Red Fort, and Qutub Minar.
Also considered the cradle of civilization and recognized for centuries for its vast empires and historic trade routes, the "Republic of India" is the seventh largest country and most populated democracy in the world.
India's 1.2 million square-mile landscape is dotted with hundreds of quarries throughout its 29-states and 7-territories. With vast deposits of all types, two major areas are most quarried. Overall, Rajasthan, India's largest state, located in the northwestern region, currently has the highest number of granite quarries, and is best known for crystalline types such as Black Beauty, Jhalore Red and Desert Brown. Moreover, varieties of white, pink, gray, green and gold as well as assorted soapstones, sandstones and quartzites also come from this area.
To the south, India's second highest production area encompasses both eastern and western regions, and states Telangana, Orissa, Kerala, Tamil Nadu and Karnataka contain a montage of colors that by far rank as one of the top granite production areas, anywhere. Additionally, these regions accommodate some of the highest-ranking international stone companies in the world.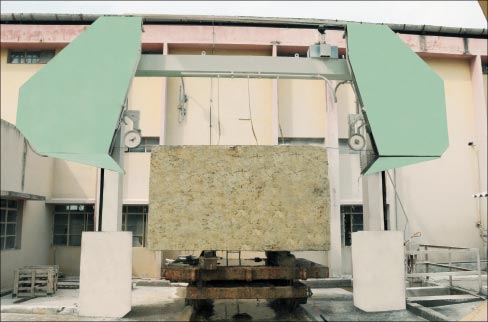 For example, the southeast state of Andhra Pradesh is known for its green, red and brown granites and especially its varieties of Tan Brown and Black Galaxy.
In India's southwest region, located in the state of Karnataka, lies the Capital city of Bangalore. Known as the "Silicon Valley of India," Bangalore is a ultramodern mecca of high-tech development, and a major exporter of leading-edge technology to the world. Bangalore is also one of the top ten preferred entrepreneurial locations in the world.
Well known for its vast deposits of both soft and hard colors, granites such as Multicolor Red and Absolute Black are quarried in the outer regions of this city. Popular colors like Himalayan Blue, Milky White, and Rain Forest Green, and Brown are also quarried throughout this area. As a result of these enormous assets, there are many factories in and around the cities Ajmer and Udaipur (located in the state of Rajasthan) that process both marble and granite into slabs and tiles.
Madhav Marbles & Granites Limited is one of those companies. With a marble division located in Udaipur, Rajasthan, and granite division located in Swarnapuri, Salem, Tamil Nadu, Madhav Marbles & Granites Limited is one of the more prominent producers in these areas, serving the world market for over two decades.
The company is also one of the first in India to import Italian machinery. Its current list of equipment consists of 2 Pedrini tiling lines, 6 Pedrini block cutters, 6 Gaspari Menotti gang saws, 2 Breton polishing machines, an automated resin machine and 3 mono wire saws.
"The company was started in 1989 by my father-in-law, Ashok Doshi," explained Manager of Exports and Owner, Riddhima Doshi. "He saw great potential in the stone industry at a time when there were hardly any factories in India and margins were very high."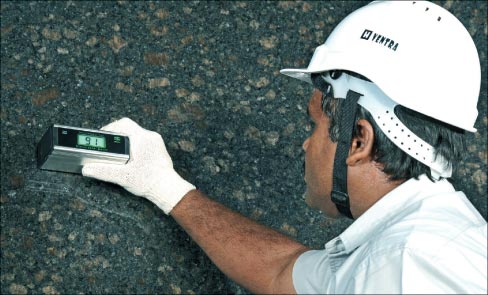 Riddhima Doshi joined the company five years ago just after marrying her husband and current President, Madhav Doshi. With an MBA in Finance from Narsee Monjee Institute of Management in Mumbai, Riddhima also takes care of marketing and many aspects of production planning.
"After Brazilian granite—Indian granite is the most popular in the world," she continued. "India has huge deposits and a large number of factories to process these stones into a usable form. These colors are popular throughout the world because of their beauty, excellent characteristics and a great deal of effort put forth to bring them to market."
Adding Context to a Sometimes Difficult Environment
Typically, both small and large open-type quarries, are owned by several different people or corporations using modern extraction methods. In open quarries, cutting methods create benches or stone ledges that are dropped and then cubed into blocks. Select blocks are then purchased by factories who then cut the cubed material into slabs and tiles using sophisticated state-of-the-art equipment from Italy.
Finished material is then containerized and trucked over the road to Asia and Europe, or to the closest port where they are transferred to ships bound for destinations beyond the sea. Notably, India's nine coastal states of Gujarat, Maharashtra, Goa, Karnataka, Kerala, Tamil Nadu, Andhra Pradesh, Orissa and West Bengal are home to all major ports, serving all continents and countries.
When asked if those quarries are difficult to deal with Riddhima replied, "Yes, it is very, very difficult! Most of the quarry owners are not manufacturers and do not understand the taste of international buyers. A few of them have even killed the market for their own products by increasing their prices too much.
"Our personnel travel abroad to meet our buyers directly. The market for blocks is very unorganized, so most of our energy goes in procuring good blocks at the right price. We have a team of six (block markers) who are stationed in different areas of India to procure blocks. They are always on the lookout for the best quality. As far as defects, there are always patches, cracks or lines to deal with.
"Fortunately, most of the granite and marble is strong and not too difficult to process. For slabs that are soft, we reinforce them using fiberglass mesh. Quarry labor as well as weather conditions, including at least 3 months of monsoons, are an ongoing problem, and a major difficulty in quarrying.
"Being one of the oldest companies in the industry, we are, however, regularly approached by quarry owners with samples of new colors. Based on our experience of various markets, we decide the maximum price we can pay for any material.
"We have close relationships with a lot of quarries, wherein we have the first right of refusal. We process about 70-80 colors of granite and do all types of finishes including polished, flamed, leather and water dropped.
"Besides cutting Indian granite, we also source and process granite blocks from Norway, Africa, and Sweden. We export worldwide, and our methods of processing and shipment are similar to Italy; the Italians are the pioneers in stone processing."
Context in a World Market
Largely recognized both past and present for its cultural and commercial wealth, India's share in global exports currently ranks thirteenth among the world, with a large portion being natural stone. According to the U.S. Department of Commerce in 2013, India was ranked third in stone exports to the U.S. with a sum totaling just over 217,000 tons.
To put this into context, Brazil was ranked number one with 725,000 tons of stone exports to the U.S.; while China ranked second with 509,000 total tons. Italy, with 180-tons of exports to the U.S. was ranked fourth with just 37,000 (less) than India. These are truly impressive numbers, to say the least!
"We are a one-hundred percent export-oriented company and deliver 800-900 containers annually, totaling thirteen million dollars in sales," continued Riddhima. "Most of our exports are to the U.S., mostly to Florida, Texas, New York, California, Arizona, New Orleans and Massachusetts.
"Within Europe we export mainly to Germany, Austria, UK, Italy, Poland and Slovenia. Besides these we also export to South Africa, Russia, Japan and the Middle East including Libya and Turkey. And we see new colors being mined every day. I see stone from India gaining more popularity in the world stone market due to the reliability and trustworthiness of companies here."
In conclusion, the benefits of the majestic colors of India to today's end consumer are a combination of price, durability and aesthetics. Offering testimony to these and other claims of Indian stone are the countless stone monuments, temples, palaces and forts that continue to stand the test of time.
These awe-inspiring structures, built by an ancient Indian civilization using archaic quarry methods, to this day, continue to evoke great emotion and wonder from visitors young and old. Without a doubt, India's rich tapestry of stone colors will continue to embellish the finest homes and companies for centuries to come.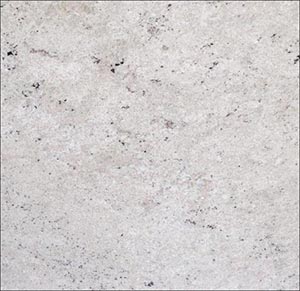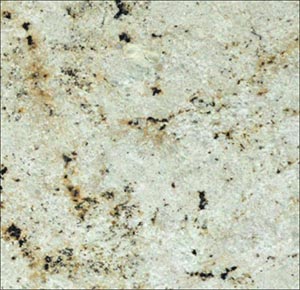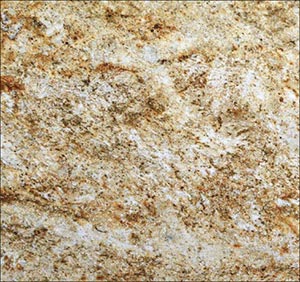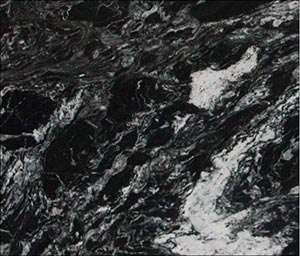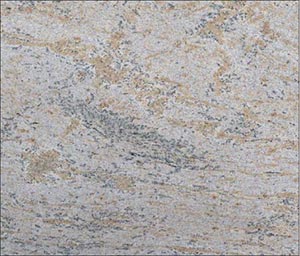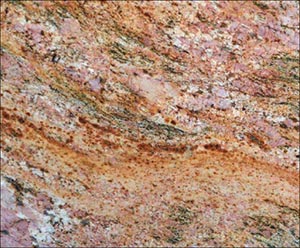 For more information about Madhav Marbles & Granites, LTD, please visit their website at www.madhavmarbles.com.
Peter J. Marcucci has over 25 years of fabrication experience in the stone industry. Send your comments to our Contacts page.