How I Survived the Crash of '08
by Joel Davis
Mouse over photos for captions
Knoxville's Stone Interiors has developed a great relationship with area custom home builders. This sample kitchen was fabricated and installed in an Ethics Construction 2015 Parade of Homes Tour house. Knoxville's Stone Interiors Owner Kelly Milligan represents the third generation of her family to work in the stone business.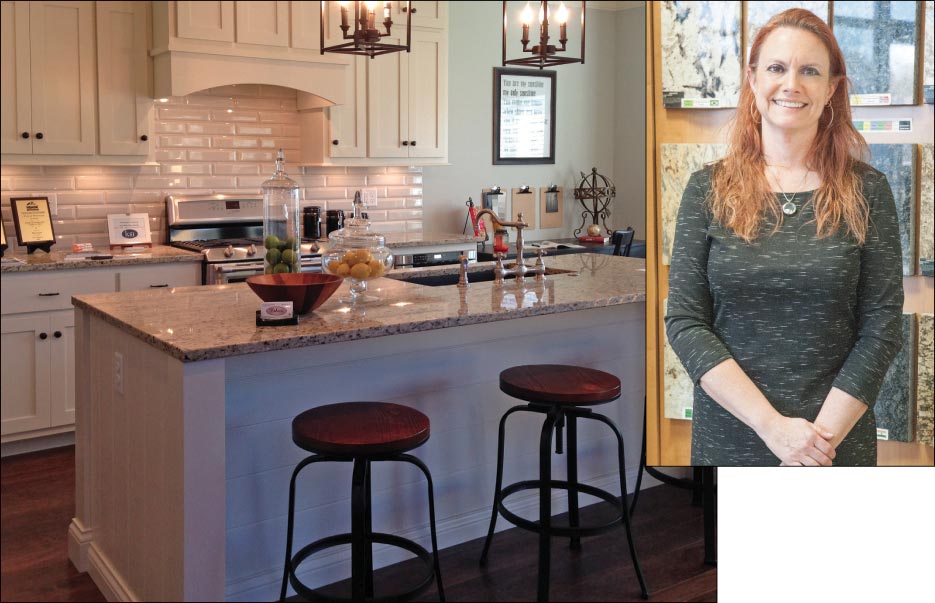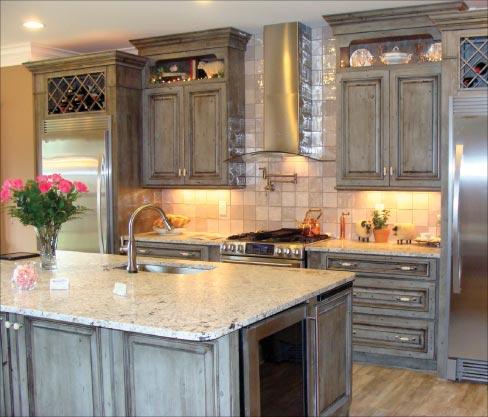 It is not just a woman's touch.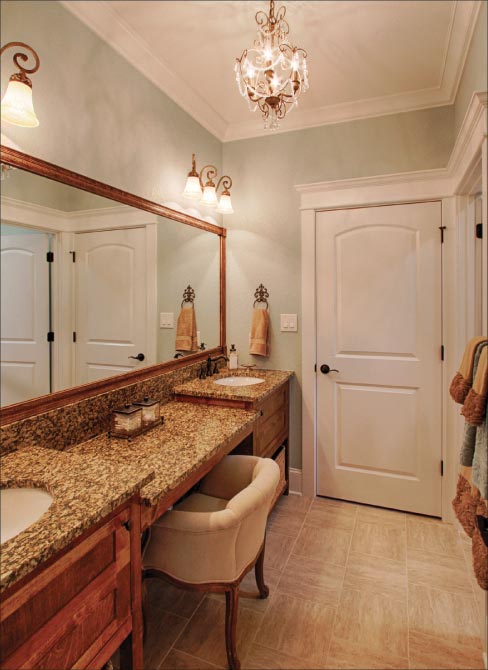 Kelly Milligan owns Knoxville's Stone Interiors. Her hands are on the steering wheel. She's led the business to success since 2007.
It has been a challenging eight years. Milligan conquered the economic turmoil that drove many out of the industry.
"Customers are happy again," Milligan said. "They are ready to invest more in their homes."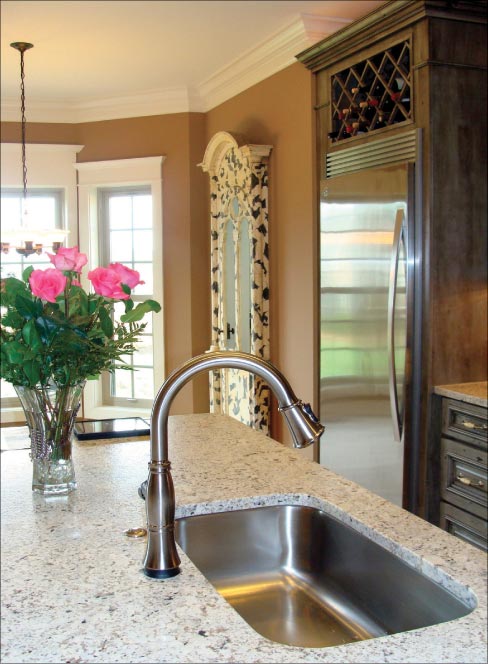 KSI is the only woman-owned stone fabricator in Knoxville, Tennessee. Milligan has a family legacy in the stone industry, but, she built the company on her own. The company has succeeded through her tireless customer service and outreach.
"Every customer has the opportunity to meet with me personally to go over their project before, during and after – which surprises many of them, since I am the owner," she said.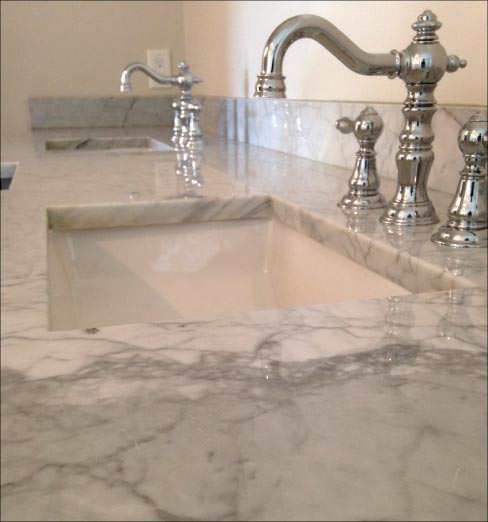 This means female customers might feel a little less pressure during the sales process. "A lot of them are just a little more at ease. Perhaps they are comfortable because a woman who knows the details is helping them choose THEIR stone."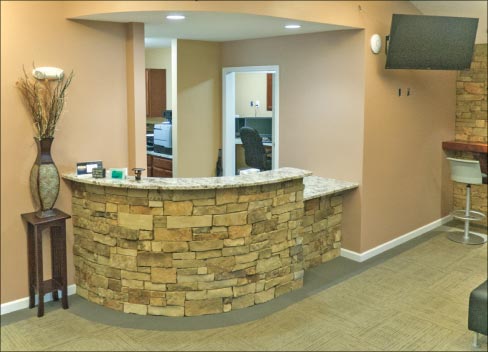 Being attuned to customer concerns also gives Milligan an insight into the importance of response time. "As a woman-owned business, I understand being without a kitchen for an extended period of time, so that is one area I keep a close eye on," she said.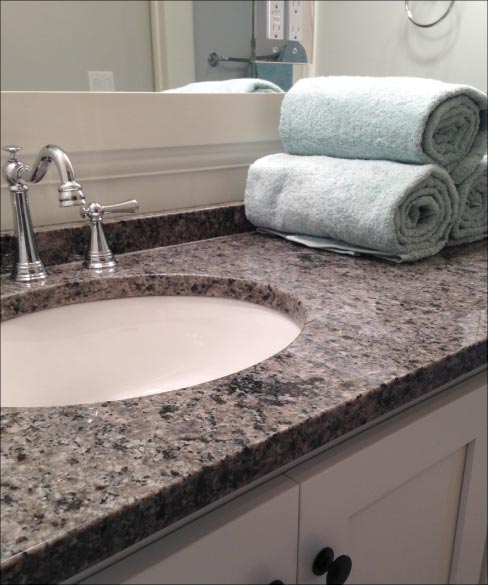 Customers are ensured peace of mind. All employees pass a thorough background check. They are also drug screened. Only then can they enter a business or residence as part of a KSI install crew.
Perhaps the biggest reason Milligan succeeded during the crunch is she used marketing and networking ideas that many stone shops ignore. Outreach is a big part of KSI's marketing. It partners with more than 60 builders, home remodelers, and designers in the area.
KSI is a member of the Home Builders Association of Greater Knoxville.
"As the owner of KSI, I am always aware of how much time and emotional energy customers spend on their kitchen projects," Milligan said. "My goal over the next 6 to 12 months is to significantly reduce the time and anxiety of choosing colors by finding and implementing ways for customers to view available material, view selections with a representative cabinet and wall color, and help them gather as much information about their process as they can without ever leaving the house."
Milligan also uses social media to great effect. KSI has been voted "Best of Houzz" three years in a row. They also have received the Angie's List Super Service Award two years in a row. These endorsements are important marketing points to bring in customers, as is their "A" rating with the BBB.
"After much testing and sampling for results, we are currently most successful with: internet advertising and social media, targeted radio and television advertising, targeted print media, and specific home show participation," Milligan said.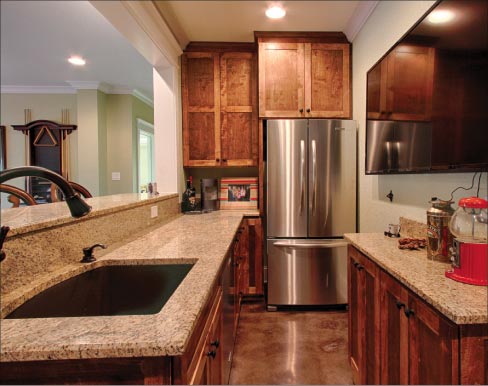 KSI offers turnkey, in-house service as a selling point. No subcontractors are used. "Life is not perfect," Milligan said. "Life is messy sometimes. If something does go wrong, they only have to call us. They don't have to call three or four people.
"A lot of people do like that phrase 'turnkey services, in-house,'" she said. "That is for all the processes. That is probably one of the biggest complaints (in the industry)… the subcontractors."
Customer comfort is also a priority that gains KSI points. "The customers feel comfortable with us," Milligan said. "They are more at ease knowing if I wouldn't trust the employees to go into my house, I'm not sending them into theirs."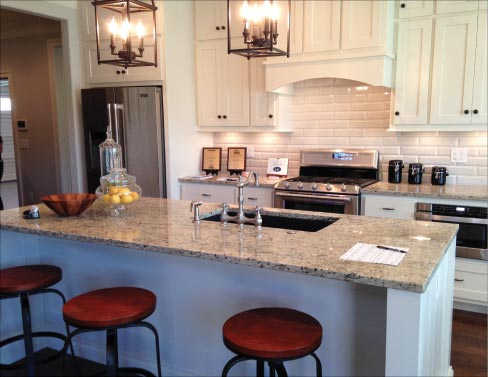 KSI focuses on economical options. For example, customers do not have to pay for entire slabs for projects. "We only charge for what is used," Milligan said. "We then make the remnants available to other people who have smaller projects.
We hold the remnants until the job is safely completed, and the customer is satisfied. Then we release the extra stone for other jobs, and can keep the cost per square foot down."
KSI has certainly found its niche. It completes about 1,000 jobs each year. They are primarily kitchen and bath projects for mid-income customers. Milligan is directly involved in the day-to-day operations.
The company has been a Braxton-Bragg customer since 2007. KSI relies on Viper brand pads and small blades which offer high productivity. They also provide long life and good quality results.
KSI also uses I-Brace products (manufactured by InnoTops LLC) on many projects. I-Braces support overhangs on granite and concrete breakfast bars and islands. They are safer and replace old-fashioned corbels or wood supports. In addition, KSI uses Braxton-Bragg sink setters and dishwasher brackets.
These time-saving products help countertop production and installation go faster. Turnaround time for KSI projects is 10-14 business days. Milligan recently added another installation crew. She wants to keep response times down.
KSI employs 16 people in their showroom. It has a 10,000 square-foot fabrication shop with inside slab viewing and storage. There are plans to upgrade its production capabilities in 2016, Milligan said.
All in the Family
Another factor affecting Milligan's success is her familiarity with stone and stone products. She represents the 3rd generation in her family to work in the natural stone industry. She has also been a member of the Marble Institute of America for several years, and is also a member of the new Women in Stone Initiative supported by the MIA.
KSI mostly uses 3 cm granite for Kitchen counter tops, bathroom vanities, conference tables, and commercial counters. They purchase stone locally and from suppliers throughout the Southeast. KSI keeps 80 to 120 slabs on-hand. It offers granite, marble, and other natural and engineered stone.
Products can be cut to any size or shape. They have also done specialized jobs like fireplace surrounds. Special projects like that naturally have longer lead times, but their satisfied customers say it is worth the wait.
Customers can also choose engineered stone. KSI offers Daltile, LG, Caesarstone, and Hanstone. One bonus of offering quartz to customers: Installing quartz allows customers to earn Leadership in Energy and Environmental Design (LEED) points. It also counts toward other green home-building certifications, which are important points to area builders and home owners.
Quality control is another priority. All stone offered by KSI is inspected at the quarry. It is also inspected again before the project begins.
KSI recruits experienced installers. Entry level employees can begin as helpers. "If they show interest in moving beyond a helper they can apprentice for at least a year before being considered for a lead role," Milligan said.
High standards mean higher customer satisfaction. "KSI installers understand they are the face of our business because they are the last one in the house and have more face time with the customer than any other individual part of the process," Milligan said.
At the completion of each project, feedback is gathered. KSI installers return a job completion form. It has notes about concerns they saw. It also includes customer-reported issues from the final walk-through. Customers can then offer feedback though surveys.
Protecting the environment is important to KSI. Workers fabricate wet to reduce dust exposure. The company recycles more than 60 percent of its water. It uses a closed loop Schubert MicroClean system.
The company also has a Rockcrete trench drain system installed in its sawing area. Scrap is recycled into landscaping stone, used for stacked stone walls and other jobs.
Safety is prioritized through annual training. KSI uses the MIA Safety Tool Boxes. These are used for periodic or topic-specific refreshers. To increase safety, other steps are taken. Namely – Customers cannot view slabs without an employee present. They also cannot be in the shop without a KSI employee present. All children must be accompanied by an adult. Children under 12 are requested to remain in the showroom. Milligan has planned ahead, and there are lots of options to keep smaller children occupied in the showroom while their parents are busy.
"We do offer a 'kid swap' so that each parent may view while the other one attends children in the showroom," Milligan said.
KSI services Knoxville and the surrounding areas. There is no mileage charge for installation within 50 miles. The farthest installs to date include Memphis and Gracie, Kentucky.
Notable past projects include:
Three Burger Bar locations.
Waterside Condominiums.
More than 15 houses in the Knoxville Parade of Homes, Including many award winners for best kitchen design.
Milligan is the third generation in the industry. Her grandfather worked at Candoro Marble Company in Knoxville. Her father, Vic Green, owned VIC International.
Prior to founding KSI, she worked at VIC International. For 25 years, she sold large equipment. She also trained people. She also taught maintaining and restoring natural stone floors.
In 2007, Milligan and a customer, GK Naquin started KSI. Naquin is a past president of the Marble Institute of America. They decided to go into the fabrication business. The business was meant to serve the Knoxville area. They had a ready-made market waiting for them. Home Depot needed a contractor to provide in-home installations. Several hundred jobs were waiting to be completed.
"We opened KSI as a Home Depot service provider," Milligan said. "We picked up 15 stores, and I only had two weeks to get my shop ready and start fabrication!"
That was the year that the housing market started to crash. Milligan bought out her partner in 2008. "We figured out our niche and started slowly moving away from the big box business, and completely got out of that in 2012," she said.
"The first seven years, we focused on granite. This year, we've increased our fabrication and installation of marble and quartz by 25 to 30 percent. That is our next phase."
Milligan came from the supply side of the industry. This gave her some advantages. "I had contacts that most fabrication shops don't have to get equipment and supplies," she said. "That backlog of Home Depot jobs was really what got us through that first year. It was huge and kept the cash flowing."
"I went from training people in a controlled environment to a real life fabrication shop. I figured out really quickly why some of our customers said, 'Yeah, that is really not going to happen that way.' "
It was a learning experience. "I never had a homeowner involved," Milligan said. "I never had to worry about the direction of the veining in slabs. I never had to worry about slab size. That was a big eye–opener."
The first years were tough. This began changing during the past 18 months. "Customers are happy to be spending money. They are remodeling because they want to, not because they have to."
The current KSI showroom is 2,000 square feet. It is located at 3900 Middlebrook Pike in Knoxville, Tenn. Hours are Monday through Friday, 8 a.m. until 5 p.m. and Saturdays from 9 a.m. until 2 p.m.
All of the company's salespeople have experience in design. They also have some hands-on experience of the construction industry. "Everybody has some kind of experience in the field whether it's flooring or cabinets or installation."
Walk-in customers are welcome at KSI, says Milligan. "We do encourage making an appointment so we can spend enough time with each person," Milligan said.
For more information, visit KSI's website at www.knoxstoneinteriors.com or call (865) 971-5800.