Marcella Prado & Amie Gilmore Join WIS Steering Committee
Marcella Prado (Laticrete) and Amie Gilmore (Informa Exhibits US) have been selected to serve on the ten-person Women In Stone steering committee (powered by MIA).
Brie Pfannenbecker, WIS Steering Committee chair, said "We had a lot of great applications from powerful and inspiring women in our industry. Being selected to serve on the steering committee is a great honor. The steering committee plays a crucial role in setting priorities for this relatively new MIA initiative/program."
Marcella Prado has been involved in the stone industry for over 13 years and will be focused on upcoming WIS events and education. Amie Gilmore has been involved in the stone industry for over 9 years, and given her role with StonExpo/Marmomacc Americas will be assisting to elevate WIS programming to a broader scale.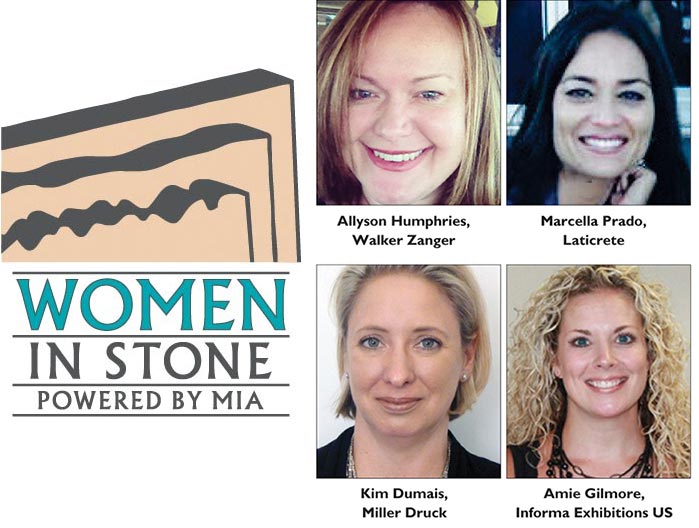 Additional 2015 WIS committee appointments:
Brie Pfannenbecker (Connecticut Stone Supplies, Inc.) has been selected to serve a second term as committee chair.
Kim Dumais (Miller Druck) and Allyson Humphries (Walker Zanger) have been named to serve as co-vice chairs.
Jim Hieb, MIA Executive Vice President and CEO, said "The leadership and passion offered by the WIS steering committee is the primary reason this new initiative is gaining so much momentum. They are laying the ground work for some outstanding networking and education events."
The Women In Stone group is powered by the MIA. It began in 2014 with a vision to help recruit, retain and advance women in the stone industry. Over the past year WIS developed a mission statement, organized a steering committee, and held several networking and education events. To find out more information, visit their website at www.marble-institute.com/womeninstone.
The Marble Institute of America (MIA) has served as the authoritative source of information on standards of natural stone workmanship and practice and the application of natural stone products for 70 years. MIA offers an industry accreditation program for fabricators and installers, markets a range of technical publications and consumer pamphlets on natural stone, sponsors business and technical meetings and seminars on industry-related topics, provides educational programming for architects and construction specification professionals, and conducts the annual Pinnacle Awards competitions recognizing outstanding natural stone projects worldwide. For more information visit: www.marble-institute.com.