The Duncan Stone Company: Florida Company Goes Above and Beyond for Residential Customers and Corporate Clients
by Joel Davis
Above: Repaired fountain at a Disney Theme park. The Green Granite squares that make up the surface are 6mm thick x 3 feet square. "They're big pieces of granite, but people keep driving over them, and when they do, they crack the stones. Then we get the call."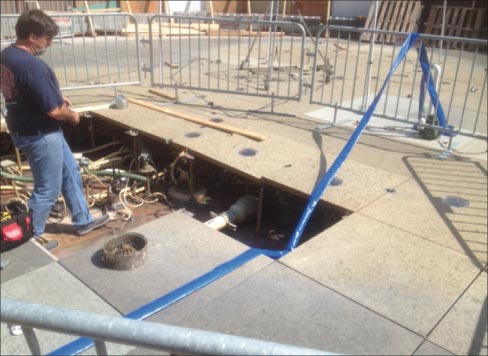 Above: Ty Duncan inspects the damage as they begin repairs on damaged tiles.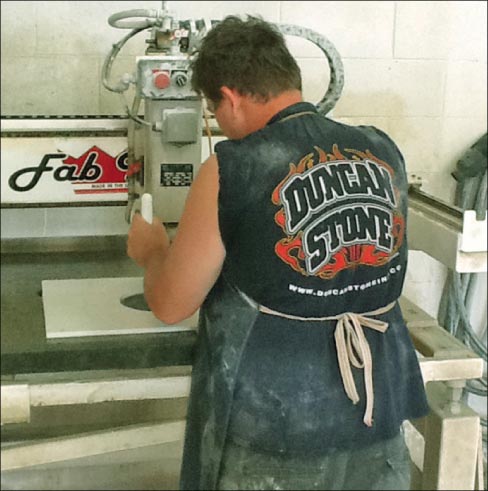 Above: Jeremy Speegle operates the shop's Fab King with a template to make a replacement Disney fountain tile.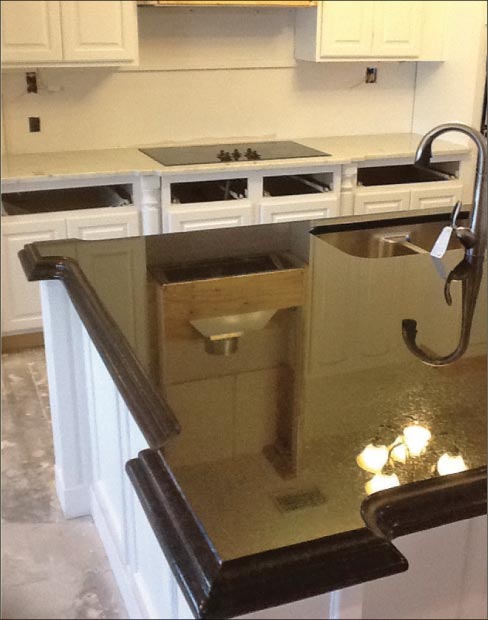 Above: Laminated, 6cm Absolute Black island, for new residential construction. Many of the fabrication jobs in Duncan Stone's area are in upper market homes and retirement communities, and 95% of it is in granite. "Even during the recession," Duncan says, "remodeling jobs kept us in business."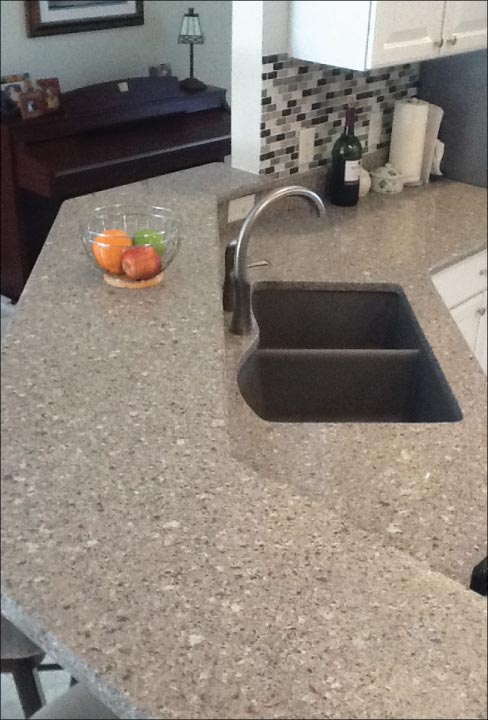 Above: Duncan Stone does get a few requests for quartz installs, like this 2-level Silestone countertop. They believe in supplying what fits the customer's needs and style. "Our installers, salespeople and fabricators – everybody – takes their time with them. Our goal is to provide the best customer service possible," says Duncan.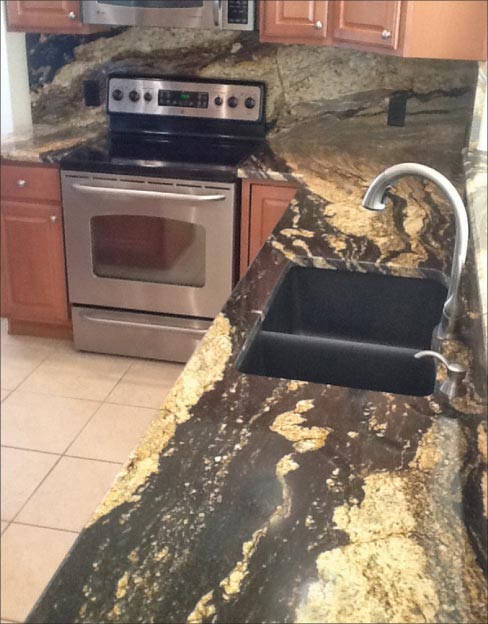 Above: This striking Brazilian granite countertop has a grain-matched pattern that extends along the counters and continues up the full-height backsplash walls.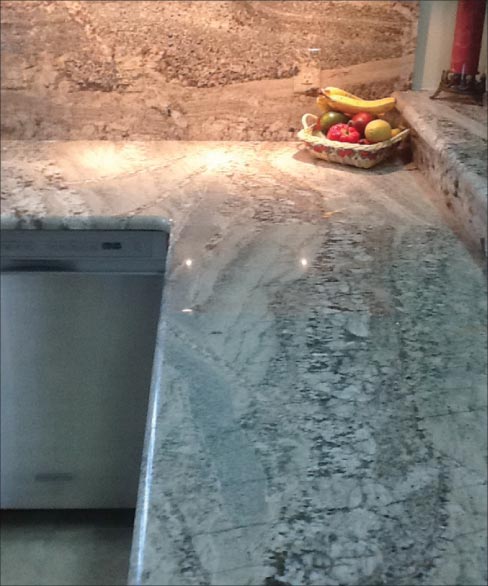 Above: Bordeaux granite countertops with matching backsplash and sills are used throughout this residential kitchen renovation.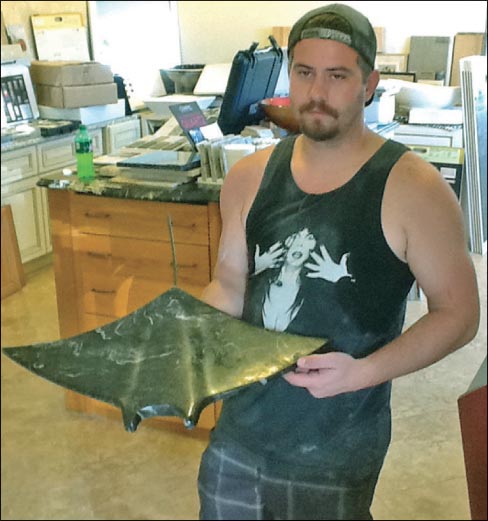 Above: Austin Clay with a marble manta ray, one of his many shop remnant sculptures.
Randy Hobaugh runs Duncan Stone's new Husky Bridge Saw with a Talon Blade. Duncan Stone buys most of its fabrication equipment from Braxton-Bragg, from Hercules Air Polishers to Predator Routers.
Quality is king at Duncan Stone and has carried the small shop to success –from the Magic Kingdom to national television.
Duncan Stone primarily does residential work, owner Ty Duncan said. Its largest share of jobs are installing granite countertops in residential homes.
It also does limited commercial projects for an interesting client list. For instance, the company repairs stone at some Disney attractions. The company performs whatever repairs are needed at the Florida locations. "They've got a water fountain that we have to keep repairing," Duncan said. "People drive across the water fountain, they're not supposed to, and they crack the stones. Then we get the call."
Another interesting current project is for cable television. Duncan recently completed the templating for a house that will be featured in the "Designing Spaces/ Military Makeover" TV show. "The show's producer called and asked if we were available to do the work," he said. "The house was donated, and they are going through and totally renovating the home. We started that project in June. I'm donating materials and installation, and I'm very happy it is for a military family."
Designing Spaces is a Lifetime Channel TV show. The home improvement show travels the country, filming the transformation of home renovations for worthy recipients.
As owner, Duncan takes a direct hand in his business. "I go to work everyday," he said. "If I didn't have any fun, I'd stay home. Most of the time, I meet the customers for the first time at their house. I personally go out and do the templates and measurements. Then I go back on a daily install and try to check up on the guys and make sure everything is OK."
Duncan started out in the stone industry after high school in 1989. "I was helping out a friend doing tile work," he said. "One thing led to another."
The tile work led to other areas. Duncan began installing ceramic tile, porcelain, and then granite. "Now, here we are today," he said.
Duncan Stone still offers tile but has mostly moved to granite. "We still offer Corian, it's not as popular as it used to be," he said.
The company began in September 2003. Duncan started a full-time granite shop with a high school friend. Previous tile work led to the new business. Going into people's home gave Duncan an idea of a new market. Granite countertops were the future. "That's what we were doing next," he said. "One thing led to another. There was a need for it."
The company started with two people, Duncan and his high school friend Randy Hobaugh. "He was the fabricator, and I was the installer," Duncan said. "After high school, he got a job at a Corian shop – a competitor, actually. Talking one day, we decided instead of doing Corian, we should work together and move up into granite. He came to work with me 2003."
Most of Duncan's fabricators have been with the company for six or seven years, or more. "That first joint effort with Randy led into more and more people," he said. "Now we've got a total of 12 people here."
Based in Tavares, Florida, Duncan Stone sees advantages from its location. "We do pretty much all of central Florida," Duncan said. "We're in Lake County, which is the center of the state. We're about an hour outside of Orlando, and we do jobs from the Gulf Coast to Atlantic Coast in Florida.
After many years of doing residential work, Duncan is well known. He still gets return customers from decades ago. "I still get people today that I put tile work in their house 20 years ago. The early days were about being in the right place at the right time. We never really advertised. We've always pretty much been word-of-mouth."
The location and Duncan Stone's reputation protected it from the economic downturn.
"Honestly, we didn't really notice much of a decrease," Duncan said. "I've never really gone for builder work. We've always been customer-oriented. I've always dealt with people directly. Even though they weren't building new homes, they were still fixing their older homes up. Everybody saw a decrease, but it wasn't detrimental to our well-being."
Granite remains the most popular material for Duncan Stone. "Quartz is seeing a little bit of an increase in usage," he said. "I'd say 95 percent of the jobs are granite."
There is no particular color or style that is most popular. Duncan Stone's customers have many preferences. "It's always changing, never the same," Duncan said. "It's just totally different every day."
What makes Duncan Stone different from competitors? "Everything we do is in-house," he said. "We do the best we can in customer service. It's central to our success."
The company also does not take financial risks. This pays off when recruiting customers. "We don't require deposits when we start a job," Duncan said. "That strikes people as unusual. I was told a long time ago by a guy I used to work for that if you can't afford to be doing a job, don't be doing it."
Duncan continued, "If you can't afford to mess something up, don't be doing it."
Duncan Stone employees invest time in their customers. "People can come in and lay the material out," he said. "Our installers and salespeople and fabricators – everybody takes their time with them. If a customer wants to change their mind about something, we give them that option."
The central Florida location of Duncan Stone offers a good market. "It's growing," Duncan said. "It's definitely a good place to be. It's a steady market. It's mostly a retirement age community."
The company currently installs about two jobs a day. It fields two installation crews, and some talented in-house stone workers, like Clay, who can turn scraps into art.
"We started out with 1,500 square feet in a 30 x 50 building," Duncan said. "Then we expanded over to a 2,400 square foot building right next door. Then two years ago, we expanded to another 2,400 square foot building next door to that. We now occupy three buildings."
Duncan Stone has been a Braxton-Bragg customer since 2004. "In February, we got a new Husky Bridge Saw from Braxton-Bragg," he said. "It works great. I highly recommend it. It's a huge improvement over what we had."
Among its other equipment, the Duncan Stone fab shop uses a Denver QUOTA Stone CNC work center. It also has a Fab King Work Center, which they used to do their fabrication work to repair the Disney fountain.
Duncan continued, "We buy all of our hand tools from Braxton-Bragg, from Hercules air polishers to the Predator Router. They are real workhorses in my shop."
The company does not import materials directly. "We buy locally from several different suppliers. We keep about 200 slabs in our slab yard so our customers have a wide selection, plus a lot of remnants."
Duncan's plans for the future? "Just keep on providing our customer with the best quality countertops and install experience," he said. "We are in the middle of expanding our showroom. We are probably going to triple our showroom space. That's been a goal for a couple of years now."
But doing a good job for his customers right now is most important. "One day at a time," he said, "And each job is different. We try to help each individual customer as best we can. If you don't enjoy what you're doing, it's not worth doing it."
To see more samples of their work, view their photo galleries on www.duncanstoneinc.com.