Get Internet Exposure
Sharon Koehler
Artistic Stone Design
A few months ago, we talked about Social Media and where you should be. Hopefully, you got that all worked out and you're good to go. Now what? Well, there's more. (There's always more, isn't there?) Now you need to figure out your next move – where do you want to have a bigger online presence?
#1 – You can't be everywhere. You may think you are. You may think you have scoured to the far, far reaches of the internet. You may think you have left no stone unturned. But trust me, there is always an app or a website that you have no idea even exists. It's OK. It's just the nature of the beast. Plus, honestly, you probably don't have time to be everywhere. It's time-consuming to constantly be checking sites and comments, uploading photos, reading and commenting on reviews and plotting internet strategy. Once you get into it, it's easy to see how keeping your web presence updated, all by itself, could become a 40-hour adventure, every week.
#2 – You are going to make a mistake. There again, it's just the nature of the beast. You know what you mean or what your intentions are, but other people may see things differently. Don't worry – you're in good company. DiGiorno Pizza and Smuckers had gaffes last year that went very public.
The name of the game now is CUSTOMER REVIEWS. You need 'em. You gotta have 'em. But you gotta go get 'em.
Unlike social media, there a no "Top 3" or good, better, best scenarios with these internet sites. Some of your strategy is going to be demographics, some of it is going to be what area of the country you're in, and some of it is going to be what you are comfortable with. It's your call. So, let's take a look at the most popular sites and go from there.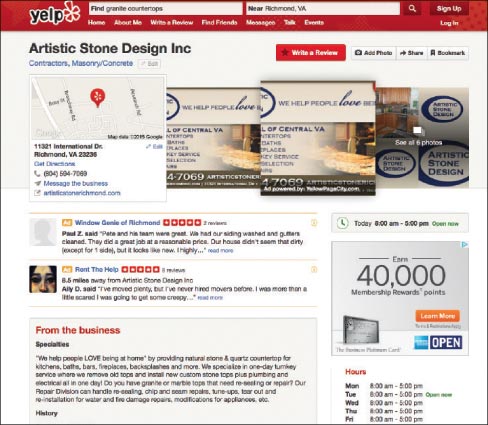 Angie's List, Yelp, Houzz, Thumbtack and Porch all offer different ways to reach customers.
Angie's List
Angie is the grandmother of the group. Angie's List sprang to life in 1995 and went virtually unchallenged for quite some time. Professionals do not pay to be on Angie's List, but consumers do pay to belong. The reviews are consumer-driven, BUT professionals can pay to advertise with Angie's List. Advertising gives more exposure to your company and supposedly drive more more projects your way. I have personally had a membership for quite some time and I do use it. As a company, Artistic Stone Design advertised there for a while but we just recently jumped over to Houzz.
Angie's List makes it very easy to get reviews, and they are more than happy to help you do it. They have self-addressed forms, links and several other different ways to get reviews. You can build a page with photos, videos and information about your company. They contact you when someone inquires about your company. The cool thing is that Angie's List fits our demographic to a "T." But we have to start looking at the next generation that fits our demographic, and build a presence where they go to get their product/company reviews. Angie's List is definitely doing some new and different things to get people's attention and maintain their status in the marketplace. But, with more and more sites doing the same things – and sometimes more – I feel that Angie's List might have a fight on their hands for King (or Queen) of the Hill.
Yelp
Yelp came along in 2004. It was not a particularly successful venture back then, and eventually relaunched in 2005 in a more viable, consumer review-based format. It's free to the consumer and free to the business. Businesses can build a profile page. Consumers leave reviews. Their revenue comes from the businesses they recruit to advertise. The big drawback is that they allow anonymous reviews. So they have been fighting the notion of fraudulent reviews throughout their short history. However, this has not stopped them from growing and being profitable. At last look they average 135 million views a month and approximately 71 million reviews every month.
Both Houzz and Thumbtack were launched in 2009. Houzz has done a great job of getting and keeping market share. In the July issue of the SRG, Peter Marcucci wrote an in-depth article on how Houzz can help build your business. They come across as being new, energetic, fresh and innovative. You can build a profile page, add pictures, solicit reviews and give advice to consumers as well. No fee is charged to the consumer or business. BUT you can advertise with Houzz and get noticed more often that way.
Thumbtack seems to have lagged behind Houzz but they are coming to the forefront now with more frequent and noticeable advertising. Thumbtack is free to the consumer but not to the business. I recently went online to Thumbtack to look for a landscaper. (Yes, I belong to Angie's List, but research is research.) The consumer creates an account, tells Thumbtack what they are looking for and Thumbtack matches your request with up to 3 candidates. The businesses send emails or estimates and the consumer takes it from there.
As it so happens, I did hire a landscaper from that research.
Jonathan Rogers of Property One LLC stated that he gets more quality leads for a less expensive price with Thumbtack than he did with Home Advisor, so he switched.
Thumbtack
Thumbtack uses a pay per quote system. The business buys a certain amount of credits from Thumbtack. When they send an email or an estimate on your company's behalf, it takes a certain amount of credits for each communication. Credits cost $1.67 each but the more you buy, the less expensive they become. Consumers are free to hire whomever they choose and are encouraged to leave reviews after the work is finished.
Porch
And then there is Porch. Porch was launched in 2012 as a way to hook up consumers needing help to professionals that could help them. Then in 2012 they started Porch Premium. This is a paid subscription-based service for home improvement professionals that includes lead generation tools like special Porch page branding and analytics. BUT it was the other thing they did in 2012 that drove them to the forefront in a big way. In 2012 Porch partnered with Lowe's. Now when you walk around in Lowe's you see Porch signage and kiosks. With a partner like that how can you go wrong? Lowe's sales associates can help consumers look for Porch Pros whenever the need arises. And consumers can go online as well and look around. The trust factor is already here because it is backed by Lowe's, a trusted name in home improvement.
There are more, so many more, too many to mention – BUT no matter where you go, you have to work it. You have to be proactive in building your page, soliciting reviews, answering reviews and keeping your page up to date. You don't have to be everywhere, but be good where you are.
Sharon Koehler is a 10-year veteran of the stone industry, and currently head of marketing for Artistic Stone Design in Richmond, VA. She has been a regular contributor to various trade magazines for several years. Send your thoughts or comments on this article to sharon@artisticstonerichmond.com.