Stone Restoration and Maintenance Corner: Grinding and Honing
Bob Murrell
Special Contributor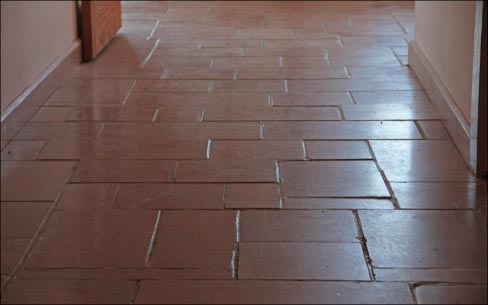 Above: An example of moderate to severe lippaage: You can easily see how the uneven surface would be diffucult to maintain, hard to wax or even dust mop.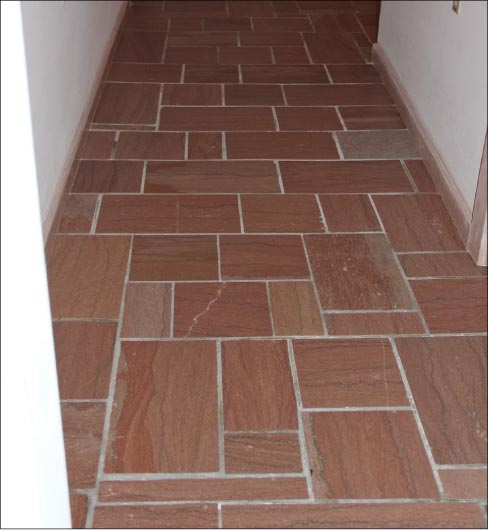 Above: The same entryway floor with the lippaage removed, after honing and polishing. The beauty of this stone floor shines through, again – and the property value has also gotten a boost.
Above: Grinding and honing reveals the low areas – the most difficult areas to deal with. A hand tool was necessary to get to the low area shown in the center of this photo.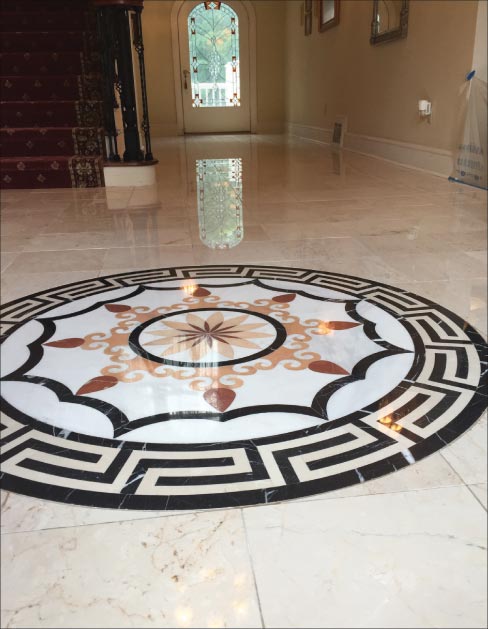 Above: On this elaborate residential floor, eight tiles were removed and replaced where the reflection of the door is in the floor. Moderate lippage was removed and honed with a hand tool, then the entire floor was polished using the new Majestic XXX Shine Powder.
Photos provided by Bob Murrell
There is no substitute for using diamond discs on a stone surface for both grinding and honing. Rigid and semi-rigid diamonds provide the flattest finish on stone surfaces, which means you'll get a higher degree of both reflection and color.
I consider grinding to be 120 grit and below and honing to be anything 180 grit and higher, prior to polishing. Some may disagree with me on the specific grits but this is fairly consistent, industry-wide. Of course, there are 150 grit abrasives so you can make that call. It also depends on the bond of the diamond and how aggressive it is (meaning how much stock it will remove).
As we have discussed in previous artilces, on calcium-based stones (marble, etc.) only polishing is normally required unless major wear or abrasion has occurred. Even when excessive wear has occurred, the technique of feathering out with diamonds is normally successful except in severe lippage situations. A typical grit sequence for this might be starting with a 220 grit used in the main traffic or wear area, followed with a 400 grit, covering a slightly larger area than the first grit applied. In many cases these two levels of honing may be sufficient prior to polishing but sometimes an 800 grit level of hone or even higher may be necessary for darker stones. Honed installations may be finished at 220 grit to 400 grit, depending on what was originally there, and what the customer likes. The higher the hone, the more color and reflection the stone exhibits.
Granites can be done in much the same way at higher grit levels. Typically an 800 grit, 1500 grit, and 3000 grit (some diamond series may be 800, 1800 and 3500) are feathered before polishing. As we know, granite is much harder than marble and normally wears better, so there is usually (but not always) less degradation from foot traffic.
The previous two scenarios are under ideal situations, of course. The amount of Lippage (and not what you get from your significant other!), may be the determining factor as to whether or not these easier-to-accomplish and less expensive procedures are an option. With lippage, honing can sometimes produce "picture framing' (low areas where the diamond abrasive can't reach properly). Picture framing will leave the original finish in the low areas, and the new finish may not match or blend satisfactorily.
Lippage is present in all floors that have not been previously ground and honed flat. Whether it is severe, moderate, or minimal is the important question. I have flattened lippage that was 3/8" in height. That is certainly considered severe and it was not easy.
Even with a fair amount of experience, determining the amount of lippage and what it will take to properly flatten it is best accomplished by working on a test area. Closely inspecting a floor is always good idea, to be sure. But when a machine and diamonds are used, the amount of lippage is often under-estimated. The amount of the lippage and hardness of the stone will determine the number of passes and the amount of time necessary to flatten the floor. It will also determine whether metal bond or resin bond diamonds will be necessary. There is no standard except to remove all of the lippage.
Hitting lippage from the high side is the best approach as this is not as likely to chip the stone or the diamond abrasive. Use of metal bond diamonds may be necessary to improve stock removal production in moderate to severe lippage situations. Floating moderate to severe lippage with un-sanded grout can also be an effective method of reducing chipping and breakage. The un-sanded grout provides a ramping affect as well as a visual indication of when the floor is flat.... i.e. no more grout on the surface.
Whether grinding, honing, and polishing or just grinding and honing, flattening a floor is a very desirable thing. When there is no lippage, floors are easily dust mopped, easily damp mopped or auto-scrubbed, and much easier to make future restorations. Lippage will never again have to be taken into account. Any stage of the restoration and maintenance process can be easily implemented without fear of the lippage.
For the above reasons, ground-in-place floors are many times more valuable than a newly installed floor. This is why floors in Europe are ground flat as part of the installation process. With the use of modern 3/8 inch x 12 inch x 12 inch stone tiles, the possibility of lippage is increased. This is especially true if great care is not devoted to the install.
Consider this: To remove lippage and restore a 15-year-old marble floor may cost between $5/ sq. ft. and $15/sq. ft. depending on the many variables. The difficulty of the project (is it cut up or very open), total square footage, type of stone (i.e. black or cream), amount of lippage, area of the country (labor rates), is it a preferred customer, etc. are all pricing factors.
I have had people say they would just remove and replace a floor rather than pay $10/sq. ft. for a total restoration with lippage removal.
Let us take a practical look at that scenario. It would cost probably at least $4-$6/sq. ft. to remove and $4-$6/ sq. ft. to install a stone tile floor (these are conservative figures, on an average). The replacement price of an equivalent stone product will probably be at least 3x the original cost, say $4 - $15/ sq. ft. So the cost could easily be at $12-$27/ sq. ft. and guess what? You would be right back where you started, a floor with lippage.
Low areas can be the most difficult to deal with, as the surrounding tiles would have to be brought down to that lowest level or point. Therefore, use of a hand tool may be necessary for these areas. Use flexible or semi-flexible diamonds and try to blend or feather outward. Of course, borders or edges to walls must also be done the majority of the time. I recommend always leading with the border work on each grind/grit. So if you are starting with a 50 grit grind, do the edge work first, then do the floor machine work, overlapping the edge work with the floor machine. Next, do the 100g-120g edge work and then overlap with the floor machine and so on and so on.
Not everyone–in fact most customers–will not spring for the investment in a flat, low maintenance floor. But if they can be made to see the value, at least they can make an educated decision. Polished, ground-in-place flat floors have been shown to retain a polish 2-3 times longer than a floor with lippage, simply because it is easier to keep clean. That is a big cost savings, especially when you can also effectively go in and lightly hone and re-polish much easier as well. Of course, flattening removes trip hazards too.
I am definitely positive that I have not covered everything here in this article. A full lippage removal grind and hone is messy and will cause major amounts of slurry waste. This must be planned for and dealt with, including the masking/draping of sensitive areas.
As always, the best way to help ensure success is by partnering with a good distributor that knows the business. They can help with product purchase decisions, logistics, and other pertinent project information.
Bob Murrell has worked as a supplier of products and technical support to the natural stone industry for over 35 years. He has written numerous articles for various trade publications and has also trained thousands of contractors over the last 25 years.