Cosentino Center Hosts Successful Stone & Wine Event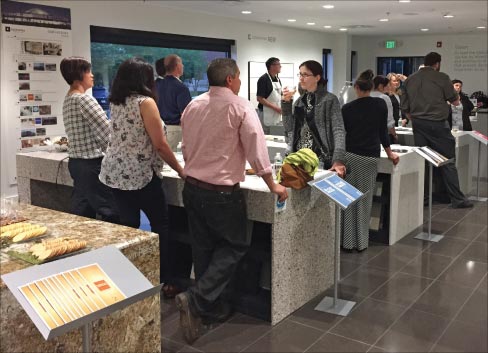 About 20 participants enjoyed the Wine & Stone program hosted by Cosentino Center, in Canton, Massachusetts.
On May 21, 2015, Cosentino Center sponsored the first company-hosted Wine & Stone event at their Canton, MA location.
The event was targeted to architects and designers, with approximately twenty people in attendance. Although the Marble Institute of America (MIA) has previously tested the event in two markets, Cosentino Center is the first company to schedule an event through the new Wine & Stone program.
Renee Nardo, Design Sales Manager at Cosentino, stated: "It was a great success. MIA helped me put together a wonderful event. It was well received and many guests commented on how much they enjoyed the connection between the selection of stone and the relation to wine selection." The Wine & Stone program, powered by MIA's Women in Stone committee, educates participants on the similarities and uniqueness of each product. It offers an innovative opportunity to bring stone industry and design professionals together for a fun, educational purpose.
This new MIA program has already attracted attention and is quickly growing in popularity. According to MIA's Carol Wilkins, "We have had many inquiries already. My advice to companies is to plan early." Nardo added, "I recommend anyone who wants to have a quality event to contact MIA."
For more information about the Wine & Stone program, including how to schedule an event, visit www.marble-institute.com/womeninstone or contact Carol Wilkins at cwilkins@marble-institute.com.
For more information on becoming a member, please visit www.marble-institute.com.