WerkMaster™ Titan XT Case Study: DFW International Airport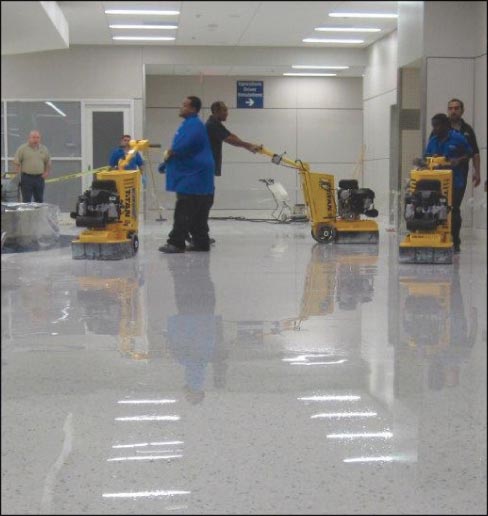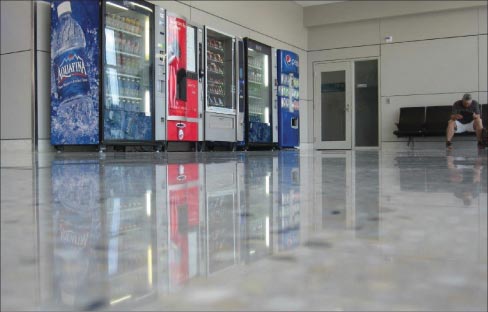 The DFW restoration contract specified that the floor be refinished to a 3,000 grit polish, or a 73 reading on a gloss meter. This level of reflectivity or greater was achieved using several stages of WerkMaster tooling.
Above: A closeup of the refinished and polished terrazzo (top) and damaged terrazzo (darker area at bottom).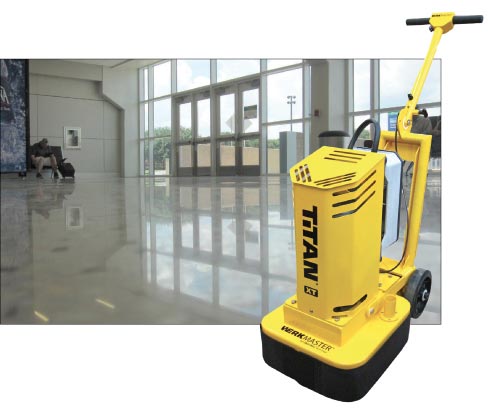 Restored terrazzo floor at the DFW Airport, using the Titan XT and WerkMaster tooling. The E terminal section of this on-going refining job entails restoring over a million square feet of epoxy terrazzo.
DFW Airport Authority recently awarded a contract to ERMC2 to refinish over 1 million square feet of epoxy terrazzo in Terminal E, utilizing WerkMaster's Terrazzo Restoration System.
The first tender for refinishing one million square feet of epoxy terrazzo in Terminal D was awarded to Corporate Floors of Dallas in the fall of 2014.
Corporate Floors had submitted their tender specifying they would be using WerkMaster's system and technology.
The original tender did not specify any grinder manufacturer or technology but did establish that the floor should be polished to 3,000 grit with the resulting shine meeting or exceeding 73 on a WerkMaster Gloss Meter.
The DFW airport authority was so impressed with the results achieved by Corporate Floors using WerkMaster's Epoxy Terrazzo Restoration System they specified WerkMaster's TITAN XT in the subsequent project specs.
In Solicitation No. 7006180 – Airport Wide Terrazzo Reconditioning & Polishing, Addendum No. 2, they stated in Section 1.4 of the Scope of Work, the "Contractor shall use an articulating floor machine such as a WerkMaster Titan equipment or equivalent. Due to fluctuations in the terrazzo floor, single planetary drive equipment will not provide the required results and shall not be used."
The advantages that were realized utilizing WerkMaster's system included the ability to remove up to 50 coats of wax – dry, eliminating wet chemical stripping.
Grinding dry for the first two steps in the process significantly increased production.
WerkMaster's Octi-Disc 8 Head Technology allows the machine to safely grind and polish over the metal strips inlaid in the floor while edging to within 1/8th inch of the wall.
The floor was restored to the original color and look while removing or reducing numerous high spots. Flattening the floor improves clarity, reflectivity and reduces excess wear and maintenance.
Over five million square feet of epoxy terrazzo will be refinished at DFW Airport using WerkMaster's Epoxy Terrazzo Restoration System.
Some of the main advantages of the WerkMaster System are:
No More Waxing
No More Chemical Stripping
Improved Labor Efficiency
Reduced Maintenance

Overhead
Lower Implementation Cost

Per Sq. Ft. (M2)
Higher Daily Production

Rates = Faster Facility

Turnover
Environmentally Friendly

CFIA Certified Sealers &

Finishes
Reduced Slip Fall Anti-slip

0.68 James Scale Rating
Up to 24 Hours Resistance

to Staining Agents, including

Vinegar, Mustard, Ketchup,

Italian Dressing, Wine,

Coffee, Soda, and more.
"We are constantly looking for ways to improve our technology," stated Brian Wilson, President, "and moving forward in the industry with a goal of providing the best possible solutions to our customers and partners. WerkMaster is dedicated to providing our customers with superior service and support, backing up our commitment to deliver exceptional quality with an Industry Exclusive 3 Years Parts and Labor Warranty."
For more information visit www.werkmaster.com . Order from their authorized distributor www.braxton-bragg.com.