AGS Stone Targets Tampa Bay's Upscale Remodelers to Build a Strong Market Presence
Peter Marcucci
Special Contributor
Photos by Rick Tauceda (

RICKTAUCEDA.COM)
Above: An extra large Fusion Quartzite island is the dramatic focal point in this custom remodel.
Quartzite of this quality is rare and, according to Gary Rogers, this very dense stone takes extra care to cut.
Above: Long-time AGS fabricator Eduardo fine-tunes an edge with a Makita grinder before wet-polishing. He has been with the Rogers from the beginning.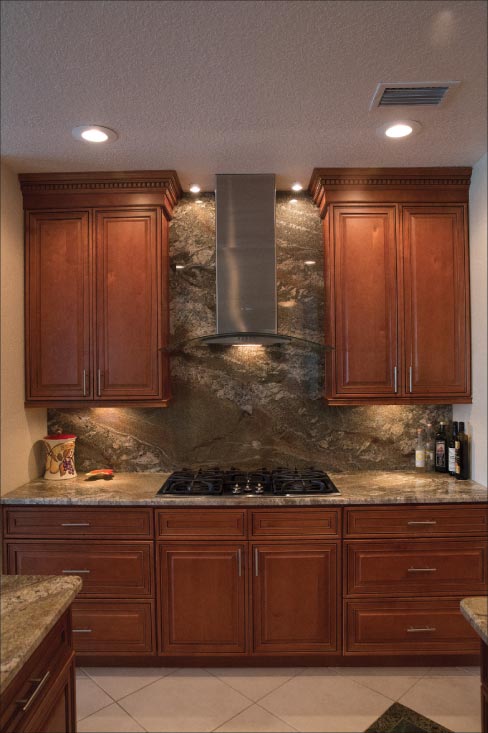 Above and Below: Full kitchen remodel featuring beveled 3cm Netuno Bordeaux granite countertops and full height backsplash makes the most of movement in the slabs. Akemi products were used to secure splashes as well as blend seams.
As the saying goes, "You're only as good as your last performance." It may be a cliché, but it is also true for all types of businesses that offer custom work to a vocal and critical public. In the case of AGS Stone, Tampa, Florida, those are the words they live by.
After purchasing all assets from its former owner in 2010, the family-owned stone and cabinet supplier has been making considerable gains in the Tampa Bay area by offering its clientele unparalleled service and products.
After deciding to take the plunge into the stone countertop business, AGS Stone owners Gary Rogers and wife Jackie acquired the assets and name of a struggling fab-shop when the owner wanted to get out of the business. Taking the helm of a sinking enterprise was risky, and not done without careful discussion and planning by the Rogers.
Jokes owner Gary Rogers, "It was a mid-life crisis for me, and my wife, Jackie, humored me.
"I had actually run a business in another industry for 30 years. It was the fluid power industry in upstate New York. I also managed a number of different businesses for investors, but after 30 years I'd had enough travel and decided I wanted to do something else. So we found this little stone business in Tampa, Florida and bought it. It had a leased space, good location and three key people that wanted to stay with us. To be honest, if it wasn't for them, we wouldn't be here."
AGS Stone's facility is 11,000 square feet total and staffed with 14 dedicated employees. Customers are met by one of three sales people to discuss their countertop needs and there are also two on-staff designers to help customers with their cabinet requirements. Main shop fabrication equipment includes a Park Industries bridge saw and multiple hand routers, served by a purpose-built water recycling system.
Everything is hand fabricated. Templates are made the old-fashioned way, and the Rogers find this to be a plus for custom layout. "With any material that has a lot of movement to it, we invite the customer here to meet with our stone cutter, so they feel comfortable with the design and what they're getting. That's very important," said Gary. Producing vein-matched seams and cascades that flow from the backsplash top to the counter bottom is the norm for many of their upscale jobs.
A Thriving Present
Tampa Bay can be a cutthroat market, according to Gary. The Rogers realized early on that the shop's survival depended on a diversified offering. They decided to concentrate on complete kitchen and bath solutions in the residential remodeling niche.
"We expanded into cabinetry with sister company Tampa Bay Kitchen & Bath. The key to all this, of course, was the people that partnered-up with us to make this all possible. We also brought in some good designers and a project manager. Now the idea is that when a customer comes in to see us, we help them with their project from start to finish.
"It's one-stop shopping for them. We can walk them through the options. Residential remodeling is a tough place to be because it's always different, and customer expectations are a challenge to meet. You really have to be good at what you're doing."
Alex Rogers continues, "Adding to what my father was saying, the direction we are trying to go is not focusing on quantity, although it is important, but focusing on higher end residential jobs rather than chasing the quantity dream, such as fabricating for big box stores or small builders," explained son Alex Rogers. Alex joined the company just over a year ago and is currently the production planner.
"We may not be servicing as many clients, but it will mean more profits with less quantity. Each year we're taking on more of these types of projects, and we are going to keep that up and take on more of these jobs."
AGS Stone services a 60-mile radius with the Florida I-75 corridor defined as the sales "sweet spot," according to Gary. In his area, there's a stone wholesaler on every corner. "With reputable businesses like Ultimate Granite, Stone Warehouse, United Materials, Mont Krest and Stone Outlet regularly visited by our customers, why buy in bulk?" he says. "We are fortunate to be in the middle of all these wholesalers, so for us to invest and risk holding a lot of inventory – we don't need to do that. We can send our customers to any of the wholesalers I mentioned with total confidence."
So a small showroom of well-designed vignettes in a big city was in the cards for the Rogers family — they had to get creative.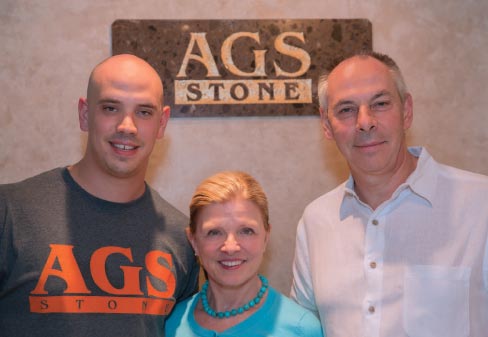 Above, from left: The Rogers – Alex, Jackie, Gary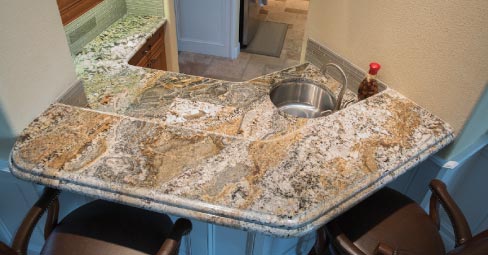 Above: This kitchen featuring 3cm Persian Treasure from United Materials Inc. was fabricated with a double laminated ogee edge flowing into a demi bullnose. AGS Stone has continued from day-one to do edging free-handed using a right angle grinder or a router with profile wheels. "This was a passion project for the fabricators," explained Alex Rogers, "And photos really do not do it justice."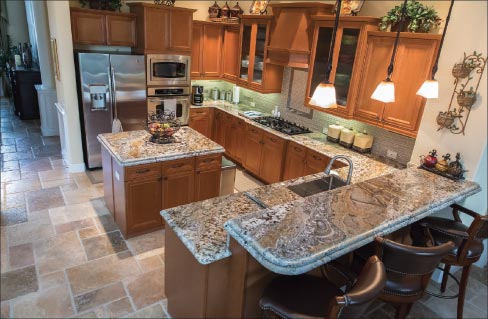 Above: The Persian Treasure kitchen includes a separate wet bar and bar top that continues the laminated ogee edge theme.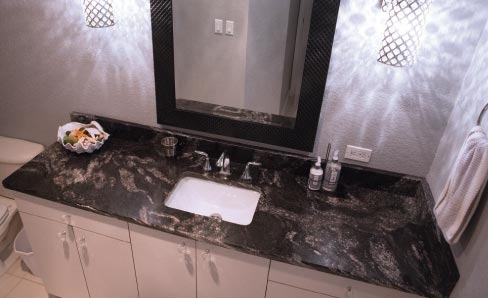 Above: The 3cm Black Atacama granite used on this vanity is another challenging material – getting profile gloss to match the top.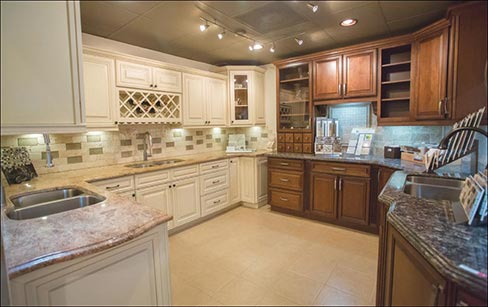 Above and below: The AGS Stone showroom uses color samples, fixtures and vignettes to showcase their countertop and cabinet prowess. The Tampa Bay market is mostly 3cm, doing very little 2cm. With a 5% Marble, 75% granite, 20% engineered stone sales ratio, AGS Stone on any given day only keeps 50-70 slabs in stock – those are mostly exotics, according to company President Gary Rogers.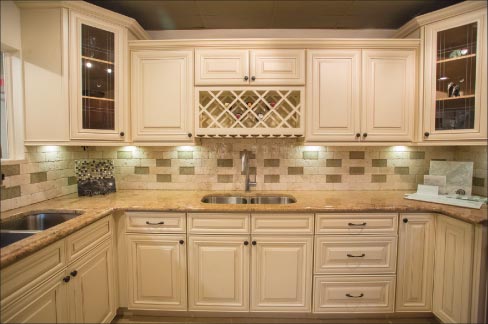 It's not a huge showroom, just a few thousand square feet of space that tastefully includes cabinetry, a material selection center and vignettes of kitchens and baths.
"The idea is when you come in here you get ideas, so you've constantly got to reinvent yourself —we are in the process right now of updating and redesigning our show space. We also have a 4,000 square foot slab room with 35 colors on display. Unlike the big box stores, where people select their materials from small samples, we want our customer to select from the actual slabs they're going to use, each and every time."
Inspiring Thoughts on Employees, Customers and Marketing
"We want our people to see themselves as craftsmen," continued Gary. "One of the things we see lost in the Tampa market, probably because it is awash in stone, is less about the craft and more about installing and just getting it done. So what we're trying to do is believe that we are craftsmen, and we are looking for people that see themselves as craftsmen. We can look at a job and know right away the level of skill and care that went into that installation. Whether the customer sees it or not, we see it, and we want to walk away proud of what we've accomplished. So there is that element of craftsmanship that I think is lost and has been lost. We want to make sure that it is, in fact, a part of what we're doing."
Alex: "Yes, it's certainly a company culture here that everyone is a craftsman. One example is that our installers are always pushing each other to a higher quality of work. That's important, because our products come with a warranty, and if a customer calls with any concern at all we'll go back to the job, no matter what the problem is. So they're always striving to perfect their work, if you will. We will never be the sort of company that does the installation and disappears, never seen again."
AGS Stone's biggest lead generator is Angie's List, according to Gary. They've been with them for a few years and made the investment to keep a business listing. "That first year I had wondered what we were doing. Now it's our number one lead generator. We probably have 160 A-Rated reviews and Super Service Awards for each year that we've been involved. Let me tell you, that helps greatly.
"Obviously, because anytime we're doing a job, we're being reviewed. You really have to stay on top of it." AGS Stone is also a regular on Houzz.
"I think brand awareness of AGS Stone is at the top of our list. It supports our efforts with wholesalers and the people we deal with. We work very hard at this whole reputation thing. In my mind, the way you're successful in this business, it's all about credibility. So it's always an ongoing effort to establish ourselves as a good company, and we want that to be known to the industry as well as our customers. It's always a positive thing to let people know who you are."
A Brilliant Future
"I'd definitely say that our success is due to our employees," explained Alex. "Outside of my mother and father and me, everyone is an extension of our family, and you know it when you come in here. Everyone helps each other and is friends with each other, and that reflects on our work. I couldn't imagine doing all this without each and every one of them. When someone isn't here or when something goes wrong, everyone pulls together and helps out. That's what has made our company what it is now.
"As far as the future, we are upping our marketing right now and exploring a couple of different avenues."
Gary: "We are going to focus more on the mid to high-end work and taking on the kind of projects that are more challenging. And of course, we are combining carpentry with stone fabrication in some very interesting ways, because of our cabinetry and finish work."
When asked if a second saw, CNC or edge machine is in the company's future, Gary responded: "I don't know, to be honest with you. To recoup your investment, you've really got to be pumping out a lot of square footage, and that's not our focus. So I'm not sure if the payback is going to be attractive. The jury is still out on that. Our fabricators can do a variety of edges from triple pencil, to polished, to built up. They're very good at what they do.
"I was in the automation business, so I'm not afraid of technology, but the issue with me is that I'm a dollars and sense kinda guy, and always think how can I justify that kind of investment without pumping out more square footage. That's not what we want to be. So it really depends on your business model. If we serviced big box stores or had a lot of big builders and a lot of repetition, a CNC would be the right thing to do. We are conservative and pay for everything in cash and don't owe anybody anything. That's the way I want to keep it. If the housing industry tanks again, I don't want to be caught with much overhead. So we're very cautious.
"I'm also a firm believer in establishing a certain business niche for yourself. Get good at it, stick with it and don't get too far afield. We are fairly broad, in a sense, doing several different things in a remodel setting, but we are, however, focused on a segment of the industry where we think we can make money.
"That market is now improving and our business has doubled since 2011. It's like a step ladder and every year there is another rung added."
For more information and project photos visit AGS Stone's website visit www.tampagranitecountertops.com.