The Stone Detective: The Case of the Mistaken Marble
Frederick M. Hueston, PhD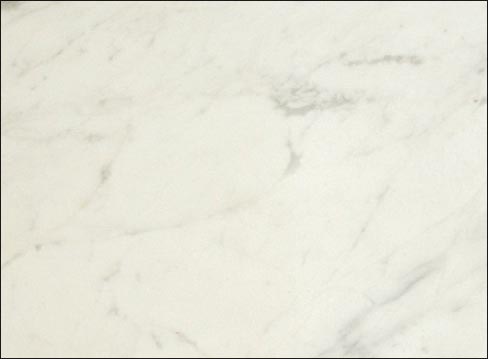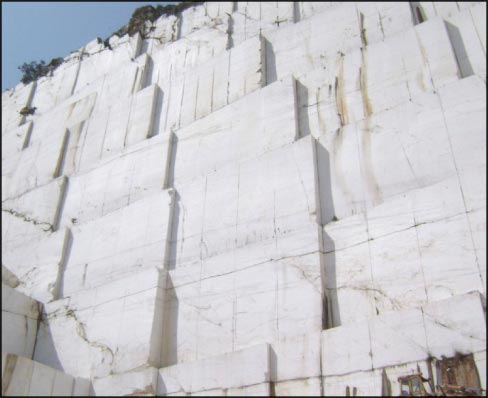 Abive: Pure Thassos White Greek marble has little to no veining.
(Quarry Photo Courtesy Eurostone)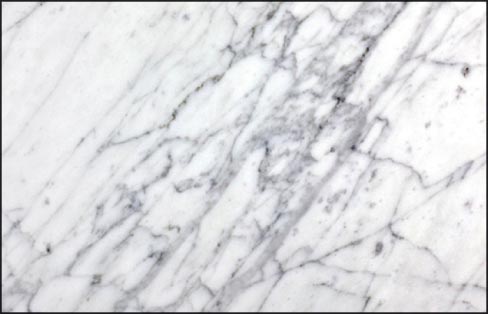 Above: Classic Italian Carrara marble: note the distinct, dark veining.
I love the stone business. But it never ceases to amaze me how many people in this business think they know all the facts. The sad thing is – they don't. The misinformation, false claims and outright lies I find disturbing, but also funny at the same time. Today would turn out to be one of those days that make old detectives just shake their heads..
I was once again sitting at the counter of my local greasy spoon, having a cup of Jo as I do every morning, when my cell phone beeped at me.
"Good morning, Stone Detective," I said. The lady on the other end was very soft-spoken, but very direct and got right to the point. She told me she just had installed some imported marble and was having some issues with the installation. She also told me that she wanted me to come out right away and take a look at it. Before I could even give her a price, she said again, more forcefully, "I need you to come now, and I'll pay whatever it takes, because I'm getting ready to sue the distributor and installer."
"Oh boy," I thought, "Another sue-happy, 'I don't want to pay you, I don't like what I bought' person."
Well, since she had agreed to pay me whatever I wanted I was pretty interested, despite circumstances.
I had nothing better planned for the day, so I thought I would take a drive and see what she was all worked up about. I finished my cup of Jo and hopped in the ole Woody, put on some Sinatra and was on My Way (LOL).
…
I arrived at the home of Ms. "I'm Going to Sue You," located in a gated community of what were probably million dollar–plus homes. Her house reminded me of the Biltmore House in Asheville, NC. In other words, it was huge… jaw-dropping huge.
I pulled up to the front door and was greeted by a guy who had to be a butler or valet. Really couldn't tell which, but he had what I'd call a formal butler uniform. He asked who I was and to state my business. I felt like telling him I was the Fuller Brush man and wanted to show the owners some new products, but this guy didn't look like he could take a joke. I told him I was there to see his boss (no, I didn't say "Ms. Going to Sue You"). He looked down his nose at me, and pointed to where I should park my common, lower class, antique set of wheels.
I walked in the house and was greeted by yet another man wearing a tux. This time I thought surely he had to be the butler. He was an older, very proper gentleman and reminded me of Batman's Butler – Alfred, from the original Keaton movie. He asked me to "kindly to follow him, please."
We entered a large room with painting easels all over the place. There was a naked lady lying on the couch (I ain't kidding – a naked lady!) holding a bowl of fruit on her lap. In the corner was a lady in a smock, wearing one of those French berets, painting the lady. "Ah, she must be an artist," was my brilliant deduction.
She turned in my direction and then looked me up and down as if she was going to ask me to take my clothes off and be a model, too. Not this old man – I don't look good naked, anymore (LOL). She said hardly a word of greeting, just pointed to the floor.
"There you have it," she said. "I paid a lot of money for this Italian marble. It came all the way from Italy and it looks nothing like the samples I was given."
I asked her if she still had the samples. She snapped her fingers and the Butler brought in a stainless steel tea tray with some white tiles on it. She pointed to the samples.
"There are some very nice veins in the samples but none in my floor tiles." I peered at the samples and then at the floor and immediately spotted the problem.
"I see," I told her. I asked her how she knew this was Italian marble. She just rolled her eyes, said "Come with me," and led me to the basement. Stacked in the basement were the crates the stone came in and, Golly Gee! – they were marked Imported from Italy.
I looked at her and said, "Ma'am, the marble you have is not from Italy, but is a Greek marble called Thassos white." She looked at me as if I were nuts.
"Can't you read?" she said rudely, as she stabbed a finger at the crates.
I explained to her that many European countries routinely send their stone blocks to Italy for fabrication, and that cut stone was then commonly shipped from Italy to the US. So, in this case, since the stone was shipped from Italy, it was considered an Italian import. Thus, the crate label…
This reminded me of the time I had friends over who had just come back from a trip to France. They bought a bottle of imported wine while they were in Paris, and gave it to me as a gift. When I looked at the bottle (in very small print), it was a chardonnay from Napa Valley. (LOL!) Anyway, it took a lot of patience to explain, but she finally got it.
Now the next question: why she didn't get her Italian marble, since the samples were clearly White Carrara from Italy? I guess that will all come out in the lawsuit. To a less-picky customer, maybe any white marble would be as good as another. But they didn't reckon with "Ms. Going to Sue You." And that's a story for another time.
You gotta love this business, or it'll drive you crazy. Another case solved… sort of.
The Stone Detective is a fictional character created by Fred Hueston, written to be entertaining and educational. Dr. Fred often writes about real situations that he's encountered in over 40 years in the industry. He has written over 33 books on stone and tile installations, fabrication and restoration and also serves as an expert for many legal cases across the world. You can send any email comments to him at fhueston@stoneforensics.com.