AEMA and MIA Join Forces to Create Spanish Edition Dimension Stone Manual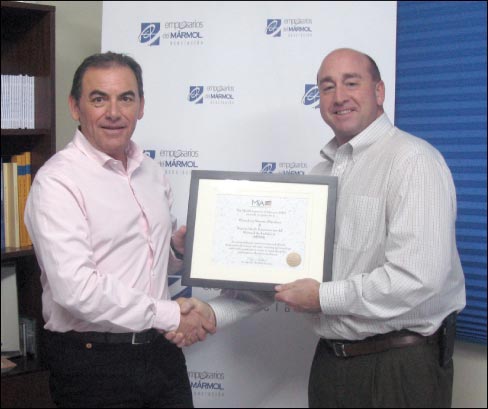 From left: AEMA President Antonio Martinez meets with former MIA President Tony Malisani to discuss the collaboration.
The Asociación de Empresarios del Mármol de Andalucía (AEMA) and the Marble Institute of America (MIA) will collaborate in the coming months to create a Spanish translation of MIA's Dimension Stone Design Manual, Version 8. The translated manual will then be made available in Spain and other Spanish-speaking countries.
Antonio Martinez, AEMA president, stated: "This partnership will help AEMA regulate and control the quality of products from our member companies, as well as position the Macael brand in the United States." Dan Rea, MIA board president, said: "MIA looks forward to partnering with AEMA for this exciting new endeavor. Translating the Dimension Stone Design Manual into Spanish will make it available to a much wider audience and help MIA broaden its international scope."
The Dimension Stone Design Manual features stone industry standards and technical specifications, as well as general information on stone installation, uses, and maintenance. It showcases the standards and specifications necessary for international companies to better understand the United States market. The joint copyright for the Spanish version will be owned by AEMA and MIA.
This is the second time that MIA and AEMA have collaborated. In the fall of 2014, AEMA recognized MIA with the prestigious "Institution Award" in the 28th annual Macael Awards for its work on industry safety.
The Spanish version of the Dimension Stone Design Manual is expected to be completed and available to the public by January 2016.
The Marble Institute of America (MIA) has served as the authoritative source of information on standards of natural stone workmanship and the use of natural stone products for 70 years. Worldwide membership includes over 1,700 natural stone producers, exporters/importers, distributors/wholesalers, fabricators, and industry suppliers in 55 countries.
For more information, visit www.marble-institute

The AEMA was created in 1977 to serve the natural stone industry in Almería and Spain. Visit www.marmolesdemacael.com  for more information.