Stone Mart Opens Cincinnati Location
Joel Davis
Special Contributor
Photos courtesy Stone Mart
Stone Mart's new warehouse and showroom in Cincinnati, OH features large selection of imported granite, marble, quartzite, soapstone, quartz and porcelain products for area fabricators and their clients.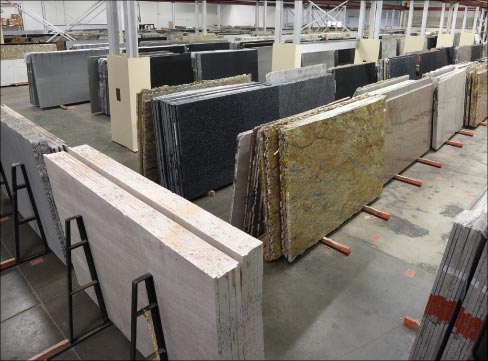 A member of the MIA, Stone Mart sources most of its natural stone from India, Italy, and Brazil. It also offers Santamargherita Quartz, manufactured in Italy.
Columbus, Ohio-based Stone Mart is expanding. The company has already grown to three locations, with its newest showroom in Cincinnati, Ohio. The grand opening of the 19,800-square-foot facility was in July.
Stone Mart also has two other locations. They are in Columbus, Ohio, and in Rochester, NY. A fourth location will open soon.
One of the company's strengths is its inventory. In 2011, it offered 350 choices of natural stone. Now it offers more than 400. There are almost 50 choices of engineered stone and porcelain, too.
Natural stone is a specialty. Customers can choose from granite, marble, quartzite, and soapstone. There are more than 200 colors and textures. It is sourced from all over the world. Granite, which is company's most popular offering, mainly comes from India, Italy, and Brazil. "We have our own inspectors," said owner Yash Lunkad. "The stone is inspected before it is shipped."
Granite selections vary from Absolute Black Honed to Blue Bahia. Marble ranges from Black Fossil to White Dunes. The most popular variety of marble sold by Stone Mart is White Carrara from Italy.
Quartzite is generally scratch- and stain-resistant. It is a natural metamorphic stone. It is formed under great heat and pressure. It is an alternative to granite for countertops. "It can be put in every application that granite can," he said. "It can definitely take a lot more abuse than marble can."
It is also used for accenting, bar tops, and wall cladding. In 2011, Stone Mart launched a signature series of quartzite. "It has very specific applications, and it's on the higher end of the market," Lunkad said.
The original Stone Mart facility in Columbus has doubled in size. It expanded from 20,000 to 42,000 square feet in 2014. "This is the best showroom in Central Ohio with displays of kitchens, showers, fireplaces, fire pits, bars, coffee stations, anything which might need a surface," he said. "It give a vast variety of ideas to customers on how they can remodel their dream kitchen, basement, etc."
Lunkad said that Stone Market works hard to keep up with the market. "It is extremely dynamic these days. Things change. Technology, if you look at what is new today, might be completely outdated within the next two years."
Stone Mart does not cut or install granite. The company partners with with fabricators and contractors. It strives to provide the best quality products. Customer satisfaction is key.
Staff can help customers design the perfect kitchen. Once a design is picked, the next step is hiring a contractor. Several area fabricators work with Stone Mart, Then, staff at Stone Mart will help them pick the best stone to suit their needs.
Being based in Columbus gives Stone Mart a strategic advantage. It is within 250 miles of larger urban areas.
More change is coming. Stone Mart is addressing customer demand. It is adding a satellite facility in Columbus. It will be on the east side of the city. This will accommodate development. "That is what we are working toward," he said.
Stone Mart belongs to several industry associations. It is a member of American Society for Interior Designers, Marble Institute of America, Brick Industry Association, and the National Association of the Remodeling Industry. It has a social media account on Houzz.
The market for stone in central Ohio is booming. "We know all local builders but do not supply to them directly, it's through fabricators. Remodeling continues to remain our primary focus. Our focus is residential. We are 80/20 percent between residential and commercial."
Marketing is mostly word of mouth rather than advertising. Stone Mart is sensitive to customer needs, and pays attentions to market demand.
"Homeowners are looking for more options than just natural stone," Lunkad said.
Market demand means branching beyond just natural stone. "We are a surfaces company," he said. "We are now selling and distributing porcelain as well as quartz."
Changing customer desires require new products. Stone Mart has partnered with two prominent companies that make ceramic and quartz surfaces.
The new partnership with Santamargherita involves an element of prestige, Lunkad said. "The owner of Santamargherita has been instrumental and has been the backbone of the whole creation of quartz."
Santamargherita Quartz is an engineered stone. The manufacturing process means consistency. "For example, Starbucks: they want all their stores to look the same across the country," Lunkad said. "You can manufacture quartz the same every time. We can provide more stable and consistent supplies for our commercial customers."
The choice of offering ceramics is to fill a customer need. "Porcelain has a longer lifespan than any other product for countertops because of its characteristics," Lunkad said.
Market preferences continue to change. "A lot of people have moved on from laminated and moved into solid surfaces," he said. "Solid surface incorporates everything from porcelain to quartz slabs. Anything that is man-made."
Among its locations, Stone Mart employs 35 people in all. Through hard work, it has kept growing. "I am honestly the most proud that we have maintained the same rate of growth every year," he said. "Once you reach a certain level to grow at the same rate is extremely difficult, but we've been able to double the size of our operation within a period of less than seven years."
Growth has not lessened individual customer attention. "As we grew and we expanded, we have added more people to our team so we can maintain the same level of service," he said.
Cultivating employees pays off, according to Lunkad. "We always believe a company is as good as people working for it. It's all about teamwork so I would give a lot of credit of our success to Team Stone Mart."
The Stone Mart sales staff is trained extensively in home decoration. The company incorporates the latest technology. "We are still very customer-focused and service driven," he said. "We believe that anybody can supply a product. Anybody can supply solid surfaces. So why is one distributor different from another? It is how you service your customer that separates a seller from a service provider."
Stone Mart delivers up to 300 miles from its locations. Its fleet has expanded from three trucks to eight.
Lunkad, who founded Stone Mart in 2006, holds Master's Degrees in business administration and economics. His entry to the stone industry came out of the blue. Prior to that, he was working in an unrelated industry.
"We were remodeling our offices and came into contact with a couple of granite companies and went to see their facilities," he said.
What Lunkad saw got him thinking about the future. "I got interested in it, and I felt that this market has a lot of potential and wouldn't go away," he said. "Any house or any commercial establishment will always need countertops."
Lunkad's plans continue to evolve. Stone Mart will further secure its place in the market. "Our goal is to not keep expanding but also consolidate," he said. "We want to consolidate and establish ourselves. In the next two years, we'll see where the market is heading towards and take our business in that direction."
For more information, visit www.stonemartmarblegranite.com or call 614-527-0257.