Thinking Outside the Box for Jobsite Safety
Sink Hole Savers: Protecting Countertops AND Installers
Jessica Sherwood
Product Information Specialist, Omni Cubed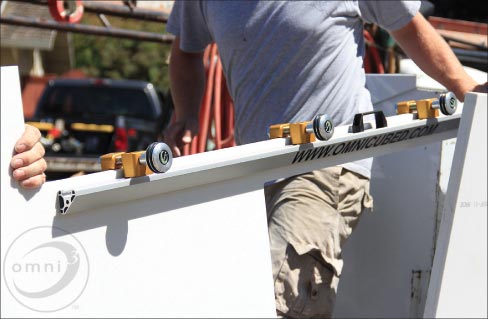 The Sinkhole Saver™ pays for itself after one prevented break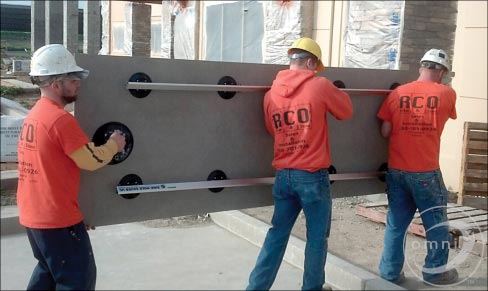 Slab strengthening devices like the Sink Hole Savers protect your team and the time invested in the top. Photo by Eric Richardson
Photos provided by Omni Cubed and courtesy Eric Richardson, RCO Tile and Stone
Countertop strengtheners are not typically thought of as a safety tool. They are commonly believed to only protect fragile materials, not the person handling them. However, it is important to understand that reinforcing stone is critical for material handling and installation safety.
Countertops are cut from very brittle material that is highly susceptible to breakage. The unfinished, sharp edges of broken stone, combined with its size and weight, create a serious risk for injury. This risk is amplified when handling awkwardly shaped pieces, or stone with sink cutouts. In the event of a break, the stone will likely fall and injure the person carrying it, but this risk can be minimized with the use of countertop strengtheners. The Original Sink Hole Saver™ by Omni Cubed is a reliable and durable solution for protecting stone and crew from damage and injury.
Another installation challenge is setting countertops that require "high-low" placement, also known as a "suicide drop." Omni Cubed's vacuum cup countertop strengtheners can be applied to the finished surface of stone to provide a "handle" during lowering, which gives workers better control of the material. The Sink Hole Saver™ VCA (automatic) and Sink Hole Saver™ VCM (manual) feature vacuum cups that slide in channels on the strengthening rail and lock in place for custom placement around cutouts or centered on thin materials. These products not only protect the stone from breaking when positioned horizontally, but more importantly can prevent installers from having to hunch over and strain their backs, or place their arms beneath the heavy stone to lower it onto cabinets.
Protect yourself, your team, and your countertops by using Omni Cubed Sink Hole Savers on every job! Visit www.omnicubed.com to learn more about these and other products by Omni Cubed, which are available now at Braxton-Bragg, www.braxton-bragg.com.