The Donkey and Elephant Political Symbol Thing: Where Did THAT Come From?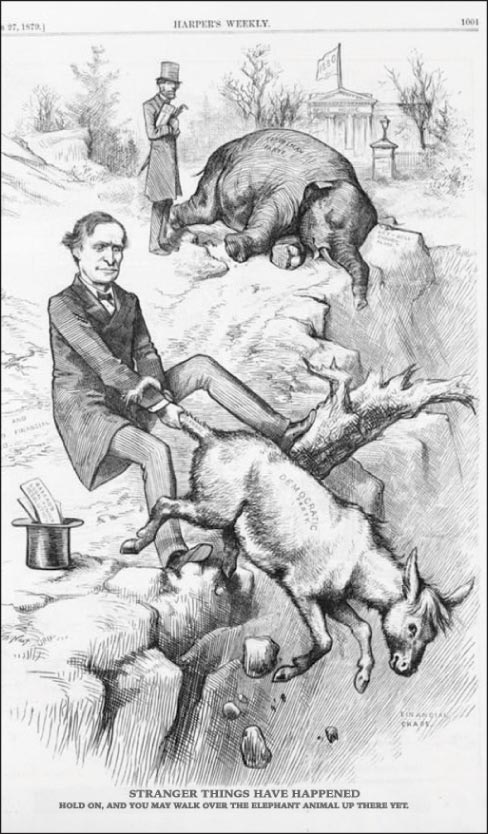 The first appearance of the Democrat Donkey occured in Harper's Weekly, Nov. 7, 1874. Headline: Stranger Things Have Happened.
Caption: "Hold on, and you may walk over the sluggish animal up there yet."
The GOP Elephant as a symbol long predates the Donkey. But from the beginning, American political parties have had a tarnished reputation. In his 1796 Farewell Address to the nation, George Washington warned against "the baneful effects of the spirit of party" as inciting American citizens "with ill-founded jealousies." These negative attitudes toward parties are rooted in the roles that they haved played in American politics.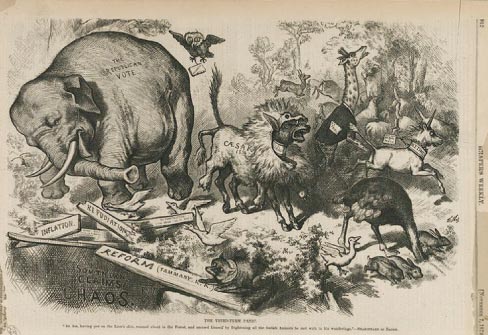 The political animals make another appearance, also in Harper's Weekly.
Headline: Third Term Panic:
Caption : "An ass, having put on the lion's skin, turned about in the forest, and amused himself by frightening all the foolish animals he met in his wanderings." –Shakespeare
The Thomas Nast Illustration shows a braying ass in a lion's coat and "N.Y. Herald" collar frightening animals in the forest. A giraffe (N. Y. Tribune), a unicorn (N.Y. Times), and an owl (New York World) represent newspapers and an ostrich with it's head buried represents "Temperence." An elelphant, "The Republican Party," stands near broken planks (Inflation, Repudiation, Home Rule, and Re-construction) over a pit labeled "Southern Claimes. Chaos. Rum." A fox (Democratic Party) has it's forepaws on the plank "Reform. (Tammany. K.K.)" The title refers to U.S. Grant's possible bid for a third presidential term which was criticized by N.Y. Herald owner and editor James Gordon Bennett, Jr.
The answer lies in the history of political cartooning. As for the Donkey–  Presidential candidate Andrew Jackson was the first Democrat ever to be associated with the donkey symbol.
His opponents during the election of 1828 tried to label him a "jackass" for his populist beliefs and slogan, "Let the people rule." Jackson was entertained by the notion and ended up using it to his advantage on his campaign posters.
But cartoonist Thomas Nast is credited with making the donkey the recognized symbol of the Democratic Party. It first appeared in a cartoon in Harper's Weekly in 1870, and was supposed to represent an anti-Civil War faction. But the public was immediately taken by it and by 1880 it had already become the unofficial symbol of the party.
The Elephant— Political cartoonist Thomas Nast was also responsible for the Republican Party elephant.
In a cartoon that appeared in Harper's Weekly in 1874, Nast drew a donkey clothed in lion's skin, scaring away all the animals at the zoo. One of those animals, the elephant, was labeled "The Republican Vote." That's all it took for the elephant to become associated with the Republican Party.
See the official sites of the Republican National Committee www.gop.com and the Democratic National Committee www.democraticnationalcommittee.org .