Did You Know that Bubble Wrap was Originally Intended as Textured Wallpaper?
One of Bubble Wrap's first big shipping assignments? Protective wrapping to help cocoon the enormous and delicate IBM computing machines during transport, in 1959.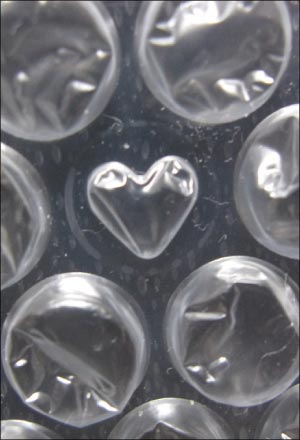 What's a common product that nearly everyone has used or received at some point in their lives? Bubble Wrap.
Alfred W. Fielding and Mark Chavannes co-invented Bubble Wrap in the late 1950s. Today, Sealed Air Corporation, the Saddle Brook, New Jersey-based company he co-founded in 1960, is a worldwide manufacturer of packaging materials with annual revenues in the billions. Fielding's story is one of those inspirational invention tales with a creative, unintended twist - a success story that even today engineering students can learn from as they look forward to their careers. The early history of Bubble Wrap demonstrates, for inventors, that keeping an open mind to possible applications is a clear advantage - ultimately, you may start out trying to invent one thing, only to hit on an even better idea.
Inventor & Entrepreneur
The story begins in 1957 in a garage in Hawthorne, New Jersey, with two entrepreneurial engineers hard at work, Fielding and his partner, a Swiss inventor named Marc Chavannes. They are trying to invent a textured, plastic wallpaper with a paper backing.
They started out by sealing two shower curtains together in such a way that it would capture air bubbles, which would make the textured appearance for their wallpaper. It fails. But along the way they realize their invention could be used for packing material, thus, giving birth to what is now known around the world as Bubble Wrap, and the Sealed Air Corporation, the company that has developed and marketed it. Through its technology, Sealed Air Corporation essentially built a specialty chemical business in protective packaging.
The Early Years of Bubble Wrap
It was three years after the initial creation of Bubble Wrap that Frederick W. Bowers, a marketer at Sealed Air, which makes Bubble Wrap, finally came up with the perfect use for their product. On October 5, 1959, IBM announced their new 1401 variable word length computer. Bowers got the idea that Bubble Wrap could be used as a good packaging material to protect the computer while it was being shipped. He then pitched the idea to IBM and demonstrated Bubble Wrap's protective abilities. His demonstration went over well and IBM began purchasing Bubble Wrap to protect their 1401 and other fragile product they sold and shipped.
From those humble beginnings, the company has grown to annual sales of around $4 billion with a net profit of around $255 million. For reference, about 10 percent of Sealed Air's revenue comes from Bubble Wrap, so around $400 million worth of Bubble Wrap is sold annually.
One common misconception about Bubble Wrap is that it is created using machinery that inflates and then seals each and every bubble. In fact, it's made by trapping air bubbles in between two sheets of plastic as they are heated and passed between rollers.
Fun with Bubbles
Sealed Air continually does extreme demonstrations showing how much better Bubble Wrap performs at protecting fragile items. In one such demonstration, they dropped an 815-pound pumpkin from a height of 35 feet onto layers of Bubble Wrap. The pumpkin survived the fall without a scratch.
Among its many uses, Bubble Wrap can be used as a cheap burglar alarm by placing large bubbled bubble wrap on the floor in front of your door. Another common, but annoying use: stress relief, by popping the little bubbles, one–by– one.
A final weird fact, and a mystery: the amount of Bubble Wrap produced by Sealed Air annually is enough to wrap the entire Earth (at the equator) with Bubble Wrap about 10 times. Where does it all go?