Northwood Machine Introduces Robotic Saw-Jet to Captivated Stone Expo Audience
Peter J. Marcucci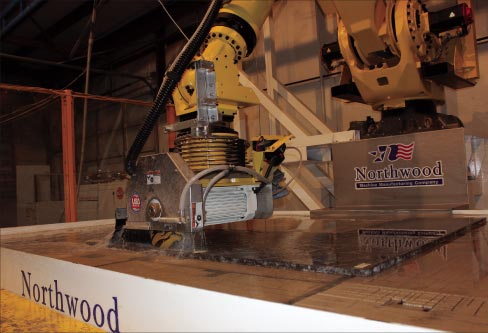 The RSJ M900 Single Table Sawjet, with the double table configuration, shown below. The robotic arm is produced by Fanuc Corporation, a worldwide maker of state-of-the-art robotic arms. It is industrial grade and not just off the assembly line according to Northwood Machine Sales Manager Robbie Tidwell.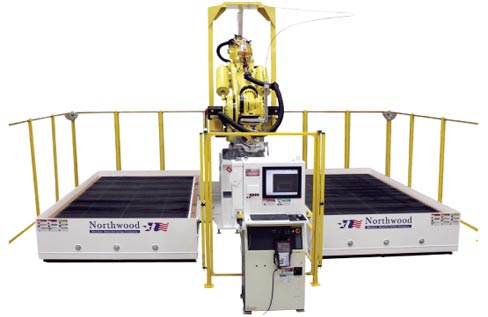 Above and below: Check out this amazing card table made with the Robotic SawJet at the Northwood Training Center (cigars and scotch are optional, gentlemen). The Northwood Robotic SawJet does glass (not tempered) and metal, too.
The KMT Intensifier (water jet) runs at 60,000 psi and uses a mixture of water-garnet for cutting medium. Garnet is fed into the mixing chamber just above the nozzle. It will do 8 inches per minute for a smooth edge, and 22 inches per minute for an edge that gets further machining. Additional developments for the cutting head are in the R&D stage, and cannot be revealed at this time. (Hint: the Robotic SawJet is 6 axis).
Shop owners, production managers, and sawyers: If you've been giving serious consideration to upping production and are faced with finding the best solution for your business, this equipment profile is for you. With so many considerations and options these days, it's downright daunting when facing the "what direction do I take for a production upgrade?" scenario. This year's StonExpo in Las Vegas showcased a huge amount of tempting technology. One standout was the new Northwood Machine Robotic SawJet with KMT Intensifier.
First Impressions
By integrating components from Fanuc, KMT and Alphacam, Northwood Machine has created a no-compromise solution for increasing production, explains Northwood Machine Sales Manager Robbie Tidwell. "What makes our Robot Sawjet different from all others is its mitering capability and its size. Ours is more robust and more rigid than our competitors. The more robust, the longer it will last, and the more rigid, the more accurate it is going to be."
How big is the whole kit and caboodle, you ask? It's big, maybe even intimidating, when standing in front of its futuristic yellow robotic arm and precision fittings. Due to its mitering capability, and moreover, need to keep the arm angled and within proper reach limits during operation, it requires a 15-foot-high ceiling and has a foot print of 14 x 14 square feet for the basic package — that is, for a single table. When supersized to the twin table version, it requires a conservative 14 x 22 feet of shop real estate.
The machine has no ball screw, no rack and pinion, no air cylinders or air valves and no bellows like a CNC. Northwood has eliminated a tremendous number of components, making scheduled maintenance way less (every 5,000 hours) than conventional sawjets or CNC machines.
Impressive Features
The hardware itself, the robotic arm of the Sawjet, is made by Fanuc Corporation. Fanuc is known throughout the world for its motion-control systems and robotic solutions, offering reliability and support with 23 service centers throughout America. Other principal partnerships in creating the Robotic SawJet were with Alphacam for software and KMT for its Intensifier (waterjet), explained Tidwell.
"KMT, the inventor of waterjet systems, has partnered with us since the beginning. With service centers throughout America, their service is second to none. Alphacam has also been a longtime success (as a partner) with Northwood. We have a lot of IT and software developers on staff, and using Alphacam we do a lot of the customized programming ourselves. We've made sure that every component we use is backed up not only by Northwood, but by the makers of the other components. Our number one priority is to keep the customer producing, so if there's a problem we'll first perform over-the-phone diagnostics and then send a Northwood technician if needed. That said, if it is an Alphacam, KMT or Fanuc problem and they are close by, they instead of us will respond. So it's service, service and service."
Matching countertop seams is also a snap when Slabsmith software is integrated into the system, commented Tidwell. "The machine is compatible and comes available with Slabsmith. You can do a complete layout of the job in real time, and then show the homeowner how it is going to look with each seam matching the next one. That layout is then cut exactly – I mean exactly like the customer sees it pictured."
Material yield is also increased by 15 percent, said Tidwell, adding, "These are proven numbers that customers have given me. An example of this would be if you're cutting on a bridge saw, you're cutting material that is square with no radius corners or sink cutouts. With the Robotic SawJet you can easily cut any shape with a radius and sink cutouts. Additionally, if you're using CNC, many times this feature will eliminate the finger bit cycle (the slowest portion), creating a more efficient work load and speeding up production."
There's a smart saw feature, too, that monitors the load on the saw motor, explained Tidwell. For example, say you're cutting speed is set to run at a 58 percent load. Instead of just moving at a certain number of feet per second, the "smart saw" function automatically monitors the blade load while traversing through the harder and softer areas, thereby increasing or decreasing the feed rate to keep the motor load at 58 percent. Blades can last longer, and large chips are kept to a minimum, automatically. Blade RPM is also programmable into the machine, to give you optimal results and increase blade life, too.
Cutting-Edge Cutting Bed
The thoughtful design of the Robotic SawJet's cutting bed is another big reason for less maintenance. All cutting is done with the slab fully submerged, so no water is being sprayed onto the blade or shop floor. How can this be, you wonder? Well, the cutting bed doubles as a water reservoir holding 1,603 gallons of water (1,603 gallons × 8.34 lbs. per gallon = 13,369 lbs.), and is attached to the pedestal. Before any cutting is performed, water is pushed upward to the top of the cutting bed via air pressure, flooding the surface a full half-inch above the slab. With this system, as much coolant as possible reaches the blade, and a cooler blade lasts longer. When cutting is finished, the air in the reservoir is released, allowing all water to return down to the tank. "OSHA loves this feature because there are no airborne particles," said Tidwell. Ports for connecting your favorite recycling system are also incorporated into the reservoir.
Exceptional Training
Northwood Machine supplies state-of-the-art training, too, explained Tidwell: "We have a tech/training facility in Alabama that is set up with a Robotic SawJet and a Fab Center. We've teamed up with a local fabricator, so that when a customer comes for training they're actually running real jobs under actual circumstances. It is a one-week class offered two to three times per month and consists of software use, maintenance of the intensifier and everything else. As long as you own a new or used Northwood machine, that training class is open to you anytime, free of charge.
"The way we see it, if you don't know how to run your machine, then the machine is not running properly. We feel it's our responsibility that the customer understands and knows how to use it."
Lasting Impressions
In closing, the Northwood Robotic SawJet is a rock-solid offering in a world awash in fabrication technology. It is definitely not your father's CNC. Technology is key to Northwood's business, and an investment in this product, or any Northwood product, will help to keep you a step ahead of your run-of-the-mill top shop.
Who's going to buy it? Any shop that's doing three or more kitchens per day is a candidate, said Tidwell. "If you don't think you can afford it, think about this. If you're cutting three kitchens per day, five days per week, that's an average total of 30 to 40 slabs per week. Add a 15 percent saving of material, and the financial benefit becomes clear, considering the savings. This one fact alone, especially when using exotic or premium materials, helps to offset the cost of the machine."
One final point: There is no digging, forming, rodding or pouring of concrete for the pedestal (mount) of the robotic arm. When the unit is delivered, a supplied 8,000 pound pre-cast pedestal is brought in with a Northwood supplied forklift, set in place and leveled. It's totally turnkey!
Words cannot do justice to this impressive machine. For the full effect, go to www.northwoodmachine.com — the most impressive thing is seeing this gentle giant operate!