Everything Old is New Again
Shannon B. Carey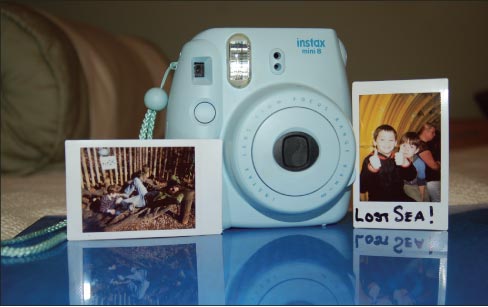 Rediscovering the joys of the instant photo print
True story. The Plucky Pen family (me, husband, little boy) went to a New Year's Eve party this year for folks like us. By that, I mean late 30s, kids, but still wanting to celebrate. I brought along my new Instax Mini8 camera, a gift from my mother for Christmas.
If you haven't noticed the phenomenon that is Instax, these Fujifilm cameras are cute, fun, and they print out the picture right there the instant you take it. For those of us who grew up with film cameras, we have a generic name for these: Polaroids. Kind of like Xerox or Kleenex, we used the name of the most ubiquitous brand at the time to sum up the whole category.
But I digress…
The party's host has two daughters, ages early teen and pre-teen. I whipped out the Instax around 10 p.m., and you would have thought I'd waved a magic wand and pulled a unicorn out of my purse.
"It prints out the pictures right now?" the older girl said with eyes wide. I handed her the photo, still white and needing to develop with the time-honored flapping and blowing technique that we 80s kids know so well. As the picture emerged, she held it gingerly, like the Holy Grail.
These young ladies have grown up taking photos with ease. Cameras on phones, high-quality digital cameras in the hands of every PTA mom, selfies, all of them trapped in digital format, requiring a trip to a brick-and-mortar store to print out and hang on a wall. This insightful blog post by Mike Yost Photography drifted across my Facebook feed today, and I was reminded of those girls and the lost magic of holding a photo in your hands.
For the record, no one paid me to write about Instax. I just love it. Instant gratification and lots of fun. My Instax goes on family outings, and the results end up on our refrigerator, not trapped in a phone.
Our newest Slippery Rock contributor, Shannon Carey is a former Shopper-News reporter, now a freelance writer, blogger and editor based in Knoxville, Tenn. Visit her blog at www.thepluckypen.com, or email shannon.b.carey@gmail.com