Technology Review: The Sasso K600 5-Axis CNC Saw Is a Game-Changer
Mark Lauzon
Special Contributor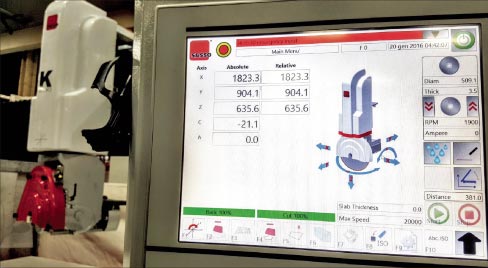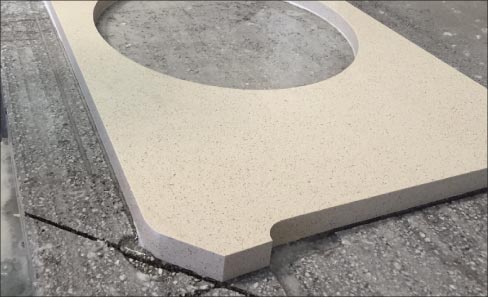 This perferct bowl cut-out and the intricate edge treatment showcase the versatility of the 5-axis Sasso K600.
Back in 2001 I flew to Verona, Italy to attend the Marmomacc show. It was just after 9/11. The plane was mostly empty. My luggage was lost in the bowels of airport security, somewhere in New York's La Guardia airport. It was a weird, tense feeling traveling after the towers had come down. Having said that, it was an incredible time to be an American fabricator in Italy. The warm reception and genuine love of the people was an incredible experience that I will never forget.
I had been fabricating for a year at that point in my career. We were using a glorified gigantic tile saw to cut slabs. I think we paid fifteen grand for that old Imer saw.
I was walking the isles of the trade show and I remember looking at this 3-axis CNC saw that was as big as a house. I could have watched it move for hours. I kept thinking about how we had to physically shove the slab into the saw to make a cut, back home. The salesman approached me and I asked him how much it cost. I remember it was just this side of three hundred thousand U.S. dollars. I can tell you that in 2001 he might as well have said three billion dollars. I smiled and walked away.
I doubt there were very many CNC saws in the States back in 2001. I certainly did not know of anybody who owned a CNC saw back then. Little did I realize that I was looking at the future. How things have changed.
In late 2004 we purchased a proper manual bridge saw. In 2005 we purchased a CNC stone router, and a year later replaced the manual bridge saw with a SawJet. Our investment in iron made the original three hundred thousand dollar conversation I'd had in 2001 seem almost reasonable. Between 2005 and 2009 so many of my friends who owned stone shops had pretty much gone the same route: deploying CNC technology.
That growth pattern had one major flaw. We bought the CNC router, THEN the CNC saw. The workflow was either: Stick template, cut the job manually, digitize templates, process on the CNC router … OR … digitally template, print plastic templates, cut the job manually and process on the CNC. Once you were 100 percent digital it all really made sense. I think many of us would have purchased a CNC saw first if a viable, affordable option had been available.
Today it is available, and it changes everything. The first 5-axis mono block saw was introduced less than five years ago.
Over the past four years I have watched the price drop and seen the saws improve at a rate that has been staggering. I would go so far as to say we are in the midst of a digital sawing revolution. But before so many other companies jumped into the 5-axis mono block world, Sasso was steadily introducing CNC saws in multiple sizes and configurations, with a wide array of features. They saw the future and have been embracing it ever since.
Then, four years ago, Sasso introduced the K600 5-Axis saw. It has been the vanguard of a sawing revolution that has swept across the country. The K600 saw has been refined and improved since its introduction. Today, the price is less than when it was introduced, and the features and capabilities have improved dramatically. Why does this matter?
The affordability of the technology and the range of tasks the K600 can perform is astonishing. Many smaller shops have chosen it as their first piece of automation. Starting off with a K600 makes so much sense. The fifth axis makes all the difference. In addition to being able to miter and cut curves with the blade, fabricators can now cut out sinks and faucet holes using incremental cutters. The popularity of eased edges and mitered edges means that in some cases, from a cutting and milling standpoint, as much as 80 percent of the jobs can be processed without ever going into a CNC router.
Do you remember the saying, "God made man, but Colt made them equal…"? You could easily apply that logic to the K600 5-Axis Saw. The average monthly payment is somewhere around two thousand ($2,000) dollars. Smaller fabrication shops can now leverage the same digital advantage that larger production houses bring to an ever-competitive market space. This digital advantage can positively impact your bottom line through increased productivity, reduction of chaos, less overtime, accurate part cutting and the overall quality of the finished product.
One of the cornerstones of the K600 has always been its ease of use. It starts with AlphaCam. Sasso understood the popularity of this software suite in the U.S. market and developed it to run on all their CNC saws. This is important, for so many shops are already running gear driven by AlphaCam. It makes system integration easy, and minimizes training and learning curve issues. If you make the K600 your first piece of shop automation, then the same logic applies, if you choose to purchase a stone router at a later date. Sasso also offers FST CAM as an alternative.
One thing you should know about Sasso is that they are constantly testing and improving their products from a usability standpoint. Sasso engineers were paying attention when other companies introduced vacuum lifters to move parts around on the saw, to allow for tighter cut batches. Sasso engineers approached the challenge from a different perspective, and the result is the Sasso Super Plunge.
This is a feature that allows the option of plunging the blade to minimize saw kerf. With this feature, parts can be positioned as little as one inch apart and you can still achieve a clear cut. This may not seem like a big deal at first. Ask any Sasso K600 customer, and they will tell you that it is the number one feature on their saw. It's simple, and it works. It keeps the price of the saw affordable and actually reduces the complexity of the machine.
For large production operations Sasso offers the K600 as a twin table without dramatically increasing the cost of the machine. This takes 5-axis cutting to the next level. With twin tables you are able to minimize the cycle downtime generated by material handling. Sasso customers report cutting as many as 30 slabs per shift using the twin bed configuration. Find this number incredible? The customer respose and a first-hand Sasso demo has convinced me it really is possible, and more.
As you watch other companies jump on the 5-axis bandwagon, I'd like to encourage you to consider Sasso as your automated cutting solution. They have been building stone machines since 1974, and Sasso truly understands the needs of American fabricators. Their commitment to providing outstanding American technical support and maintaining a U.S.-based parts supply allows their customers to sleep well knowing Sasso has their back. A massive base of American shops running K series saws is a testament to this commitment. Contact Sasso and they'll proudly provide you a long list of satisfied customers to call. Join the revolution!
For more information on this impressive machine visit the Sasso website www.sassousa.com to view videos and request more information. Call 888-289-5284 to contact a Sasso rep.
Mark Lauzon is a former stone fabricator from Oregon and a sales manager at Sasso USA.