Fordham Marble: Old World Craftsmanship Meets Technology
Peter J. Marcucci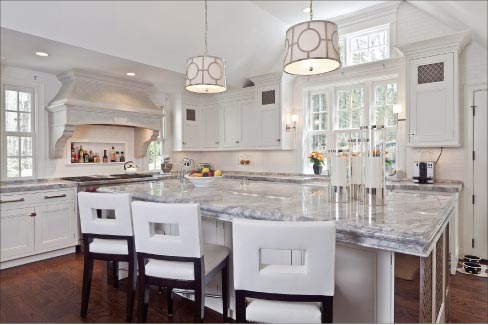 Above: Fordham Marble excels in producing slab-sized islands with detailed architectural edging, creating luxurious spaces in kitchens, master bath suites and commercial settings.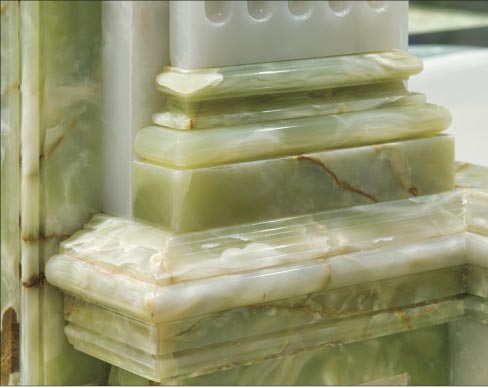 Above: Column and trim detail from an opulent master bath lavishly decorated with Green and White onyx.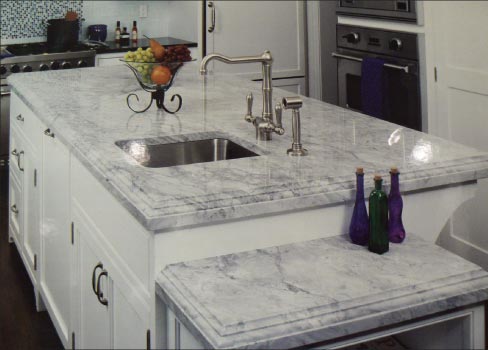 Above: Laminated Newport White Quartzite island with matching wine cooler table top for a custom residence in New York.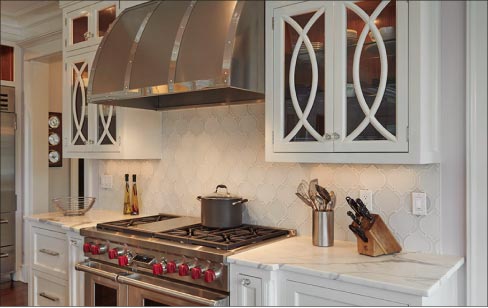 Above: This custom marble kitchen includes matching, hourglass-shaped mosaic marble backsplash tiles.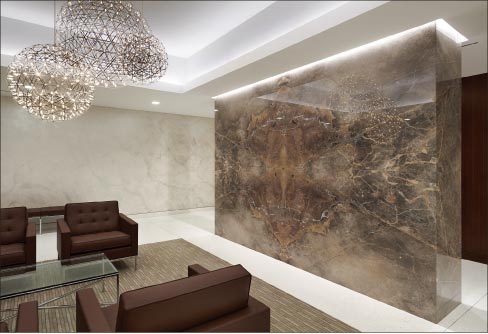 Above: The Pickwick building lobby in Greenwich, Connecticut features a top-lit, bookmatched Fior D' Bosco marble wall, separating the space between the sitting area and elevators.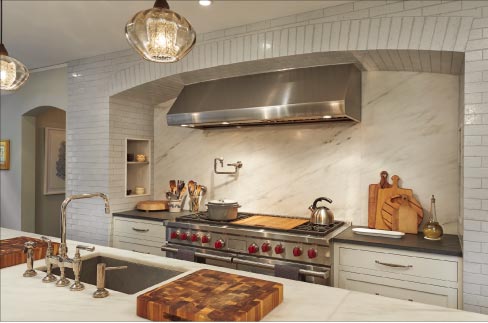 In the early 20th century, droves of immigrants, fleeing revolution, war and injustice, looked toward America for opportunities. These immigrants would soon migrate to cities like Chicago, Boston and New York City, and begin anew. Salvatore Sardo, a Sicilian with only a third grade education, but lots of determination, was one of them.
Salvatore Sardo settled in the Brooklyn community of New York City. In 1905, he started General Marble Company, which would grow into a major force in the custom marble industry. The company, now known as Fordham Marble Company, is still operating and specializes in custom marble, granite, limestone, quartz, and quartzite surfaces for new or remodeled kitchens, bathrooms, bedrooms, patios, and all other rooms or grounds of a home. They also offer a line of exclusive home décor including ceramic, porcelain and glass tiles.
Today Salvatore Sardo's grandson, Mario Sardo, operates the business. Mario says that originally his grandfather "had three partners and three shops but they split up. My grandfather got the shop that was in the Bronx. The Bronx was country at that time, and the shop, known as General Marble, was located on West Farms Road."
While growing General Marble, Salvatore Sardo raised two sons, Mario and Alexander, and he saw to it that they got a good education.
"When my uncle (Alexander) and father (Mario) grew up, they went to Fordham University where both of them got their law degrees," says Mario. "My uncle practiced law, but my dad stayed in the marble business. My grandfather changed the name of his business from General Marble to Fordham Marble because he was very proud of both sons for graduating from Fordham University."
Salvatore Sardo passed away in 1955, and from that point his son, Mario Sr., ran the business with a minor partner, Frank Simone. "Basically my dad ran the shop and Frank ran the outside," says Mario. "When it came to sales, they were not very aggressive. They worked on whatever came in the door. Starting from third grade, I used to go there whenever there was a snow day or holiday from school and answer the phone. So I always knew I was going to wind up in the business, and did so, beginning in 1968."
According to Mario, marble wasn't as popular as it had once been. "Most people were using glass and chrome, and we were making a living by doing a lot of repair work – stair treads for apartment houses and the occasional countertop. I would go out with Frank to measure the jobs, holding the dumb end of the tape measure. He did all the drafting, all the measuring, everything! He had a bad heart, so I would always drive. While driving, we'd play the game of me estimating the job and seeing how close I would come to his estimate. Frank was a good teacher."
A Defining Moment
Frank Simone passed away from a massive heart attack in 1972. Unbeknownst to Mario at the time, this would be a major turning point, not only for him but also for the company. "It was at this point that my father was going to close the shop, saying, 'We have no outside guy!' I said dad, listen, I'll take over the outside! I had been working there about four years. My dad just said, 'You can't do that!' He used to say that about everything. So I said, 'Listen, you're going to shut the place down and you're going to lose everything!' In those days there was no marble industry, so nobody bought a marble shop. I realized that I was married with one son, one on the way, and my work is here — I'll just take over the outside!"
Mario aggressively tackled his new position, "That year, volume-wise, was the best year we'd ever had. I had taken over sales and took the time to rework our prices. I would spend my days interacting with the clients, setting up the guys on the job, and then do my estimating at night."
Sales continued to increase, doubling every year for the next five years. "I took on a lot of crazy jobs. There was nothing I wouldn't do, and I kept the costs as low as I could. By 1977 we were up to $1 million in sales, and in those days that was a lot of money. Our shop was 5,000 square feet with a little stone yard attached. All fabrication was done with an old saw, chisel and hammer."
Taking a hard look at the market he had developed, Mario convinced his father to expand and buy a new building in the Bronx. "I sold the old building for more than we paid for the new one. The new building was 16,000 square feet, and to this day, it's the one we fabricate in. We cut all the water canals, did all the foundations, dropped all the electric wires and got everything ready. Then during 4th of July week, when all the union marble shops were closed, myself and two other guys moved the entire shop."
Around this time, Mario made his first trip to Italy, staying a month with a family that was in the marble business. "I became very excited, because I saw how advanced the marble industry really was. This was a turning point in my attitude toward the business. I saw the machinery, the attitudes and how it was a real industry and began importing mostly two and three cm Carrara, because we used that for steps in the apartment buildings. I knew I could bring in a lot of that material all the time. I also bought a used forklift that was a beast, an old beast. The trouble was that it had a gasoline engine, and I was indoors sucking in the carbon monoxide. I had to stop every 20 minutes, because I would get dizzy on the fumes."
Mario later began importing colored marbles and marble tiles for wholesale. "When the market became less profitable around 1986-87, I got out, because everyone was doing it. Additionally, we were giving white-glove service at a wholesale price."
CNC: All the Difference In The World
By the early 1980s, Mario had gone back to doing what he knew best – fabrication, but with a twist. "All the guys working for me were getting old. They were all highly skilled European craftsmen, still doing everything by hand. You want to do an ogee molding? Get out the chisels, brrrr, brrrr, brrrr! They were really artisans."
"I'm looking at these guys, thinking, they're all going to retire soon, and there's nobody to replace them. What am I going to do? So I started to look for a machine that would do profiling and began going around to local machine shops saying, 'This is my idea, can you help me?' Everyone looked at me and thought I was a bit strange. I then went to one of the marble fairs in Italy and saw the first CNC. It was made by Brembana, a division of CMS. It was a three-headed monster with three motors, because it didn't have an automatic tool changer. There were maybe two in the world other than the one at the show. It was $200,000."
"So I flew back to New York, thought about it and then called the CMS engineer who was starting the marble division. That engineer was Mario Prussiani who now has his own machine company making saws and everything.
"Flying back to Italy, I met with Prussiani and said, 'I want to buy this machine.' We negotiated back and forth, and I got a very good price, because he really wanted to get one into the United States. So I bought the first CNC machine made for the stone business. That was December 1986 and it changed everything for me! I was able to produce very intricate floor pieces very quickly and precisely. A sunburst pattern, for example, any one of the rays could go anywhere in the pattern accurately. I was able to produce work so quickly and accurately that at one of my jobs, the contractor allowed me to show other contractors before the owners moved in. They would be amazed at the work and I got a lot of new clients. Even the architect on the job called me wanting us to be his exclusive fabricator. I just said, 'Sorry, I can't do that.'"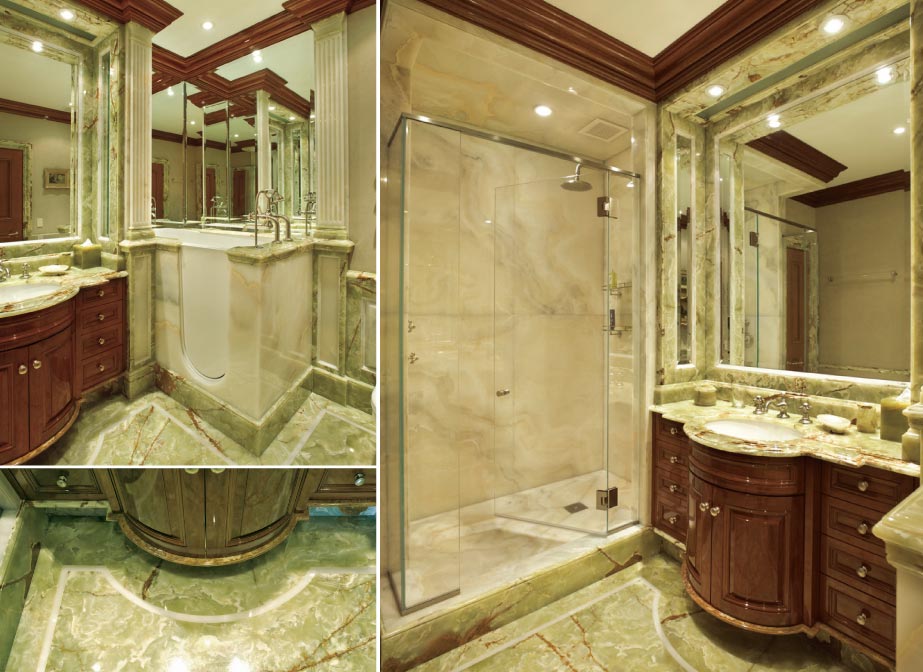 Above: This stunning, palatial Green and White onyx master bath suite includes baseboards, pilasters and even cladding on the walk-in tub. In addition to the onyx flooring, curbs, details and cladding, the shower includes large format white onyx tiles.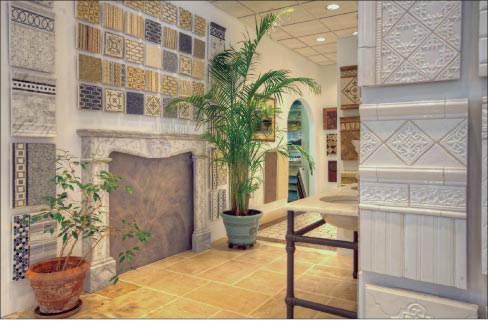 Above: Besides 300 slabs of marble, Fordham Marble's expansive showroom include porcelain, glass and ceramic tile samples.
Above: This solid marble sink / vanity top takes washstands to a whole new level.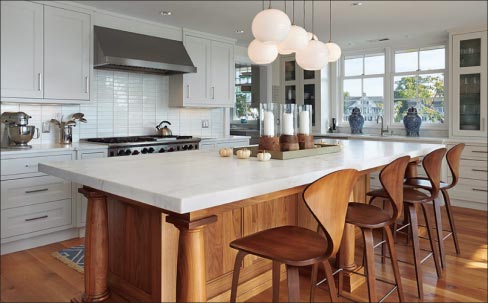 Above: Marble, quartz and warm wood tones combine to create a comfortable, stylish and functional space.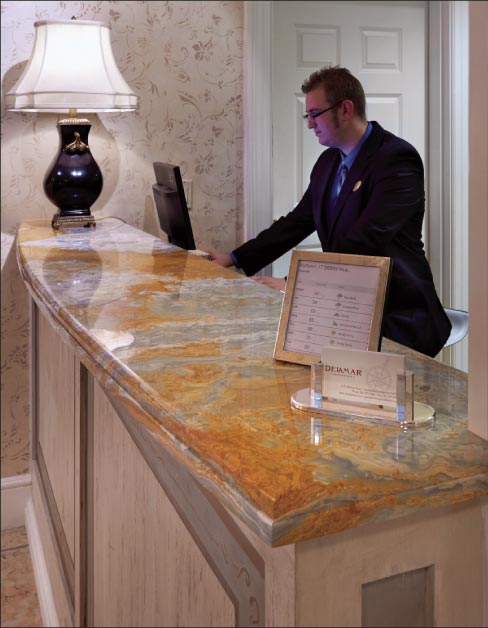 Above: This long, curving onyx counter is installed at the famous Delamar Hotel in Greenwich, CT.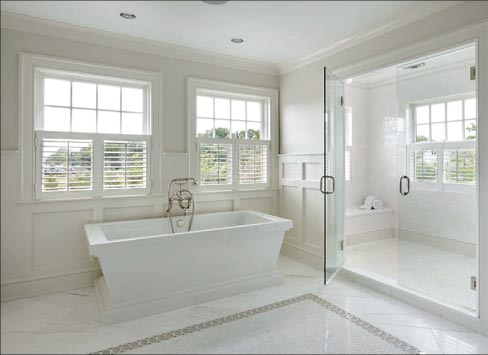 Above: From the over-sized shower and soaker tub to the large-format Calacatta floor tiles with a glass inlay carpet, classic perfection and understated elegance is captured in the simple, clean beauty of white marble.
The Next Defining Moment
In the late 1980s, the marble business in New York was booming and a lot of small shops were opening in the city. "We were doing a lot of work in Greenwich, Connecticut. I was the only one doing work for these contractors. As a result, other shops were opening here, too. Unfortunately, people didn't want to come to our Bronx showroom because they considered it too dangerous an area, and thought they would get mugged! So in order to protect my market in Greenwich, I opened up a showroom close by in Stamford, Connecticut. It was 5,000 square feet and eventually grew to 10,000. I didn't design it, but it is so well done, that when people come in they are blown away. We feature about 300 slabs of different colors. We also have every kind of tile you can think of: porcelain, glass and ceramic. My wife, Joyce, who's been working there since 1980, runs the showroom and a team of three, while I sit upstairs and act as a technical advisor, coordinate all the efforts in the shop and do what I have to do to support her team and co-ordinate with our shop."
Current Equipment
The 16,000 square foot fabrication shop features two CNCs, two bridge saws, a five-axis Prussiani CNC saw, three radial arm polishers and one edge machine. Keeping 10 craftsmen busy year-round, it is used only for production. There is also a 10,000 square foot yard for slab storage. "I love my employees. Without them, the company is nothing. A lot of them learned the business in my shop, passing knowledge down from one to the other. I have one guy who's been working for me for 46 years."
The majority of the company's work extends 70 miles in three directions. They have, however, serviced Bermuda, the Turks and Caicos Islands, Nantucket, Martha's Vineyard and many destinations within the U.S.," said Mario, adding, "The designers come here from Manhattan and Connecticut, and have clients that are moving. They select our slabs or tile and we ship it to their fabricators."
Other than tiles, cut-to-size jobs are the only materials that Mario imports these days, buying slabs locally since 2008. "Nobody in this market wants granite anymore. They want marble, quartzites and engineered stone for countertops. We used to sell granite like crazy, but the kitchens we do are in high-end homes. These owners know what is in style because they either have a designer, or they're looking on Houzz or watching HGTV. They all want big islands, too! The average size is 9+ feet long by 5-foot 6-inches wide or bigger with a 2-inch mitered edge and no seams. Just try getting one of these up the stairs or into an elevator and into the house! And while you're doing it, don't damage the floor!"
Over the years, Fordham Marble's work has been featured in such publications as Architectural Digest, The New York Times and House and Garden. "Martha Stewart did a whole show on us. She's a very nice lady, actually." And although he wouldn't share the list, Mario's clientele includes famous actors, media moguls, politicians, musicians, businessmen and women, "And a whole bunch of rich people. I respect the privacy of all my customers, I don't pry into what they do for a living."
Unparalleled Quality, Superior Service
So what makes Fordham Marble different from their competitors? "111 years of experience," replied Mario. "Also, personal involvement. One of my people said to me that he couldn't believe the amount of personal involvement I have in every project. He'd worked at other places, and he had never seen the owner this involved."
"We are very concerned that what we do is done correctly. Actually, maybe, sometimes we deliver too much customer service. I'm very, very, very old world that way. Even with all the modern equipment like computers, lasers, digitizers and stuff, it comes down to, 'I'm very old fashioned.' It's the same way when one of my customers calls up and says, 'I've got a chip in my sink.' I don't tell them it's going to cost 600 bucks if I send up a guy from the Bronx to fix it. I'll simply tell them that I'll have a man in the area next week, and I'll take care of it for them. Then they'll say, 'You're not going to charge me?' No, no, no, I say, that's okay!
"So what makes us different is knowing the business and believing that we have to deliver respect and service to our clients. That's what it's all about. It also helps to have a 10,000 square foot showroom, and be able to show people that you know what are the latest and greatest trends. Our showroom shows the difference between our work and the others trying to match our work. Everybody in the area knows that our workmanship is second to none.
"We care more about turning out a really good product and delivering customer service than short-term profit on an individual job. It's caring about your reputation and about delivering service rather than a quick profit. When people see me, they see Mario from Fordham Marble. My name and identity are linked to the quality that my company turns out. That's the hard thing, because you have to guard that reputation, and reputation is almost everything."
The Future
So what comes next for Fordham Marble? "Business is great and we've finished some really nice jobs so far this year," say Mario. "Our showroom is in an industrial area, and lately a lot of high-end design companies have moved onto my street. None of them compete with me, and we've gotten together to call the area 'The Waterside Design District.' You don't have to go to Manhattan anymore — you can find everything you want right here on this street."
"In some ways, having the nicest showroom in the area is a detriment. Some of the contractors won't come to us, because we have this beautiful showroom and think we are too expensive. What they don't realize is that you can't have a nice showroom unless you're successful. And the only way you can be successful is if you have the customers. Well, the only reason we have the customers is because we offer a tremendous value and selection for the price. We have the slabs, the quality and the professional people who can deliver the job correctly. So the owners, the architects, the designers, the contractors keep coming back.
"One of these days I'd like to retire, but I don't see that happening soon. I'll probably die with my boots on! I also believe in technology, and I would like to see us continue innovating. We are different in every way, shape and form, but it all comes down to this: I'm old-fashioned; I believe my clients are the kings and I treat them like that. End of story!"
For more information about Fordham Marble go to www.fordhammarble.com .