Hilgartner Natural Stone Opens New Production Facility
Joel Davis
Hilgartner Natural Stone Company officially celebrated the grand opening of its new facility at 2220 Severn Street in Baltimore, Maryland, on
June 29.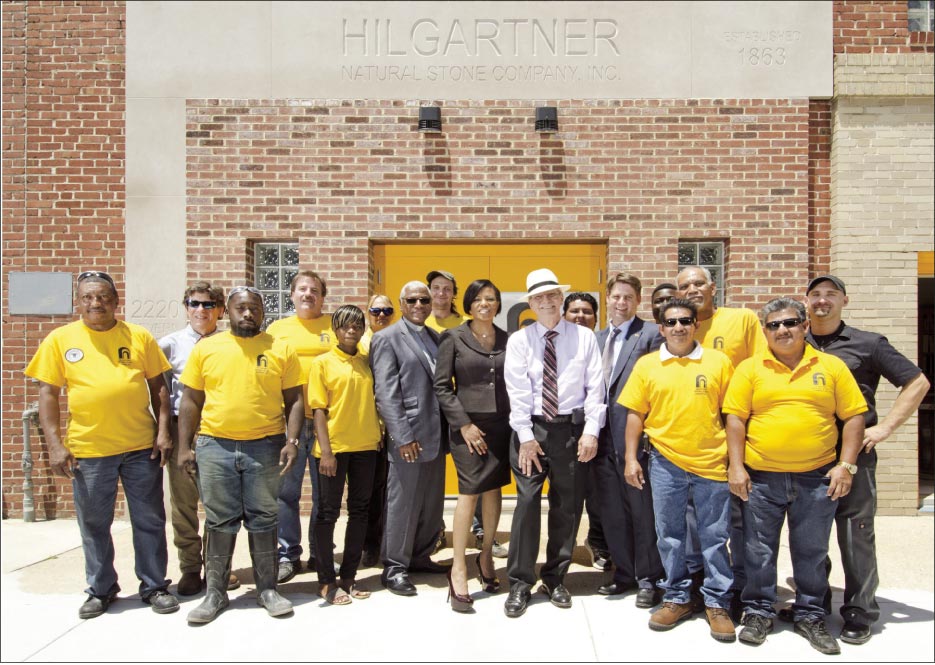 Photo by Geoff Graham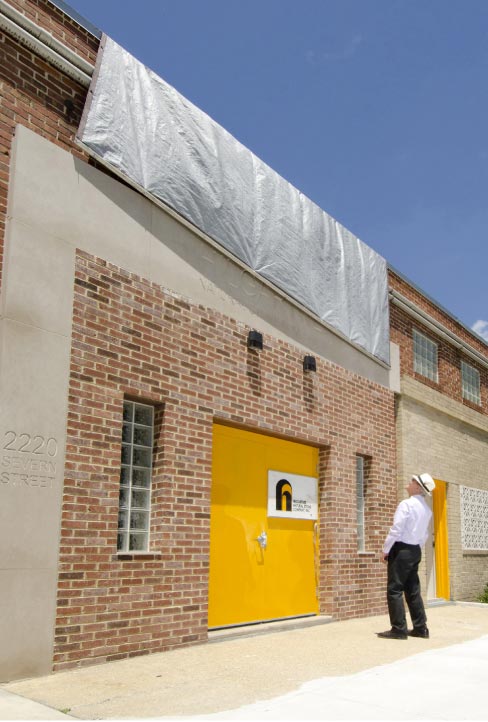 Above: Hilgartner President Tom Doyle before the big unveiling ceremony. The new facility includes a 1,500 square foot showroom. Photo by Geoff Graham
Above, From Left: Hilgartner President Tom Doyle and Baltimore Mayor Stephanie Rawlings-Blake discuss a slab of Tennessee Cedar being polished on Hilgartner's vintage 1953 Hysaman polisher.
Mayor Stephanie Rawlings-Blake and representatives of the Baltimore Development Corporation were on hand to help cut the ribbon on the facility. Officials also wanted to take the opportunity to commemorate completion of a new access road.
The 16,000-square-foot former foundry provides an open and flexible space for the company. "We were able to build something that was not only able to meet our needs now but could be easily reconfigured and changed for the future," Hilgartner President Tom Doyle said.
As market demand changes, Hilgartner Natural Stone can easily rearrange its production facilities to meet new needs.
"This is my 30th year here, and the one thing that has remained constant is you need to be able to adapt to market needs," Doyle said. "If you build yourself into a corner as to your workflow, it become much more difficult for you to respond to demand for changes in the marketplace."
Hilgartner Natural Stone focuses on what its website describes as the fastest-growing part of the stone industry: restoration, repair and historic replication.
The production side of the facility includes 5,000 square feet of space for a wet shop and about 3,000 square feet for stone carving. There is also room for administration and a central common area used for training.
"By having this training facility, we are able to bring in the field people and shop people for cross-training," he said. "By training people all together now, instead of sending out a mason and a field helper on a project, quite often we'll be sending out a mason and a shop man with a specific skillset as a crew."
Better teamwork means better service. "There is a much tighter relationship (between production and installation) and that is probably the single greatest impact I've seen with the facility," Doyle said.
The facility includes a 1,500-square-foot showroom. "The new facility has allowed us to put our marble under roof, which we have found to be a real positive here as well," Doyle said.
When inventory is stored outside, environmental conditions begin wearing away at the stone, destroying its distinctiveness. "All your marble ends up looking alike," he said.
Protecting the inventory from weathering and preserving its distinctiveness makes it easier for customers to find matches to older stone that is no longer quarried.
The company also created a special environmentally protected area in the facility that ended up anticipating upcoming OSHA standards.
"We created a vacuum room," Doyle said. "If you make any dust, it is immediately evacuated out of the room. That is where all grinding is done now. It is also where all sandblasting is done. We did this for our own peace of mind and comfort of the work environment. It works great. We probably have the closest thing to a dust-free marble shop."
Not only does it protect the health and comfort of its workers, the vacuum room meets upcoming federal requirements. "It appears that a room like that is going to have to be in virtually very marble shop by 2020," Doyle said.
Hilgartner Natural Stone Company has been in business for 153 years. It was founded by Ludwig Hilgartner, who immigrated to the United States to pursue a career in stone cutting.
For more information, company can be reached by phone at
(410) 752-4832, or visit www.hilgartner.com.