Pat Summitt: Saying Goodbye to a Legend
Tom McCarter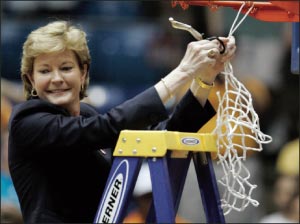 Pat cutting the net following her 8th and final NCAA Championship .
It is with great sadness that we bid farewell to the legendary University of Tennessee basketball coach, Pat Summit. Pat passed away from early onset dementia, Alzheimer's Type, on June 28, with family and friends at her side. She was 64 years old.
We all know the iconic image of Pat Summit, pacing the sidelines during games, screaming at whoever displeased her; the tough-as-nails-coach whose icy glare could make the toughest man whither. The fierce warrior queen who led her team, the Lady Vols, to eight national championship wins. The determined fighter who scored a record 1,098 career wins – the most in NCAA history.
That Pat Summit was a fighter is indisputable. She was also someone who overcame adversity, an uncompromising re-inventor whose favorite quote was, "It is what it is but it will be what you make it." Indeed the shy, awkward country girl who entered college as Trish Head was far different from the confident, outspoken coach she would become. The story goes her name changed from Trish to Pat when a professor called her by that name and she was too shy and nervous to correct her.
But Pat's talent on the basketball court was undeniable. When she was hired, at age 22, to coach the UT Lady Vols, the University sent her to Carnegie Institute to learn to speak and overcome her social anxiety. As we know, Pat learned very well how to express herself. And shy was not a word that would appear in the same sentence as the name Pat Summit. But she never did give up the charming Southern accent that became part of her down-home appeal. Pat was about being real.
Pat Summit single-handedly made women's basketball a major force to be reckoned with. But part of Pat's success lay in the fact that she also had a caring, nurturing side. She championed her players off the court as well as on and became a driving force in their lives. She recruited the first black female basketball player for UT and emboldened her with the strength to survive the heckling and name-calling the player would encounter. With Pat on your side there was literally little to fear. She was a compassionate friend to the all the women who played on her team — often giving them the respect, support and love, that they were denied in other parts of their lives. Pat knew she was as dependent on her players as they were on her, she often said, "You win with people."
Chamique Holdsclaw, a former Lady Vol who would go on to become the greatest female basketball player of the 20th century, says, "I tell people all the time that she was so much more than a great coach. She loved us for who we were from the first to the last person on the bench; black, white, gay or straight, she expected excellence on and off the court from all of us.
She always had our backs."
Holdsclaw expressed the sentiments of tens-of-thousands of people when she went on to say, "The world lost a superhero (when Pat died). She will be missed, and although she is gone, her legacy will never be forgotten."
Alex Carter of Knoxville Tennessee, is part of a family that was extremely close friends with Pat. Carter was lucky enough to grow up with Pat as a fixture in his life. "Pat and my mom had been best friends since they were sorority sisters in college," explains Alex. "She's been a part of my family since I was born and she was, and always will be, the single greatest influence in my life. Losing her was tough, but I'm glad she's happy and whole again in heaven. Alzheimer's is a horrible disease, it took the Pat I knew and loved long before she physically died."
In true Pat Summitt style, she fought to the end and, to no one's surprise gave death a run for his money. She stubbornly clung to life far beyond the point her body should have sustained it. As usual Pat did things her way, on her schedule and when she finally gave up the struggle, she went out like a gladiator. She left like the warrior she was.
Many were heartbroken with her leaving, but Pat's own words can be their best consolation. It is fitting the final words belong to Pat, "God doesn't take things away to be cruel. He takes things away to make room for other things. He takes things away to lighten us. He takes things away so we can fly."