AG&M Announces Grand Opening of 50,000 Square Foot Design Center Showroom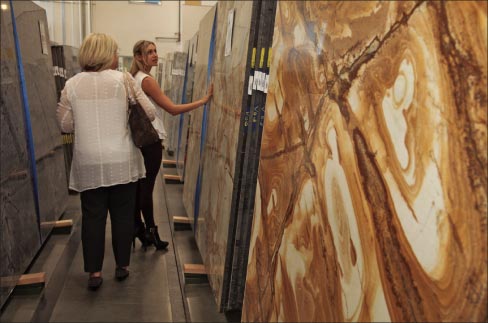 Above: Party guests at AG&M Anaheim shop for exotic granite and marble during the grand opening reception.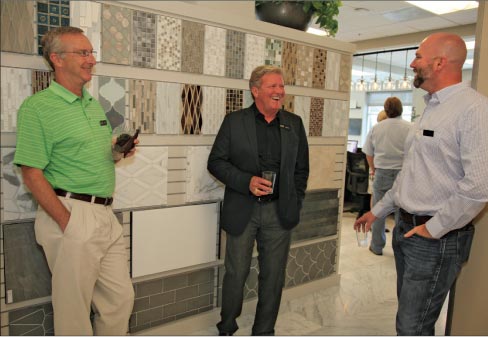 Above: AG&M employees Tim Reid, CFO, Greg Strom, National Marketing Manager and Jesse Bogan, Operations Director enjoying the grand opening reception in the gorgeous AG&M Anaheim showroom.
Architectural Granite & Marble (AG&M) celebrated the opening of its new location in Anaheim Hills/Yorba Linda with a casino-themed party.
The design, builder and stone fabrication community showed up for a tour of the indoor slab selection center and upscale showroom, as well as some casino fun. The party also launched Metro Quartz, AG&M's exclusive quartz countertops/surfacing.
"I am beyond excited about the new AG&M showroom," says Shannon Ratcliffe, publisher, Luxe Interiors + Design. "From a brilliant design layout of the space, to an abundance of surface options, this design center is cutting-edge in their approach to the design community and consumer experience."
"It's been a pleasant surprise to have a new granite and marble source to OC," says Paulette Moore, Savvy Interior Design Group. "A couple of high points for the AG&M showroom are that the slab warehouse is indoors, and only a few steps from the tile selections, making design work much more accessible. The staff at AG&M has been extremely helpful and friendly, and we find ourselves working at AG&M often."
"We have opened what is likely to be considered the finest indoor stone facilities in the US," says Jerry Salveson, General Manager. "Our indoor selection warehouse offers 185 colors in wide, well-lit aisles, and we offer personalized customer service. The variety of offerings within this setting makes this truly a designer's dream."
AG&M Anaheim invites builders, designers, architects and the stone fabrication community to experience the new design center and slab area, open: Monday, Wednesday and Friday 8:30 a.m. to 5:30 p.m., Tuesday and Thursday 8:30 a.m. to 8 p.m., and Saturday 9 a.m. to 4 p.m. .
For more information regarding AG&M Anaheim, visit us at 4850 East La Palma Ave. Anaheim, CA, call 714 465-5220 or visit www.agmgranite.com/contact-us /anaheim or www.facebook.com/agmgranite.