Stone Restoration and Maintenance Corner: Restoring an Antique Marble Top
Bob Murrell
M3 Technologies
Photos by Larry Hood and Bob Murrell
Above: Starting from a 220 grit, Bob finishes a three-step polishing test with a hog's hair pad, on a low-speed Flex polisher. It was a noticeable improvement, but was still a little dull and dingy-looking.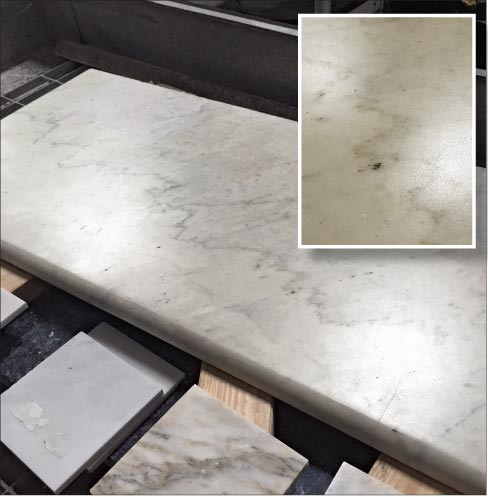 Above and inset: This antique white marble top, discolored by time and oxidation, was first cleaned with Majestic Deep Cleaner / Stripper. It still looks dull, and the leathery, orange peel texture is noticeable in the highlight reflection closeup.
I get calls and emails on a regular basis regarding the restoration of a marble top or accent on an antique piece of furniture. This time the call came from my friend and Slippery Rock editor, Larry Hood.
So, Larry calls me up and says he has a piece of white marble (presumably Italian) from an antique dresser. It is discolored and basically very lackluster. He wanted to recycle this piece of marble into a functioning vanity top.
Of course, the many years of exposure to who knows what, like furniture polish, moisture, and any number of contaminants, had taken their toll. The top was yellowed and not very smooth. It seemed almost leathered.
As we all know, white marble can have a high content of iron. This iron, when exposed to moisture, can oxidize and turn yellow or orange. Sometimes this is only at the surface and can be easily removed, other times it may be in the stone and difficult if not impossible to remove entirely.
The first thing to do is take the piece to an area more conducive for refinishing, if possible. In this case, he placed the piece out back in the warehouse, on a fabrication table. Perfect!
I recommended that Larry do some stain removal testing, just to see how the piece responded. I knew we would probably have to refinish it anyway. He did a couple of tests with several products. Different levels of concentration were applied and allowed to dwell.
First used was the Majestic Deep Cleaner Stripper/Degreaser to remove any accumulative wax-based furniture maintenance products from the surface. This really didn't improve the appearance much, so both bleach and an Akemi Rust Remover product were tried. The bleach probably worked the best of the products in this particular situation simply because the surface was stained from years of soiling. Yet, most of the oxidation and discoloration remained. Also, most rust remover products contain an acid. This, of course, will etch the surface, requiring honing and polishing anyway.
Basically, I told Larry to just wait until I got there and we would refinish the top, which would hopefully be successful and restore the top to a beautiful like-new piece. This is where you sorta cross your fingers and hope for the best.
I arrived with my laundry basket (literally) full of tools, diamonds, Majestic 5X polishing powder, Majestic XXX polishing powder (I always bring more than one polishing powder as one may work better on a particular piece of marble than the other), pads, and accessories. I actually brought everything I could think of and then some. Remember one of my previous articles on Checklist for Crew (June SRG, 2015)?
The first thing to do is what? Submit a test area, of course. This confirms both the results and the procedure. So with my many years of experience (LOL), I decided to start with a 220 grit diamond and go up to 400 grit, and then to the 800 grit. I could tell that this was making a significant improvement, even after the 220 pad.
Finally, I polished using the Majestic 5X using a natural hair pad. The surface looked really good but still had some deeper shadowing (staining). Larry liked the look as well but agreed that it still looked a little dingy. So I made the command decision to drop down to a 120 grit this time.

The marble top was universally polished to a 120 grit hone and brought up to a final polish. Above Right: test corner (top left) shows the big color difference after removing the surface layer of oxidation.

I typically don't like to use a low grit on a top with a hand tool, as the potential for creating dips and waves is higher with a more aggressive stock removal tool. There are several tricks to avoid dipping and waving a beautifully monolithic surface like a top or countertop. Using a larger drive pad — like a seven inch drive pad with a seven inch diamond, or three each, three inch diamond pads—or a planetary head unit can help keep the surface relatively flat. There are also new technologies on the market such as a weighted drive unit with splashguard like the KPS system.
If you are using a standard five inch Velcro pad driver and diamond, like I typically do, then you must develop "the feel" to know your pad is on the surface flat and not on an angle. This will keep the surface flat and help to avoid divots, dips, leading edge patterns and waves. Practice is the best teacher for this technique.
This time, after starting at the 120 grit, the marble's surface turned out beautifully. Only natural inclusions remained and this is part of the marble's character. I also did a test on the half-bull nose edge with my 400 grit pad cupped in my hand, and this worked well also. I polished the edge by using the center of my seven inch natural hair pad in my palm to help it conform to the edge. It worked great. The pristine, demi bullnose edge created by an unknown craftsman from the previous century was given new life and shine.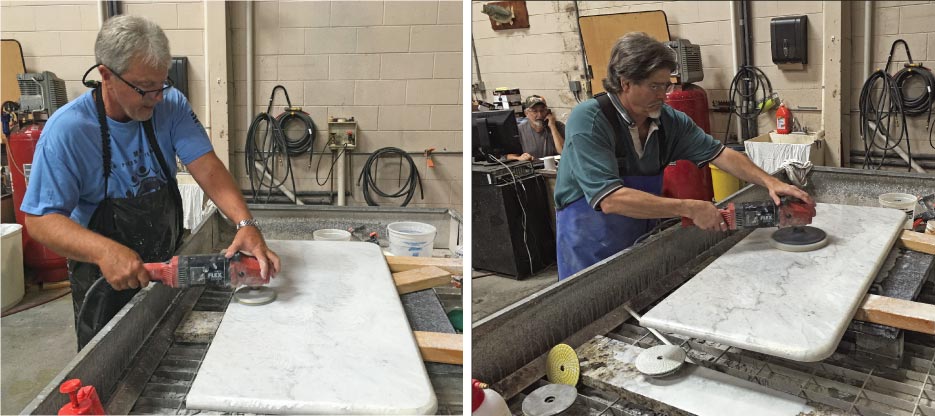 Bob uses a Flex CWF grinder for the final pass with 400 grit marble polishing pads. Next step: Larry buffs with a 7-inch hogs hair pad and majestic 5X Polishing Powder.
So now that we had confirmed the procedure and the results, it was Larry's turn. He got the feel of the diamonds under the tool after only a few moments and was operating the machine like a pro. We had to do a few touch ups here and there, especially on the transition between the top and edge but it turned out absolutely beautifully. Of course, Larry is now going to have to core out a 1-3/4 inch hole for a white marble vessel sink! I really enjoy recycling a beautiful piece of marble.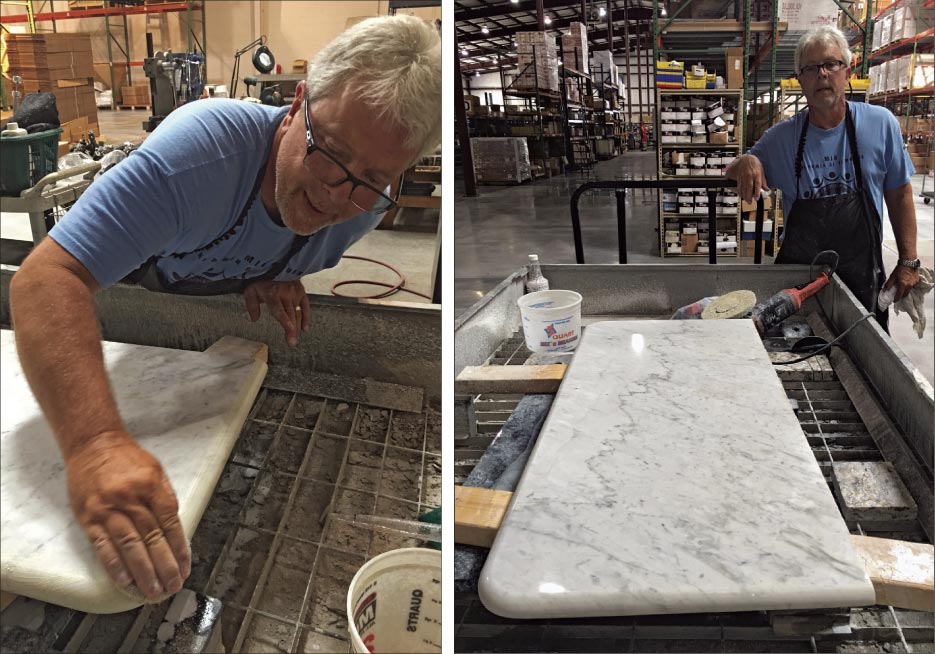 Above, Left: Bob polishes the demi-bull edge using the center of a large, natural-hair pad impregnated with Majestic 5X. Above, Right: Photographs do not do justice to the restored top. The translucent depths and the subtle, smoky veining really shine through. Most importantly, the client was extremely pleased!
For sure, I have not covered everything here. Like what if you couldn't remove the piece to the outside? Obviously you would have to Tape & Drape everything very well and figure for wastewater removal. That is why, as you know, I always recommend you check with your supplier first for the quality products and supplies you need as well as technical support. The phone call and advice are free, so what do you have to lose? Next month I'll present another special project.
Bob Murrell has worked in the natural stone industry for over 40 years and is well known for his expertise in the restoration and maintenance of natural stone, terrazzo, ceramic tile, and decorative concretes. He helped develop some of the main products and processes which revolutionized the industry and is currently the National Sales Manager for M3 Technologies.