Sherpa Stone– Success Steeped in Serendipity
Shannon Carey
Photos by Deepak Maharjan and Sherpa Stone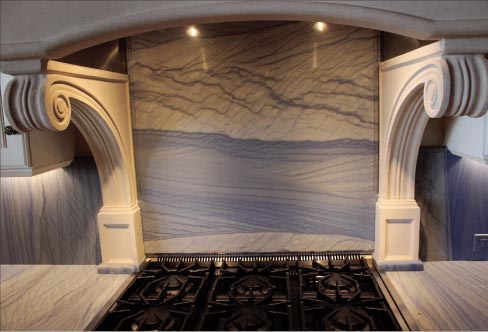 Above: "The client assisted with the layout and wanted the material veining to run vertical, with the exception of the backsplash behind the range. The client selected Blue Macaubas Quartzite from an out-of-state supplier, and we shipped it in for this project." Photo by Sherpa Stone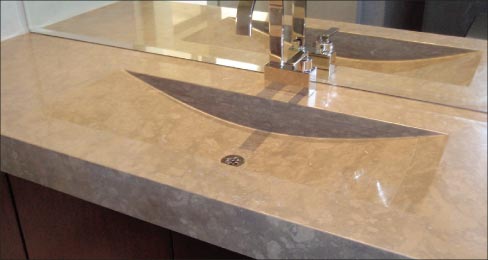 Above: Lagos Blue custom vanity sink. "The curving sink the client wanted required us to laminate seven layers of 3cm Caesarstone, and then grind out the bowl to meet the design specification for this sink!" Photo by Sherpa Stone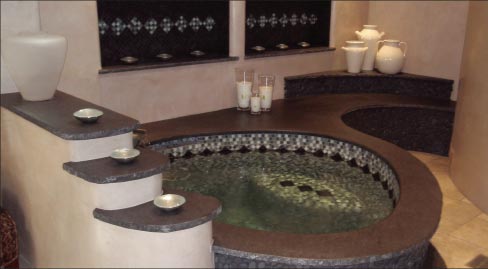 Above: Custom sunken tub with a flamed Black Granite deck. "The client wanted a single piece of stone for this tub cap, but due to the slab size restrictions, we were forced to create a seam. However, it was hidden so well the clients couldn't find it. They didn't want us to point it out to them — they preferred the mystery!"
Photo by Sherpa Stone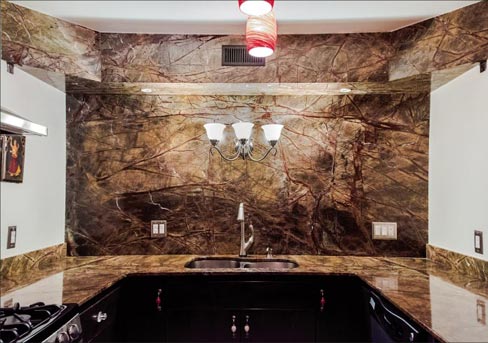 Above: Rain Forest Green marble kitchen includes a mitered/continuous pattern soffit to hide the heating duct. Sherpa Stone's client "hated the drywall soffit," and asked if Sherpa Stone could do something to hide it, and create a dramatic effect.

Photo by Sherpa Stone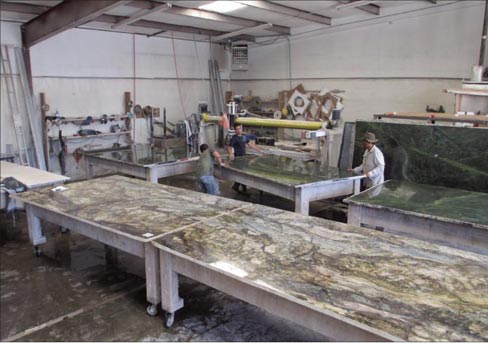 Above: Preparing material for client layout. "We invite our clients to assist with the layout process. This enables them the opportunity to determine where seams go, and why seams exist. It is also a great experience for the client, and they truly enjoy participating in the process of customizing their project."
Photo by Sherpa Stone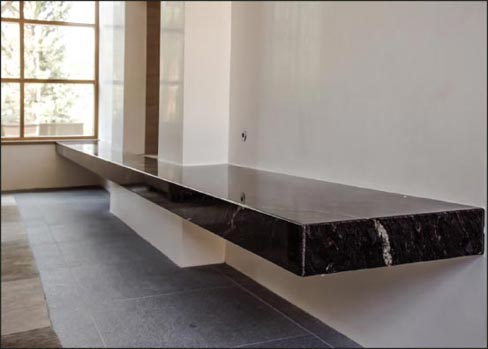 Above: This 15 foot Black granite floating fireplace apron was fabricated and installed for Parade of Homes custom build. Other Sherpa Stone work in this home includes nine slabs of Caesarstone. Photo by Deepak Maharjan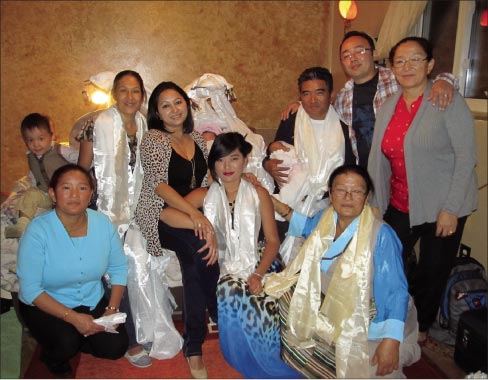 Above: Ngima Sherpa with his family for his twin daughters' "Welcome to the Earth" party in September, 2012. Sherpa is in the back row, seated with baby in hand, with her twin sister in the bassinet behind him. In front kneeling, Ngima's aunt Nuwang – his eldest daughter Tsering Sherpa in center, and his mother Ang Chokpa. Back row – Ugyen Norzang, Ngima's wife Sushma Thapa Sherpa, cousin Jazmine Ing, twin daughters Aurora and Oriana Sherpa, Ngima Sherpa, Drona Ing and Ngima's aunt Pasang Sherpa. Photo by Sherpa Stone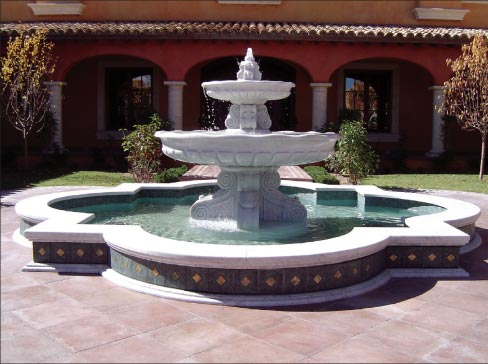 Above: Fountain coping fabricated by Ngima, produced from
laminated 2cm ogee and 3cm demi bullnose marble, to complement the client's imported Italian marble fountain. Photo by Sherpa Stone
There are a lot of success stories in the stone industry, tales of hard-working folks putting in sweat equity to create a solid business.
However, the story of Sherpa Stone in Santa Fe, New Mexico, is arguably one of the best. It's a tale of people reaching outside their comfort zones, across cultural lines, across nationalities, to build something great, to grow family and community right here in the U.S.A.
And it all began on the dance floor.
When Ngima Met Patricia
Patricia Garcia calls herself a "serial entrepreneur with a PhD in business startups," but her alma mater is the school of life. Hailing from Santa Fe, she started her first business right out of high school. In the 1980s she opened a limousine business in Southern California and was the opening general manager for a major restaurant chain in New Mexico. She then turned her attention to government as a grant-maker for the City of Santa Fe, the State of New Mexico, and the Santa Fe Community Foundation. Throughout her career she wrote $25 million worth of grants.
Driven to help in a deeper way, she became a consultant on her own, a self-described "turn-around specialist." She would take over a struggling nonprofit or for-profit business for about a year, get it back on track, and hand it over to new leadership.
During that time she met Ngima Sherpa, a Nepalese immigrant, at the Paramount Club, where they both went for social dancing on the weekends. Sherpa was working in a stone fabrication shop and saving to bring his wife and daughter to America.
At the Paramount, "Everybody danced with everybody," said Garcia, so she never really talked to Sherpa. But, during a break between consulting assignments, their paths crossed again at a nonprofit where Garcia was volunteering.
"The president of the organization asked whether I could help a member with workplace issues, and in walks this young man who I've been seeing dancing all that time," she said.
A few months later, in June 2002, Sherpa called Garcia from the hospital. He had been injured on the job, pinned under a slab and "almost killed." He was in a wheelchair with injuries to one hand and one foot.
"It was late on a Friday, a four-man job with two-and-a-half men," Garcia said.
Sherpa's U.S. sponsor was in Florida, and Garcia was the only person Sherpa could call on for help. Garcia picked him up from the hospital and let Sherpa convalesce at her house until his sponsor returned. Sherpa, an excellent chef, offered to make Garcia a meal in return for her kindness.
He made good on that offer in September 2002. Sherpa was in physical therapy and nearing the time when he would have to return to work, and told Garcia, "I don't want to go back there. I don't feel safe, and next time I might not be so lucky,"
Sherpa asked Garcia's advice on starting his own business, perhaps a restaurant. Garcia said he should open his own stone fabrication shop instead. His talent for the artistry of stone fabrication was and is amazing, she said.
She helped him develop a business plan, and in two weeks, she was on board as Sherpa's business partner. Sherpa Stone, LLC was born.
"I found that I liked it," said Garcia. "I got to use math, geometry, design and communication skills, administrative, financial —all the tools in my toolbox," she said.
Making It in Stone
Sherpa Stone celebrated its 14th year in March 2016. From the beginning, it was a team effort between Sherpa and Garcia.
"He's the talent," said Garcia. "There is no Sherpa Stone LLC with out Ngima Sherpa. He would tell you that there is no Sherpa Stone LLC without Patrica Garcia. But the thing is that Ngima really is the talent. You can have business prowess, but you need the gift. He has the ability to see things in ways that other people do not see. He taught me everything about stone. He really is the gift that keeps on giving."
These days, Sherpa has become the "go-to" fabricator in Santa Fe for highly technical or tricky projects, said Garcia.
Garcia put her years of business acumen to work right away, diversifying Sherpa Stone's client base and focusing on educating clients. Sherpa Stone serves homeowners, builders, architects and designers. They also do commercial work when appropriate.
"One of Sherpa Stone LLC's most important services is the time we take to educate and inform our clients," said Garcia.
"So many times, clients walk into our showroom and they're overwhelmed, with no idea where to start. All our clients are grown adults with professions, masters at what they do, but this is uncharted territory. We want to make them feel at ease. It's common for clients to leave the showroom telling us how much more they understand the process as a result of what we have taught them. They appreciate how clearly we relate the information in a way they can understand, allowing them to form a decision."
Sherpa Stone found a special niche in restoration work, including chip and seam repair, restoring etched items, dealing with stains, and retrofitting sink holes and stove inserts to accommodate new appliances. They also handle removal and re-installation of countertops.
"I just went over to a potential client's home, and she wanted to replace her gorgeous sandstone outdoor barbecue countertop because it was grease stained," said Garcia. "We are going to work with her to remove the stains using a poultice and then sealing the sandstone. It was an opportunity to educate the client regarding the various products that she could use and the frugality of cleaning and sealing what she has versus remove and replace."
Specialization combined with diversification helped Sherpa Stone LLC weather the recession, which hit the Santa Fe market in 2009-2010. At that time, Sherpa Stone had 12 employees. They didn't do layoffs, instead scaling staffing numbers back through attrition. Today, shop staff is holding steady at five including Sherpa, and office staff is Garcia and a full-time assistant.
"We have learned that keeping a smaller, well-paid, highly trained staff will insulate us in case of future economic problems that we have no control over," Garcia said. "We stay small, sharp, safe and focused on the services that we provide," said Garcia.
Sherpa Stone LLC also has maintained a zero-debt policy since the beginning, another factor that helped them through hard times.
"The world is a shaky place right now," she said. "In the recession, we survived off our boneyard with bathrooms and barbecues."
The Sherpa Stone shop is 1,800 square feet. Ngima Sherpa does all the templating, "and the entire crew is skilled in fabrication and installation," Garcia said. The crew runs between 15 and 25 jobs per month. Equipment includes a bridge saw, miter machines and electric routers.
"Our equipment supplier of choice has always been Braxton Bragg and we enjoy working with Bill Hickey who provides us with the great service that we demand and expect," said Garcia. "We purchased our Stinger router in 2003, and it is still doing a great job for us. Along the way, we have purchased metal tables, miter machines, as well as everyday supplies."
The showroom is 1,000 square feet with three private offices along the front room, which houses samples on display. "We prefer not to 'overcrowd' our showroom, and we are sticklers for a calm and pleasant experience that assists the clients in absorbing the information we provide," Garcia said.
Sherpa Stone LLC does not import their products, instead works with suppliers such as The Stone Collection in Denver, Colorado, and Arizona Tile in Albuquerque, New Mexico.
Sherpa Stone LLC has partnerships with several stone manufacturers, including Mirasol Soapstone, Caesarstone, NeoLith, IceStone, and Dekton by Cosentino. Sherpa Stone LLC's crew has attended certified training courses in order to offer these options to their clients.
"Sherpa Stone LLC is uninhibited with the number of natural and engineered products currently available on the market. We say if it's in large slab form, it's for us," said Garcia.
Growing the Sherpa Stone Family
Garcia and Sherpa have grown more than a business, they've grown a family and a community. Garcia worked with Sherpa to help him achieve U.S. citizenship. Garcia then became "an ad-hoc immigration specialist" and helped bring Sherpa's wife, mother and eldest daughter to America.
When the family was reunited in October 2011, Garcia was with them. She celebrated when Sherpa and his wife later welcomed twin baby girls to the family.
In the Santa e community, Sherpa Stone maintains respect through excellent work product and a culture of giving. "Nothing has ever been handed to me," said Garcia. "Resilience and drive, they don't really come out of the blue, they develop out of needing to do something when you have nothing. For me, it includes needing to do something for others."

Caesarstone Calacatta Nuvo 3cm with mitered aprons – produced for Santa Fe 2016 Parade of Homes. Patricia Garcia: "We used nine slabs of Caesarstone Calacatta in this showcase home, including mitered slabs in the kitchen, and 2cm Caesarstone Calacatta Nuvo to produce shower surrounds with ceiling and mitered niches.
Photos (2) by Deepak Maharjan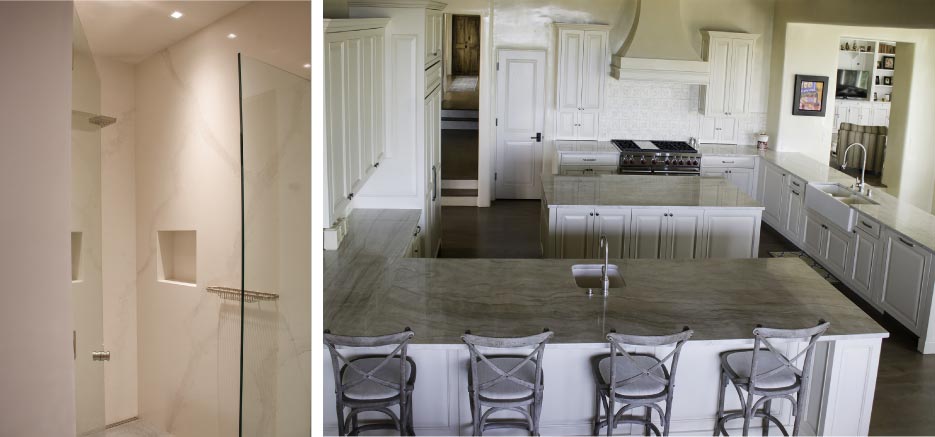 Above, Left: Caesarstone Calacatta Nuvo 2cm shower surround in a 2016 Parade of Homes model residence by Apple Construction includes custom features like mitered niches, a linear drain, recessed LED lighting… and a Caesarstone ceiling. How do you install a stone ceiling? That is a process Sherpa Stone LLC is keeping to themselves, for now. This house won a special award, "Elegance in Adversity."
Above, Right: This Taj Mahal Quartzite kitchen was fabricated and installed for Woods Design Builders in the 2016 Parade of Homes and won the "Best Craftsmanship" award. Amenities include extra-long food prep work surfaces, a double farmhouse sink and prep sink, and a full slab-length breakfast countertop with seating for four-plus.
Photos (2) by Deepak Maharjan
Sherpa Stone LLC supports Partners in Education, a nonprofit that "raises funds and resources used to put long-term, effective and meaningful art projects in schools," said Garcia. They also support the local children's museum, Bike for the Light, the local police and sheriff departments, and school fundraisers.
Sherpa and Garcia have received many awards from the Small Business Administration, the City of Santa Fe, and the offices of governor of New Mexico and mayor of Santa Fe. This summer, Garcia was awarded "Woman Owned Business of the Year" from the Santa Fe Chamber of Commerce.
Sherpa and Garcia want to see Sherpa Stone LLC grow, but they also want to share in the joys of their employees, to be part of their personal success stories.
"We've seen our Sherpa family grow, and we want to take really good care of them," Garcia said. "They're getting married, having kids and buying houses. We want to continue that legacy of really contributing to the community and the economy. The way to do that is with superior customer service, and extremely high standards."
For more information visit www.sherpastone.com.