Stone Restoration and Maintenance Corner: A Field Guide to Floor Pads
Bob Murrell
M3 Technologies
Photos by Bob Murrell
I personally like the "natural" or hog hair type pads for most of the processes in the restoration and maintenance of hard surfaces. However, there are many pads to choose from these days, each having their plusses and minuses for specific project applications.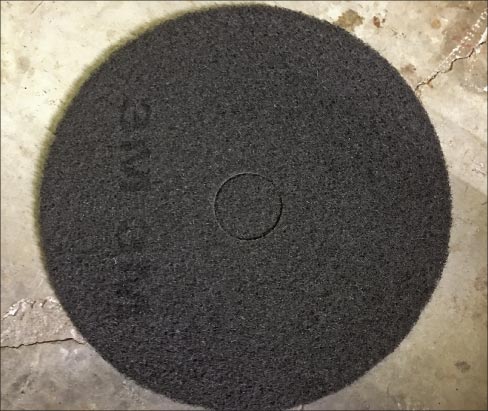 Above: Black floor pads with open weave are designed for aggressive coatings removal. The open weave means less clogging.
Above: Natural fiber pads are suitable for most of the processes used in floor restoration and maintenance, and work well in combination with majestic stone polishing compounds.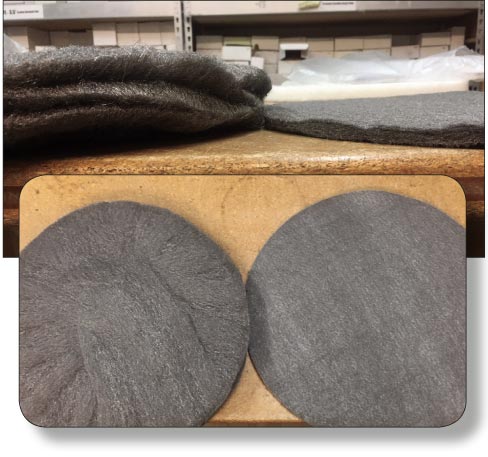 Above: Jumbo (fluffy) and metrix (flat) steel wool floor pads. I prefer metrix pads as they shed fewer steel fibers.
Above: White pads, with a very open weave, are typically used for final buffing and are one of the finest (highest) grit pads available.
Natural pads, red pads, black pads, brown pads, aqua pads, maroon pads, white pads, oh my! Which pad should you use? Of course, there are many others too, such as diamond impregnated pads, felt pads, steel wool pads, melamine pads (more about these at a future date), screens, and others. It can be very confusing, and even those with plenty of experience may not know which pad to use or may have been using the wrong pad for many years. Of course, if it ain't broke, you may not want to fix it.
Typically, black pads are used for stripping or removing coatings. Black pads are very aggressive and have an extremely open weave so as to not blind (clog) easily. White pads are typically used for final buffing and are one of the finest (with respect to abrasive value) pads available. Therefore, you certainly would not want to use these two pad types interchangeably! Just sayin'...
Not only do pads have a broad range of abrasive levels and weaves, they also have different speed ratings. Black pads are not designed for the rotational forces that a high speed burnisher produces and would more than likely disintegrate rather quickly if used in that scenario.
So what color pads do we need, then? Well, my answer is that it depends on the specific project. I personally use and recommend using natural or hog hair-type pads for most polishing, routine cleaning and construction cleanup, and even light stripping processes. I use them because they are very fine abrasive-wise and should not damage the natural finish on most floors. Many people use the red pads and they work fine,as well. The reason I quit using them was because they used to have the risk of dye transfer, and nobody wants red highlighted lippage. With evolving pad manufacturing technology, the issue of bleeding has probably been solved in recent years, but I just developed a habit of avoiding the extra risk.
If you are stripping light coatings (wax or finish), I would recommend using a natural pad or red pad to avoid compounding the problem by dulling the floor further. If you use a black pad, you will more than likely have to do some re-honing just because of the abrasive nature of the black pad, itself.
As a general rule of thumb, the darker the pad, the more aggressive it tends to be. Black, purple, maroon, and brown are usually the coarsest. There are other aggressive scrubbing pads too, such as green and blue. Most of these would necessarily have a more open weave, so as not to bind easily during stripping or coatings removal and intensive cleaning operations.
Lighter colored pads like pink, white, aqua, natural hair, and red (yes I know they look dark but are still in this category) are used for buffing and polishing. I use and promote the use of natural or hog hair pads for many of the operations in the stone restoration and maintenance field. Natural pads work very well for polishing when used with Majestic 5X, XXX, or Stone Polishing Compound. Some even use them for the crystallization process, occasionally. Natural pads have served me and my customers well over the years. I also use the white pads for any final buffing of maintenance product like Stone Soap, or to just do a general buffing out the door, to remove any streaking or water marks.
We have discussed the diamond impregnated pads before, and they are also a very useful tool for restoration. These pads are available now in 100 grit through 12,000 grit, for various applications. Braxton-Bragg offers a four-inch 30 grit pad that is as aggressive as a cup wheel.
There is really nothing better than a diamond pad for honed travertine and other honed stones. They also work very well for shining up terrazzo and concrete floors.
Building Service Contractors (BSC) use them for a chemical-free scrub and recoat, or just the scrub process on VCT and other coated (floor finish) hard floors. They will remove scuffs and black heel marks easily and can also polish and harden the coating's surface, making it more resistant to future scuffing.
Steel wool pads are used for several of the processes in the restoration and maintenance trades. The crystallization process is typically completed using steel wool pads. There are two styles of steel wool pads: metrix (flat or needled) and jumbo (thick and fluffy). Both have their advantages and disadvantages. The metrix style doesn't seem to shed the steel fibers as bad as the jumbo. The jumbo style doesn't seem to bind as quickly as the metrix. It all boils down to a personal preference. I personally prefer the metrix in most situations, but have used the jumbo, as well.
Steel wool pads are also available in different grit series or aggressiveness. Typically, a #0 or #1 are used for most crystallization processes, and are the most popular grits, by far. Some prefer #00 or even #2 or #3 based on the crystallizer manufacturer's recommendations. Keep in mind that the latest method for polishing granite also uses the steel wool pads in combination with either light or dark Granite Polishing Powder and Crystallizer. I could go into detail as to why this is recommended, but we will save that for a future article.
Using steel wool can be tricky. The floor must be totally dry, as water could cause oxidation and discoloration. Stainless steel wool (which doesn't oxidize as easily) is available, but it is extremely expensive. However, when crystallizing something like a white marble, some prefer using stainless steel pads, which would certainly offer less risk of rusting and staining.
This article only briefly discusses general-use guidelines regarding pad types. There are many variables and specific application requirements which should be understood when selecting a particular pad for a particular procedure. As always, submit a test area to confirm the results and procedure before general application, and please consult your distributor for direction and technical support.
Bob Murrell has worked in the natural stone industry for over 40 years and is well known for his expertise in natural stone, tile and decorative concrete restoration and maintenance. He helped develop some of the main products and processes which revolutionized the industry, and is currently the Director of Operations for M3 Technologies.