Sorccia Stone Introduces Eco-Friendly Line of Natural, Ultra-Thin Stone Panels for Wall and Floor Coverings
Sorccia Stone announces the expansion of its product line to include versatile, ultra-thin natural stone panels. These eco-friendly panels are designed as both wall and floor coverings, among other applications, and require no grout to install.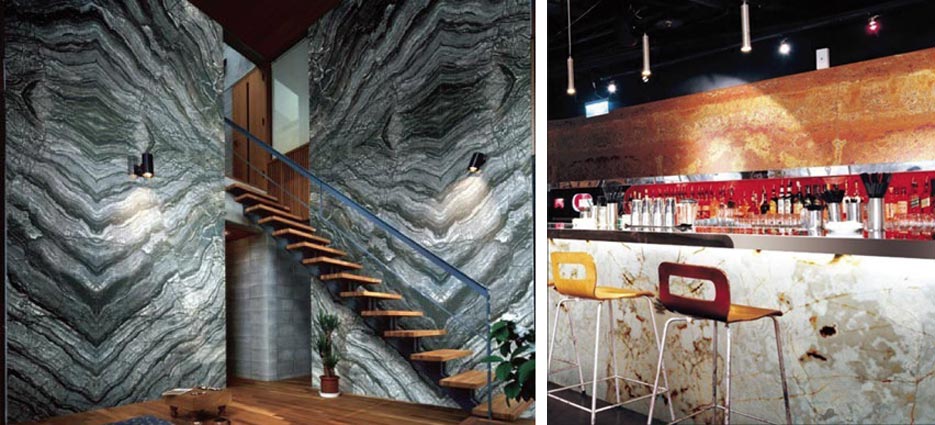 "Our ultra-thin panels combine unique visual appeal with strength, light weight and affordable installation costs; at just three pounds per square foot, a four foot by eight foot stone panel weighs only 96 pounds," says Sorccia President David Cohen. "These innovative panels are well suited for interior walls, bath and shower panels, wainscoting, feature walls, furniture, flooring, ceilings and fireplace surrounds. Thinner panels also mean less environmental impact in terms of raw material usage and energy consumption. Transportation costs are lower per unit, and manufacturing thin panels produces fewer emissions."
Sorccia Stone panels consist of a front layer of thinly cut real stone, and a high-tech backing that is engineered to make the finished product 800 times stronger than ordinary slab stone. This is especially important with fragile stone like marble and onyx. Options for backing material include aluminum composite polymer (ACP), translucent acrylic, fiberglass and honeycomb. The result is an ultra-thin, groutless stone product that's indistinguishable from solid stone. Moreover, Sorccia ultra-thin stone panels can be installed faster and easier than traditional stone slabs.
Every Sorccia Stone ultra-thin panel is composed of 100 percent natural stone, which is quarried from around the world. Because of its geographically diverse sourcing, Sorccia stone products offer an abundance of distinctive appearances and other characteristics. Panels are available in colors ranging from marble, travertine, onyx and granite to semi-precious stones.
Sorccia has pioneered advanced technology to cut stone panels as thin as 3mm, meaning far less stone is required to achieve the same effect and cover an equal surface area as ordinary stone panels. Next, the ultra-thin panels are laminated to different backing materials appropriate for a variety of applications. In many cases, these applications are not suited for traditional solid stone owing to its bulk and weight. Once installed, thin stone panels are indistinguishable from solid stone, lending any space an evocative, natural beauty. Patented, independently tested adhesives ensure the panels will never delaminate. Backings are also rustproof and impervious to moisture.
Ultra-thin stone panels are ideal for backlighting projects. Whereas solid stone is typically opaque, translucent stones like onyx, agate and certain types of marble allow for light to easily penetrate. PVB backing provides superior strength for backlighting applications. Sorccia Stone professionals can assist with custom LED projects, or create one-of-a-kind framed art that can be the focal point of any space.
Sorccia Stone ultra-thin panels are available today in sizes ranging from 32 inches by 72 inches up to 60 inches by 120 inches. The company accepts orders for special sizes and accessories on an individual basis.
Sorccia Stone and its parent company, Inspired Surface Solutions, is a Los Angeles-based national importer/wholesaler specializing in natural stone products. Visit their website www.sorccia.com .