Crystal Marble Company: Legacy and Tradition
Peter J. Marcucci
Photos Courtesy Crystal Marble Company
Above: Double ramp and twist staircase fabricated from Alabama limestone, installed in the RSA Judicial building in Montgomery, Alabama.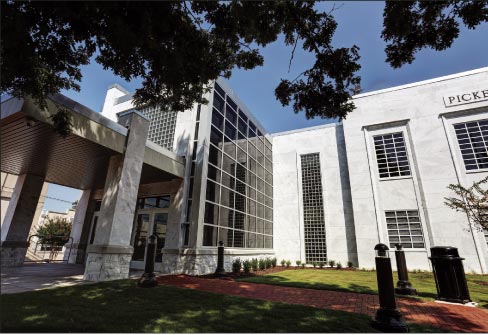 Above: New wing and renovation on the Pickens County Courthouse in Jasper, Georgia, is faced with White Cherokee marble.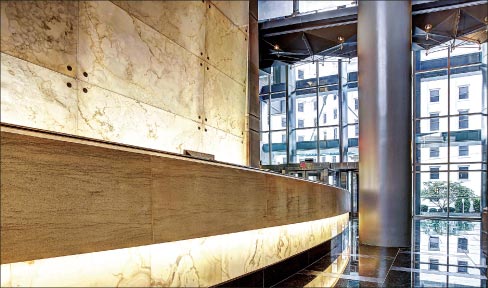 Above: Backlit Onyx panels are a stunning focal point in the lobby of the RSA Building, Montgomery, Alabama. The flooring is Mesabi black from Cold Spring Granite.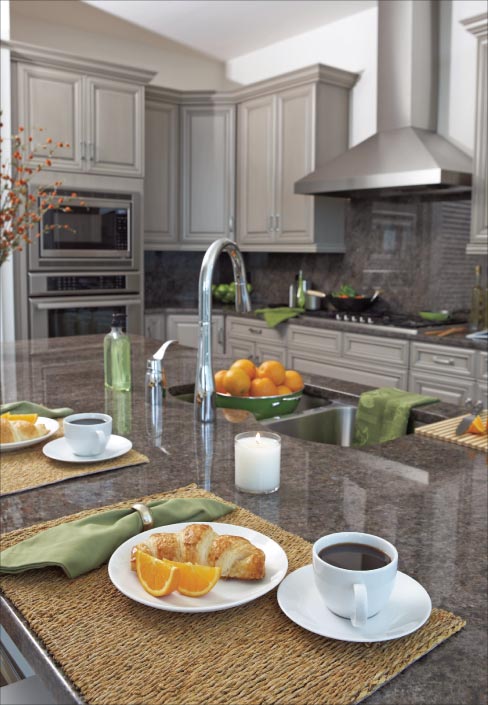 Above: This high-rise condo in Atlanta, Georgia features Mahogany Blue Eyes granite from Labrador.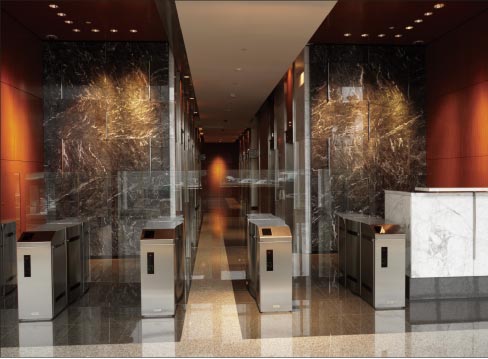 Above: The lobby of Duke Energy in Charlotte, North Carolina, uses Grigio Carnico marble on the lobby walls and White Carrara for the security desk and elevator vestibules, and White Pearl and Impala granite flooring. There's approximately 18,000 sq. ft. of white granite on the exterior. The Duke Energy building has earned a Platinum Leeds energy certification.
When Crystal Marble Company's founder Ralph Brannon opened their doors for business in 1971, he did so with a vision of growth through great service and high quality at a fair price. Today, over 45 years later, with sons Brent, Brad and Cliff Brannon manning the helm, the three have confidently navigated the company through both calm and stormy waters to continue that vision.
Serving the greater Atlanta, area, Crystal Marble Company continues to be mostly a dimensional stone company, servicing a 700-mile radius from its Cumming, Georgia location, explained co-owner Cliff Brannon. "Dimensional stone facades are our forte and what we are best at. We do have a fabrication facility and have had one since the early 1970s, but it's always been the backup system for our dimensional stone projects. At the same time we keep the shop going by doing kitchens and vanities for people in the community, the architects that we work with and the general contractors that we know."
With interests in both residential and commercial work, the company has worked closely with such notables as Balfour Beatty, Batson & Cook, Brasfield & Gorrie, Hardin Construction, HC Beck Construction, Turner Construction, Steve Ayers Construction and Holder Construction. Hotels, condos, apartments and offices as well as residential has been the norm.
Crystal Marble Company also prides itself on its state-of-the-art engineering and drafting sector staffed with great minds.
"When a general contractor hires us to do a project," continued Cliff, "they are paying us to do all the technical drawings, the engineering for the anchorage and adhering to the safety values that they are holding for the project. We have a very high tech drafting department and can do very complex projects, and the more complicated the project, the better it is for us."
Where the Legacy Began
Founder Ralph Brannon originally worked for Reeves Marble Company in Atlanta, Georgia. At the time, Reeves had taken on two big jobs, one in Nashville, Tennessee, where Ralph was working, the other in Puerto Rico. Ralph was in his early 40s, and when the company decided to close its doors, he was faced with either going to work for another company or starting his own, recalled Cliff.
"In the beginning, dad started out subcontracting marble work from other tile and marble companies in the Atlanta area. These companies, especially with Reeves going out of business, were able to pick up lots of contracts at the time. Then, in 1971, dad started the Crystal Marble Company. He didn't have very much money at the time, so he sold his house, got enough working capital together and was able to get the company going.
"Later, by the 1980s, we had really gotten lucky by doing a number of the Ritz Carlton hotels, and during the 1990s we had large contracts in Hawaii, Saint Louis, Kansas City and Atlanta. These projects are really what helped cement the company in good footing. Dad retired in 1991, and I and my brothers took over the company, each owning one-third."
Unfortunately, Ralph Brannon passed away in June 2016 at the age of 87.
The Tradition Continues
"The heart and soul of our company is the way we've carried on the tradition," continued Cliff. "Between the years of experience of working with the same people, and being able to work closely with my brothers is what has allowed us to continue. Thankfully, we realized early on that we couldn't do it as individuals, and we worked as a group. You're stronger as a team than you are as individuals. We are also able to focus on our specific areas of expertise, which I think is nice, too. While I'm searching for new business, procuring stone and working with contractors and architects on new projects, Brad takes care of the estimating and drafting part of the company. My brother Brent's forte has always been the installation side and managing our project managers and installation crews. Dad had put us in these positions in the beginning, and we just continued doing them after he retired.
"Our employees have played a huge part in the success of this company. Many of them have been with us for over 25 to 30 years and stuck by us through the good times and the bad. A lot of our installers have been with us for over 30 years, and now grandsons Kyle and Brian Brannon are working here. In our office, we have people that have been with us from five to 30 years. There are so many moving parts in our company, and I think we've correctly positioned our people to handle each one well. Frankly, our finished products are the best because of our employees, and we definitely couldn't have done what we've done without them. No way!"
A Crystal Clear Difference
Crystal Marble's focus and staying true to its original mission sets this company apart from the others. You see, Crystal Marble Company is neither a masonry and block company that does marble, nor a tile company that does terrazzo and marble. They are a dimensional and slab fabrication company that works with natural and engineered stone, only. The company does, however, offer a full inventory of sinks for homeowners that purchase their countertops.
Additionally, there are no quarry ownerships or leasing. Instead, they have many longtime relationships with key quarries and overseas fabricators, explained Cliff. "I think it's pretty unique that we are a company focused solely on natural and engineered products. One thing that makes us unique is our sourcing of material."
"Where some of our competitors might be buying stone from the same supplier, time after time, we buy it at the source, be it Spain, Italy, Portugal, Brazil or Cold Spring, Minnesota. The other difference is the way we install. Just try to bring 10 to 20 containers to a downtown high rise. There's no place to store it! So we bring it to our warehouse, separate it out, and then make weekly deliveries to the job. So all of this is our forte, and all of this type of work comes with a shop."
The Shop
With well over 18,000 square feet of warehouse space, the 3,500 square foot shop houses two bridge saws, one edge profiler and a radial arm polisher. The shop also is equipped with numerous pneumatic hand tools, allowing the company to take on any size job, said Cliff. "One job we are currently fabricating is a 10-story office building that has two public bathrooms on every floor. Each vanity has four undermount sinks, and the women's bathrooms additionally have purse shelves. All vanities are approximately nine feet long and use 3cm engineered stone."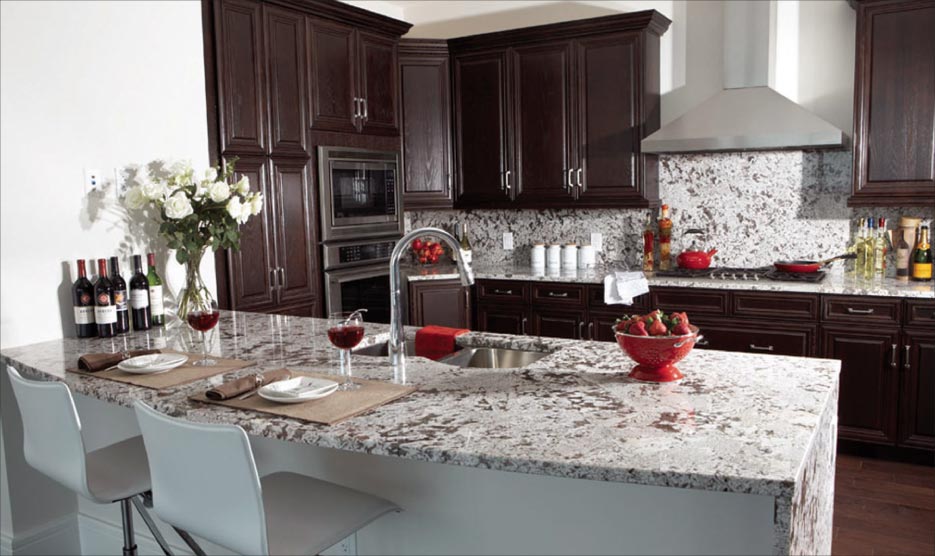 Above: Bianco Antiquo granite island and counter in this Peachtree Street condo features a subtle curved edge with a mitered side panel.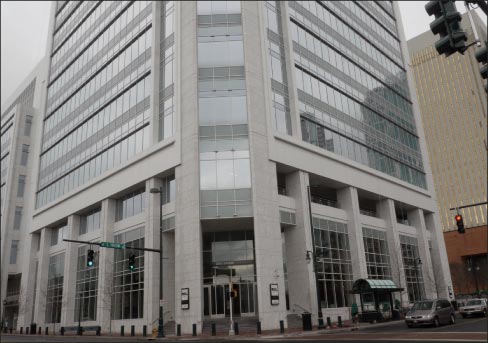 Above: The façade of Duke Energy in Charlotte, North Carolina has approximately 18,000 square feet of white granite.
Business Climate and Technology
"We are still waiting for office building projects to come back. It has begun to some degree, and it's not that competitive, yet. On the other hand, high rise apartment work is competitive, but the numbers are still kind of low. Overall, the bigger projects are not as competitive as the smaller ones, because you've got a lot more people going after (bidding) the smaller scale work."
"As far as technology, it has played a role in the fabrication end of the business; its growth has been phenomenal over the last 20 years, and it's what has helped us to keep our costs down."
"Moreover, we are paying the same price or less for stone fabricated overseas than we were paying 15 years ago, mostly due to better ways of quarrying stone. This has helped keep the price down because waste is minimized. So the savings begins right there and trickles down to us.
As far as it playing a role in the installation side of what we do, technology has not had much of an effect on the anchoring or attaching of stone to buildings. We've used stainless strap and dowel and split-tail anchors for years."

Above: Lobby and elevator vestibule at 1075 Peachtree Office Building in Atlanta, Georgia, features Fior di Bosco marble wall cladding and French Vanilla dimensional marble walls.

A Future That's Crystal Clear
"We've been a very successful company when it comes to customer satisfaction. If a customer is not satisfied with what we've done for them, we are going to do everything we can to make them happy. I'm not going to be taken for a fool, but if there's something wrong with the color of the stone, or how we have blended it together, I'll tear it out. We'll do whatever it takes to satisfy the client. My dad told me a long time ago, 'If you can satisfy just one client, they'll tell a few people, but if you have one dissatisfied client, they'll tell everybody they know'. So we've always worked hard at keeping a great reputation.
"As you probably know, we have to bond our projects. If we get a big contract from a general contractor, they require us to get insurance to guarantee that we have a bonding company standing behind us. They also call around to ask others about our past performance. Fortunately for us, due to our reputation, they get rave reviews about Crystal Marble Company.
"As for the future, it looks promising. We are willing to do whatever it takes to stay on the cutting edge and continue being a leader in the industry."
A Braxton-Bragg customer since 2008, Crystal Marble Company has been a Marble Institute of America member since 1976 and spent numerous years belonging to the Chamber of Commerce.
For more information visit www.crystalmarble.com.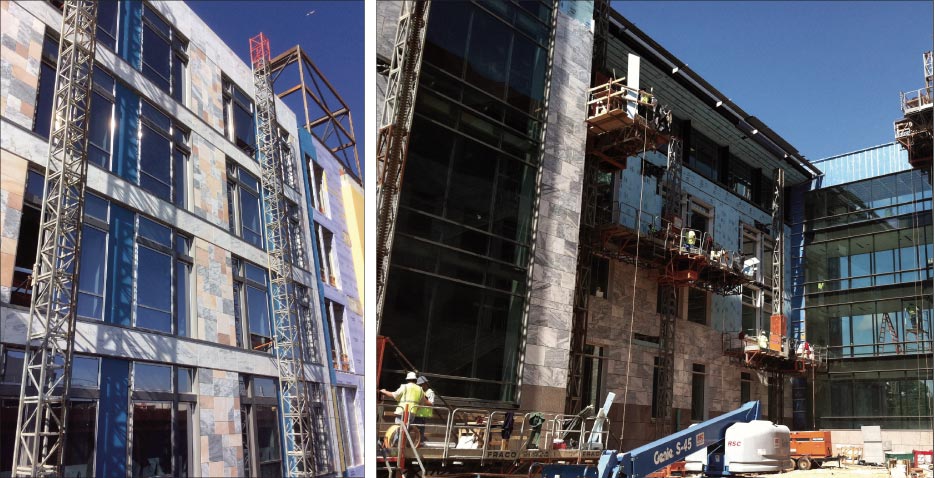 Above: Construction in progress on the Emory University Hospital (above) and the Emory Health Sciences Research building (below) in Atlanta, Georgia, features a multi-colored quilt of white, pink and grey marble. Cliff Brannon comments, "Technology has not had much of an effect on the anchoring or attaching of stone to buildings. We've pretty much done it the same way for years."
The University Hospital project used 40 containers of Portuguese marble and 11 tractor-trailer loads of Cold Spring Granite. The
Health Sciences Research building used 32 containers of marble.