So You Think You Know Your Customer?
Michele Farry

Humblestone
Often, the days for a tile and stone business owner end in being glad to stay in the black, taking care of your team and having satisfied customers who refer new ones. Growing too fast in the industry or too slow is always on our minds while trying to actually work and still keep things going.
What if you were put on the spot about what the goals are for your business– short term vs. long term goals, and how will you go about achieving them? Do you plan to have a legacy business, or are you in planning to cash out at some point? Although one answer never fits all, we can benefit equally by knowing not just what we are working for in our businesses' future, but also how we will maintain ahead of the clients needs.
Learning early on in the tile and stone game after 20 years of entrepreneurship in various related fields to manufacturing, business development and private consulting, I have found that knowing the strengths and weaknesses in your marketplace of residential and commercial tile and stone installations keeps goals real and productive. Focus, determination, and a solid plan are the ingredients that are needed for successful growth, sustainably and a successful marketing plan.
Thriving stone industry retailers like MSI, Artistic Tile and Walker Zanger are examples of understanding success. You have to understand your client for services like installation and fabrication when you communicate with your distributors.
What do your clients want? Holly Nelson, territorial sales representative for MS International, said, "I have found listening to my fabricators describe their clients and recent jobs helps them better know their customers, themselves. This helps MSI not overstock them with product. I pay attention to what they tell me about their business. With less turn-around time and not burdening fabricators with overhead they won't sell, we all win by knowing the clientele better. Knowing your audience is the ultimate marketing tool I suggest for fabricators or tile installers. The more you know, the more confidence we as a distributor can offer with helpful support."
This new Slippery Rock series aims at down-to-earth advice, which can be implemented without any cost to you or need for a professional consultant. No one knows your business better than you. I will give you the basic tools to cut to the chase of what you have to know, how to establish a few realistic goals and how to track your success.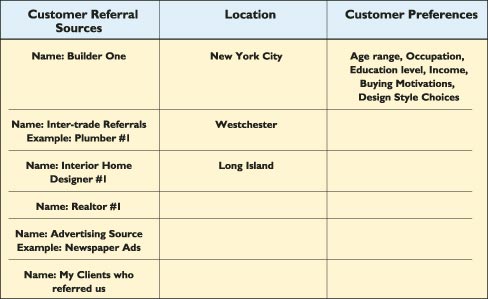 Notes: Buying Motivations example: either price motivates my clients, or design assistance and custom layout is main motivation for my clients. Education / Occupation example: My clients generally have college degree and are a business owner, teacher or doctor, vs. my clients are tradesmen and licensed professionals, vs. clients are retired.
The magic really happens when we open our eyes to our niche or piece of the pie in the market, big or small. When the dust settles and you sit back and think about what you really know about the customers you just provided services for, what is it that you've learned about them without realizing it? Ask yourself: if I was to go find my client, in what area would they likely live? Are they in your local community, or did you travel, and how far? Was it worth the travel? What kinds of restaurants do they patronize? Where do they shop? What else are they interested in besides the work you just completed for them? What clubs or other organizations are they active in? The number one question is, "How would you reach the people you want to work with if they didn't find you first?"
The answers aren't all that complicated or out of reach. Get to know your customer and pay attention to the details. Although we have so little time left over in our schedule as business owners to make lists and create charts, it's a lot less complicated than the old business analysis and plans used to be. As an entrepreneur, business owner, manager or innovator in the tile and stone industry, knowing how to go about this is a basic step-by-step process.
Speaking with a business development industry expert and college professor Brett Golann, who just published the book Navigating the Whitewater Rapids of Entrepreneurial Success (now available on Amazon) said, "Knowing more about who your best customers are and what they care about not only helps you pick out the highest potential sales prospects, it also helps you craft a sales pitch that targets their real interests and communicates the value of working with you – and that leads to more sales."
This column is aimed to encourage you to take five minutes a day or even just ten minutes a week to take stock, evaluate what you think you know with a critical eye, and set a plan in motion of how to reach those customers you desire while carving out your place in the industry.
Step one – let's create a customer profile. The more specifics you know about your customer's interests, preferences, and characteristics, the better. Use a simple pencil and paper to create three columns that look like the sample below
In the first column, write down what you already know is happening on a daily basis for your business. For example, I know my customers usually find us by referrals. I will push a little deeper and write down the names of the builders, interior designers, real estate agents, prior clients who have given a referral to my business, or tile and stone stores that hand out my info in the left column. In the next column, list their locations; in the next column add more detailed information about the referrals that turned into completed projects by specifying customer details like income range, average age, occupation, lifestyle, hobbies, and interior design choices, etcetera – the more details, the better. They can always be narrowed down, and it's okay to not know every detail. But having been in your client's homes, working with them on design choices and getting a glimpse at what motivated them to work with you are critical insights. Are your customers more price-conscious or do they prefer expensive materials, with design assistance and custom profiles?
After completing these three columns put your work aside. Look in the next month's Slippery Rock to take this information into an action plan. I will break down some of the categories and what they imply, to help you better know your consumer.
Michele Farry has been a business development director and private consultant working in NYC, Colorado, Massachusetts and internationally. She co-owns Humblestone and is passionate about entrepreneurship and small business growth. Michele has received awards for her work with profit-based and non-profit charity organizations.