MS International, Inc. Launches New Porcelain Tile at TISE in Las Vegas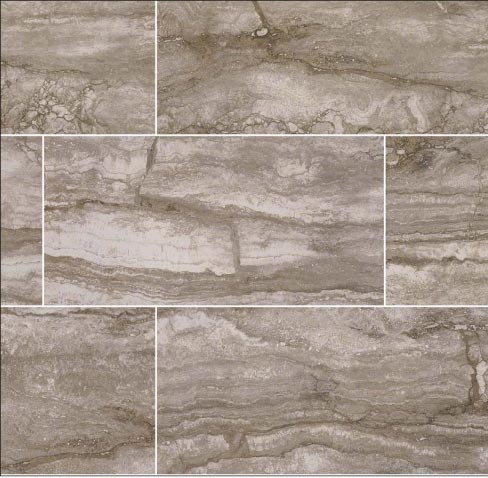 Bernini Porcelain makes a style statement with its unique vein-cut travertine look and fossilized veining. Available in polished and matte finishes, in several sizes – 12x24, 18x18 and 4x18 – with a coordinating decorative mosaic and bullnose available.
MSI introduced their new porcelain tile collections – Pietra Bernini, Domino, Vintage, and Tektile—among other natural stone products—at The International Surface Event, held in Las Vegas, January 18-20, 2017.
One of North America's premium surfaces supplier, MSI exhibited a variety of new products – porcelain, decorative mosaics, and stacked stone Two standout kitchen and bath lines –Aspenwood and Pietra Bernini –are both contenders in the Floor Covering Weekly's Dealer's Choice Awards.
In response to the ever-increasing market demand, the MSI design team curated four new porcelain lines. Among them, Pietra Bernini, a glazed tile collection, was inspired by travertine – complete with fossilized veining in whites, creams, and warm gray hues. To celebrate the popularity of vintage looks sweeping the design world, Domino Porcelain pairs black and white tiles together for classic—yet modern—flair. More than fifteen high-style decorative mosaics complement the line, creating greater flexibility for upscale installations. Interest in the reclaimed timber look is on the rise.
MSI also unveiled Vintage, a porcelain tile that combines the aesthetic qualities of aged barn wood – with the practical benefits of porcelain; a scraped finish affect enhances its authentic look.
The last new addition to the porcelain lineup is Tektile.
A play on textile patterns, Tektile offers all the textured nuances of fabric in glazed porcelain tile. Since both Domino and Tektile work particularly well in commercial spaces, the MSI design team expects to see both porcelain collections in coffee shops and offices, respectively. Additionally, the newly launched collection of Decorative Mosaics and Wall Tiles is filled with inspired designs and modern colorways.
MSI also displayed their expanded line of Natural Stacked Stone Ledger Panels, showcasing chic new colors, looks, and finishes. Sam Kim, Vice President at MSI said, "With the outdoor season ramping up, we're also excited to debut our new game-changing Porcelain Pavers Collection. The 2CM porcelain pavers feature high definition inkjet designs that replicate authentic looks of natural stone, cement, and wood. They're easy to install, stain resistant, and low-maintenance—making them ideal for homeowners who want designer looks without sacrificing practicality."
Rup Shah, President at MSI stated that his teams work tirelessly on behalf of their trade partners to curate bestselling products, ensuring state of art access to trusted, high-quality resources for all their home and commercial projects.
In a conversation about the TISE, he said, "This show in Nevada was an exciting one for us. We expanded our most important product lines for 2017, and this venue was an ideal way to introduce these new styles to our trade partners – who saw many of them for the first time. Our industry colleagues and customers drive all that we do, and through the years, they've been invaluable in helping us shape and refine our offerings."
Visit MSIstone.com for more information on their products.