Stone Restoration and Maintenance Corner: Stone is Not Always Polished
Bob Murrell
M3 Technologies
Photos by Bob Murrell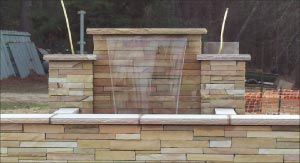 Above: This Crab Orchard stone stacked waterfall definitely needs impregnating or color enhancing. Crab Orchard is a dense, very hard limestone from the Cumberland Plateau, in Central Tennessee and is an excellent structural stone.
Above: This Crab Orchard flagstone porch is an excellent example of a good use of a natural, textured surface.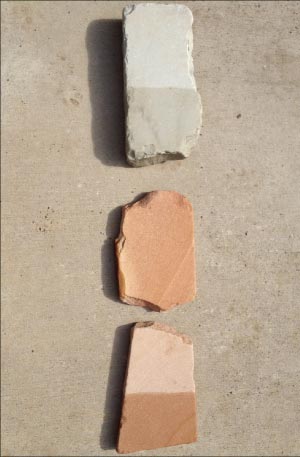 Above: Three types of Crab Orchard: Top, Gray, is half treated with color enhancer to show difference. Center is treated, and bottom is half treated.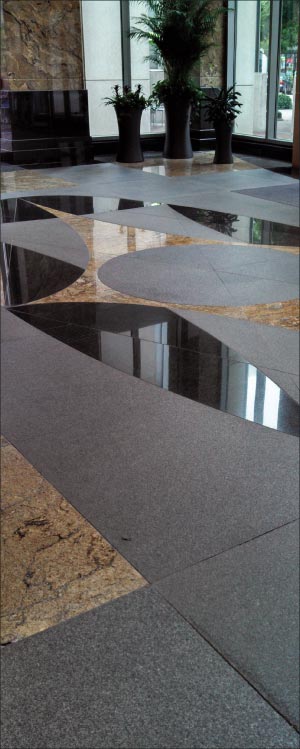 Above: Flamed granite mixed with polished granites makes an excellent contrast for paving, but the maintenance can be a little challenging,
Even though honed marble is becoming more and more popular, most people (meaning consumers) would think of marble as being highly polished or shiny. The same is true for granite, because almost every granite kitchen countertop is polished, as are most quartz and engineered tops.
Polished surfaces have the smallest scratch pattern, which provides the lowest exposed surface area that a stone can exhibit and therefore are the most stain resistant of the three main surface groups.
However, as we have covered before, there are two other stone surface groups that are very popular and becoming even more popular as they are understood for the attributes they bring to the stone's functionality, aesthetics, and selection palette. These two surface groups are honed and textured.
Most every functional surface in Europe is honed and this is for several reasons. Honed surfaces are generally easier and more cost effective to maintain. They also provide a nice warm glow that is not too flashy.
There is a wide range of what can be considered honed but these surfaces can be described as smooth with medium (on an oblique angle) to no light reflection. Because there is a larger surface scratch, there is a higher exposed surface area (think of mountains as opposed to a lake), which in turn also means more pores are exposed. Suffice it to say, this means there is an increased stain risk. More on this increased porosity later.
The other non-polished surface is the textured category. This collection includes natural cleft or split -faced, flamed, bush-hammered, water-jetted, sand-blasted and others. Textured surfaces are rough or uneven and have little to no light reflection.
There is an exception to the no light reflection with the antiqued or leathered materials which can be finished to a higher sheen using abrasive brushes with coarse to fine grit levels. They exhibit a nice sheen and color, but of course, no clarity.
Honed and textured surfaces offer designers a broader range of aesthetic and functionality options. Of course just as a flamed granite mixed with polished marble floor becomes a maintenance nightmare, these same areas can be intelligently combined too.
For instance, high traffic elevator cabs that are honed would most definitely be easier to maintain and can look just as elegant as the polished lobby surface.
Textured stone surfaces can be used for dimension, contrast, and safety reasons. The three-dimensional profile adds character while the rough surface can provide slip resistance. In many northern cities, flamed granite is the preferred stone choice, especially for exterior horizontal surfaces and entryways. The same is true for walkways, patios and pool decks.
Slate, granite, quartzite, bluestone and brownstone are just some of the materials used for textured surfaces. Marble, limestone, granite, slate, and many others are used for honed surfaces. Both marble and granite materials can be used for antiqued or leathered surfaces.
As briefly discussed earlier, these surfaces have much more surface area exposed. This means that they have many more open pores exposed at the surface. Because so many open pores are exposed, the probability of staining is increased many times over. Therefore I would always recommend that these surfaces be impregnated, color-
enhanced, or sealed.
Impregnators, whether solvent-based or water based, should not appreciably change the appearance of the surface. So when the stone's natural appearance is desired, use an appropriate high quality impregnator like the Majestic Low Odor Solvent Based Impregnating Sealer would be my recommendation. This will help protect the surface from staining of both water-based and oil-based contaminants as well as freeze/thaw concerns.
Honed surfaces have fewer exposed pores than textured surfaces have and use of an impregnator is usually the preferred course of action here. However, a very coarse hone level could possibly take a very low viscosity color enhancer product. The higher the hone level, the fewer the exposed pores and also the natural color level is more pronounced so use of a color enhancer may not be effective.
Textured surfaces will normally have the highest level of exposed open pores and can therefore usually take a color-enhancing impregnator or penetrating sealer. These penetrating sealers will bring out the color of the stone as well as offer protection from staining and freeze/thaw issues.
Sealers, which are topical coatings, are generally only used for interior surfaces only as they run the risk of trapping moisture, which causes clouding up under the sealer surface, discoloration, and possibly even flaking due to hydrostatic pressures. Sealers can change and normally do change the natural appearance by adding different levels of gloss and smoothing of the surface texture, not necessarily my favorite option.
Maintenance of these surfaces would consist of dust mopping, vacuuming, or blowing to remove all loose soiling. Routine cleaning would be with Majestic Stone Soap through an auto-scrubber, fitted with soft brushes, for commercial interior surfaces. Smaller areas would require lint-free equipment like a micro-fiber mop.
A periodic intensive cleaning should be performed quarterly or as needed using the Majestic Deep Cleaner Stripper/ Degreaser to clean grout lines and generally refresh the surface. Exterior surfaces should be periodically pressure-washed gently. Impregnator and color enhancer replacement should be performed when the surface no longer adequately resists water or the color enhancement has faded. Exposure to weather and ultraviolet radiation will shorten the life of these products.
Always try to submit a test area to confirm the products, procedure, and results. And of course, partner with a reputable distributor for quality products and technical support. Let us know if you have any questions or need clarification.
Bob Murrell has worked in the natural stone industry for over 40 years and is well known for his expertise in natural stone, tile and decorative concrete restoration and maintenance. He helped develop some of the main products and processes which revolutionized the industry, and is currently the Director of Operations for M3 Technologies.