An Exceptional Stone Structure
Murshida Carol Weyland Conner, the spiritual leader of Sufism Reoriented, had a clear vision of the sacred design which would express the spiritual tenets of Sufism Reoriented to be materialized in its new home for worship. She chose Alan Ritchie, a longtime architectural partner of the renowned architect, Philip Johnson, to design the building working off conceptual drawings provided by Murshida Conner and detailed conversations about the goal to be achieved and the space requirements. His design perfectly realized Murshida Conner's vision.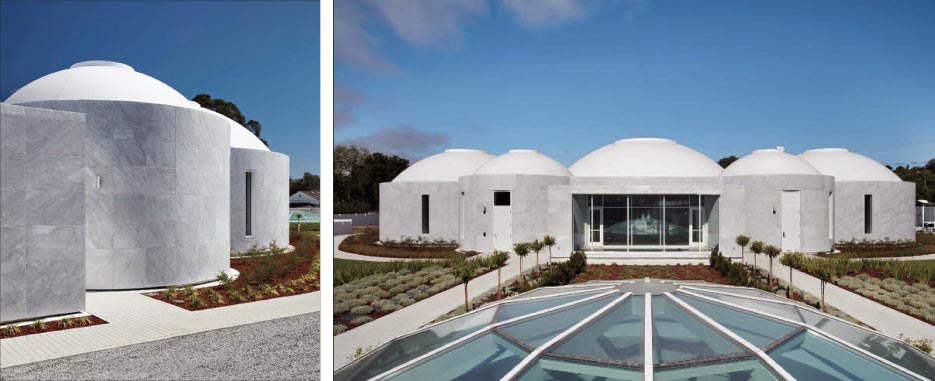 The honed Carrara marble cladding for the Sanctuary comprises some 2,800 exterior segments, all of which are two inches or more thick. Cleveland Marble installed the exterior and interior marble material. The Bianco Carrara marble sourced from Italy, and fabricated for installation by the Santucci Group.
Sufism Reoriented planned for over 50 years for this ultimate home for their members and its spiritual mission. Designed to endure for over 700 years, the building is innovative in many ways, from its curved marble cladding from Carrara, Italy, to its climate control with state-of-art air filtering systems, to its green roof composition with recycled glass gravel from Germany, to its stormwater management with rain harvesting features, to its 33 foot tall hollow bronze sculpture with seismic base isolators and acrylic butterflies, standing inside of a three-story tall room with curved glass guardrails.
The 66,500 square foot Sanctuary is circular in nature and includes eight domes, lighting with large skylights and orientation on an east–west axis with a magnificent view centered on the East Bay's Mount Diablo.
The Sanctuary is a showcase of Carrara Marble from Italy's Carrara region. Bianco Carrara was supplied by the Santucci Group (MIA+BSI Member) for interior and exterior installations. They provided the raw stone from 'Bacino di Colonnata - Canaloni - Venedreta, Carrara, Italy, Quarry 121. The Santucci Group carefully fabricated 2,800 exterior segments, all of which are two inches or more thick, with honed finishes and with stainless steel attachments for the cladding. The 2,285 exterior cladding pieces were curved inside and out.

Above, Left: The 25-foot emblem in the center of the sanctuary was fabricated by Creative Edge Master Shop, made in 50 segments in their Fairfield, Iowa facility.
Above Right: The medallion inlay includes marble, brass, bronze and gold-infused ceramic tile.
The 1,000 pieces of interior stone primarily comprised the horizontal surfaces of the Sanctuary's Prayer Hall, the center of the Sanctuary and worship for Sufism Reoriented.
Cleveland Marble of Cleveland Ohio (MIA+BSI Member) installed interior and exterior marble material.
The center of the Sanctuary features a 25-foot symbolic emblem. Made by Creative Edge Master Shop (also an MIA+BSI Member) from marble, brass, bronze and gold infused ceramic tile, the inlaid feature expresses the group's spiritual ideals and shows symbols for religions worldwide. Made in 50 segments in Creative Edge Master Shop's facility in Fairfield Iowa, the marble/metal work was transported to Walnut Creek and then installed by Cleveland Marble.
For more information on the waterjet inlay in this project, see the Creative Edge website, creativeedgemastershop.com.