Finding Success with a Signature Edge
Peter J. Marcucci
Photos Courtesy Roman Empire Granite & Marble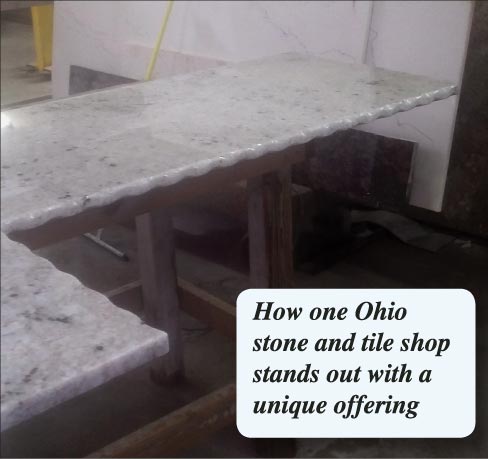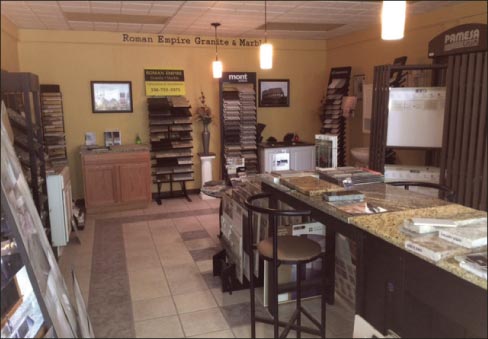 "We are just a small hand shop," said Mike Angelilli. "There is no CNC. We do have a bridge saw but everything is done by hand with router, grinders and polishers."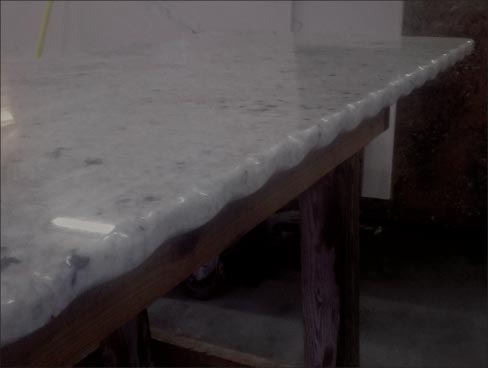 The J-Wave, as inventor Jason Heard calls it, has a symmetrical wave profile that looks irregular like a chiseled edge, but is polished and smooth to the touch.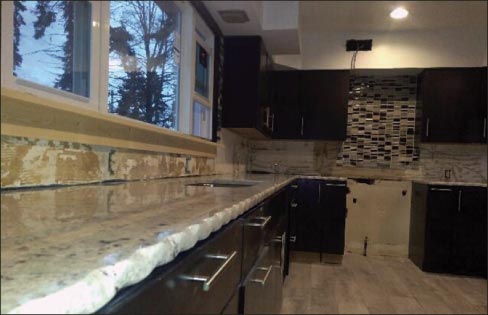 Serving the greater Youngstown, Ohio, area for well over 50 years, Your Tile Center, the parent company of Roman Empire Granite & Marble, is living proof that change combined with originality is key to continued success.
An area and industry game changer from its beginning, Your Tile Center emerged from change. When owner Joseph Angelilli immigrated to America from Italy in 1957, his sights were firmly set on pursuing his chosen trade. However, that vision soon changed, explained Mike Angelilli.
"When dad emigrated from Italy he was 17 and he wanted to be a bricklayer. But bricklaying was seasonal, so he decided on the tile trade, learning it by working for a local tile company. Soon after, in 1961, he opened Your Tile Center. My brothers and I eventually got into the business and took it from there."
Mike, along with brothers Mark and Joseph Jr., and father Joseph Sr. (now 80), are all co-owners of Your Tile Center as well as the newer Roman Empire Granite & Marble. Both companies are located under one roof in Struthers, Ohio. "We've been in business on the flooring side for over 50 years," continued Mike. "We knew one day we would add fabrication to accommodate the customers that come in looking for flooring and countertops. We are now a one-stop shop for customers who visit us. We can handle jobs from their floor to their countertop, and they don't have to go anywhere else. This seems to work out pretty well."
Serving a 70-mile radius around Struthers, Ohio, Roman Empire Granite & Marble's clientele are a mixed demographic of upscale and middle class and, surprisingly, one more, said Mike. "Funny, last year I had more elderly people wanting granite than I've ever seen in my life. They're 80 years old and come in and say they want granite countertops. You wouldn't think someone that age would be thinking about remodeling."
According to Mike, the majority of their fabrication is residential, with an occasional commercial job. They offer clients a range of natural stones as well as engineered materials, sourced mostly through local vendors such as Mont Granite, Omicron Granite & Tile and United Stone.
"When customers come in, quite often we send them to one of many suppliers in Cleveland to select their slabs.
These vendors are all within five miles of each other, so I give them a map and send them there."
Keeping the "Custom" in Customer Service
Including offices, warehouse and shop, the company's total footprint is 8,000 square feet. Production is based simply on one bridge saw, one router and lots of hand tools.
"We are not the type of shop that cranks out 20 kitchens a day," continued Mike. "We do custom hand-finished work and take our time to do a really nice job. We also take our time with the customer. We take them by the hand, explain the process, making sure they are going to be happy. When their material comes in, I'll bring them out to the shop and we look at it. I'll then walk them through with what we are going to do while laying out the templates and matching seams and backsplashes. We like to keep a close relationship at all times. This has been working out really well, and we have been getting a lot of good reviews. We never want to be the biggest, we just want to be the best, and if that means staying at a certain pace and certain size, then that's where I'll be happy. We fabricate it, we truck it, and we install it. Our eyes are always on it."
The J-Wave Signature Edge
For many years, chiseled edges have been popular with customers wanting something different from run-of-the-mill profiles. These edges can be slightly polished by hand rubbing with oxolic acid, but most cannot., So, if you're a low-volume high-quality shop looking for an edge (literally) in your market, what do you do? You tweak the rules to suit your needs, and innovate. Enter the J-Wave designed by Jason Heard, fabricator and imagineer.*
"You know how when you want a rough edge and it is just chipped and raggedy?" continued Mike. "It looks great, but the problem with that is you really can't polish it.
"Then one day Jason said, 'Come back here, look what I did'! So I go back there, and what he had created was an edge that still has a stone look, almost like a chain link, but you're able to polish it. I had never seen anything like it, and it is all done by hand. Our J-Wave edge is very unique, and we've incorporated it into many of our kitchens, vanities, bars and fireplaces."

Heard: "The J-Wave only requires a few right angle tools, a few diamond and carborundum wheels, a Braxton-Bragg Viper Drum Wheel, and flexible wet polishing pads and backer. Using a Drum Wheel makes the process even faster instead of using a flat grinding wheel, it gives you the profile automatically."
Jason Heard has been working for himself and others for decades. This ever-striving and always-resourceful man seems to be half imagineer, half CNC engineer, most times. "I've been doing stone fabrication for so long and seen so many different ways of doing things, sometimes I daydream of better ways to do things," explained Jason. "What would make this easier and faster are questions I'm always asking."
His edge, the J-Wave, is done using simple hand tools and careful measurements.
Jason continues: "When I had my shop in Atlanta, I was playing around by combining different size bevels and eased edges. As I did this, blending each profile together, the bevels would taper into the eased edges, and when polished, came out like a wave. I then did the same thing on the bottom of the slab opposite from the top. It's all done off of measurements, and I have many variations, for a variety of unique looks. I can make (the wave design) tighter or stretch it out by altering the length of each profile. All are different, but all look just as cool. That's the fun thing about doing this edge. I can change it to suit the look the customer wants.
"Doing a J-Wave edge is even faster than doing an ogee with a router, too. It is unique, looks uniform and doesn't look like a mistake. It's not complicated either. I can teach it in a day or two. Some customers want something fancy and different, so you can offer this edge, and no CNC or router needed. I love what I do, and I'm very proud of this edge."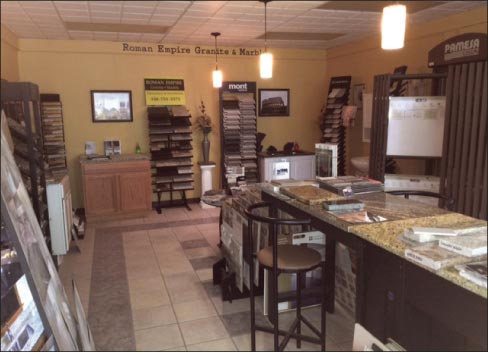 Roman Empire Granite & Marble serves the greater Youngstown, Ohio, area. "First, we educate our customers," explained Mike. "We then take them through our shop and let them to view in full the stone they've picked out, using templates to make sure they are happy where we are placing their countertops. We offer both sinks and faucets and about 50 percent of our customers purchase them with their countertops."
Dedicated Employees Make All the Difference
Mike continued: "I can't say enough about Jason and his attention to detail. This business is very detail-
oriented, and you have to have that. He's very neat and really cares about his product, and he's good with our customers. Many times customers say, 'Jason really knows his stuff and is very professional,' and that's what we set out to do. I can't say enough about Jackie Angelilli, either. She keeps an eye on the company and is great with the customers. She knows a lot about pricing the products, and many times I'll call her for answers. She is always on top of things."
Lower Volume Equals Outstanding Quality
Mike went on to say that past sales were mostly due to advertising, while adding, "Lately, we are starting to gain work by word of mouth. People are coming in and saying, 'I know you did so and so's house and it was beautiful.' So word of mouth takes a little bit of time, but the good word about us is starting to spread."
Roman Empire Granite & Marble's showroom features many samples of natural and engineered stone, as well as vignettes that include sinks and faucets. Additionally, a tasteful display of ceramic tile is represented, mostly in backsplashes. "We occasionally have designers show up with customers, but nine times out of ten, customers come in by themselves. Jackie will meet with them. She is really good at knowing the trends, putting the colors together and answering the questions they have.
Managing the Customer Relationship
"I think the best thing you can do with a customer is to educate them on the products they want to purchase. The more they know about it, the better it is for them. I also think that showing the pluses and minuses of the product is a big advantage. That little bit of time you spend just talking about the products makes them feel good and makes all the difference. Instead of just taking them over to the samples and asking them what they think of it, we take the time to explain what granite is, what engineered stone is and what the differences are. Most go with us, but if they don't at least we know we went the whole nine yards, and I feel good about that. I know that's how I'd want to be treated. They really appreciate it, and many say that at the end of their visit."
A Five Star Future
Mike continued, "The business climate in Struthers, Ohio, is not too bad. There are about five other fabricators in the area, so it's not saturated. Overall, it's a good market, and we had steady work all of last year.
"As far as our plans down the road, I want to get a little bigger, but not too much bigger, so we can keep our hands on it. We will be making a little more room in the shop, and as the work comes in we'll hire a few more fabricators. Someday I'd love to have a CNC, but until then, if we can grow the volume a little more, I'll just take the money and buy another tool. I won't go and buy a lot of tools or equipment hoping that the phone rings. Doing that only sets you up for failure.
"Our main goal is not to be the biggest shop — just the best. I truly want our customers to say that Roman Empire Granite & Marble not only did a great job in fabrication, they treated us like family, took the time to educate us and went above and beyond to make us happy. My dad would always tell us, 'Just go the extra mile and that will always stand out in the customers' mind. Take the extra time, and they will appreciate it!'"
So fabricators — here's a suggestion: why not design and market your own signature edge? If you're willing to change the rules, Braxton-Bragg has the tools.
For more information on Roman Empire Granite & Marble visit www.yourtilecenter.net .


---
The J-Wave Signature Edge
Jason Heard is not shy about sharing his signature edge with other interested fabricators.
First, Jason takes his adjustable square set at 3/8 of an inch and makes a pencil line along the full length of the countertop top and bottom. He then marks the top and bottom every three to five inches, depending on the desired look.
Jason then alternates the depth of each bevel, going 3/8 inch to 1/4 inch over and along the entire length of the top, while staggering the same combination along the bottom edge.
When all those bevels are joined together, it makes one continuous wave and looks awesome, according to Jason. Each one is hand-fabricated, so no two are exactly alike. Customers love the fact that they are getting something unique, which is a great up-selling tool.