Current Houzz Megatrends: "Aging in Place" and "Smart" Kitchens
Shannon Carey
Photos courtesy of Houzz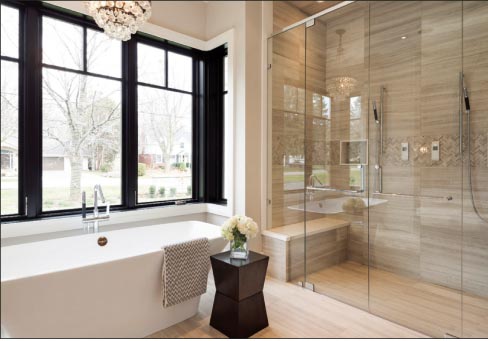 Sixty percent of home upgrades by Baby Boomers are related to aging in place, with no-threshold showers and making bathrooms more spa-like being examples.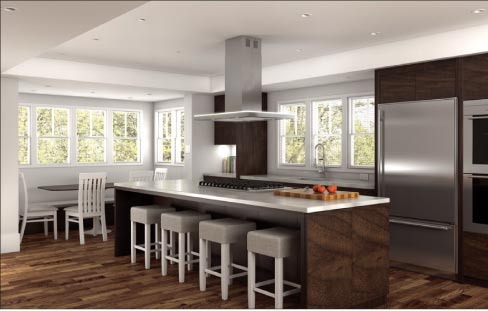 Remodeling to build spacious, open plan kitchens is a growing trend with homeowners.
When it comes to home remodeling, the kitchen and bath is where it's at.
Houzz, the online hub for home design inspiration, has access to the design choices of millions of potential home remodelers, and they've compiled those choices into a "megatrends" webinar for remodeling and design professionals.
According to Kathleen Hegedus of Houzz, kitchen and bathroom remodels are the most popular of home renovation projects, with one in six Houzz users choosing to renovate kitchens and one in five choosing to renovate bathrooms.
The tendency, she said, is for renovations to make bathrooms more accessible, comfortable and spa-like, and kitchens more open and functional as the hub of the home.
Baby Boomers, those who are age 55 and over, are still the "power spenders" of home remodeling. Half of renovators are 55 plus, and 62 percent of those are in suburbia.
"This age group struggles with finding the perfect products and professionals," Hegedus said. "But Millennials are focused on affordability and staying within budget."
Boomers are also more interested in aging in place and retiring in their homes. Sixty percent of their home upgrades are related to aging in place, with no-threshold showers being just one example.
Across age groups, home remodels focus on creating a "super kitchen and spa," said Hegedus, with kitchens expanding functionality to more than just cooking, and bathrooms becoming more spa-like.
"Kitchens are all about working, living and playing in them," said Hegedus.
Opening the kitchen to other areas of the home or outdoors is tops on the list of renovations, as is creating smarter storage and building a space that is better for entertaining.
Bathroom renovations, especially in the master bath, focus on accommodating two people with dual sinks and showerheads.
"Homeowners are sparing no expense to make their bathrooms more luxurious and spa-like," said Hegedus.
Solid-surface luxury stone, recessed lighting, bidets and whirlpool tubs are also high on the list, and most homeowners are moving away from the shower-over-tub option.
Another megatrend, according to Hegedus, is creating a "smarter space" through more efficient use of square footage and integration of technology.
In the kitchen, homeowners want more built-in storage and a way to use unreachable spaces, including "perfectly organized pantries with space for everything," and custom built-ins that "function as the nerve center that supports the kitchen as the hub of the home.
Half of homeowners are opening kitchens into other rooms, and 20 percent are opening kitchens to the outdoors, not increasing square footage, "but opening them up makes them feel and function bigger," said Hegedus.
Many are installing new appliances with "smart" functions, new lighting systems, updating wall texture, color and cabinets.
For the bathroom, 60 percent of homeowners report spending 30 to 60 percent of their day in this room, so it makes sense that they want to make the space more functional and inviting.
Hegedus said 20 percent are installing high-tech toilets with bidet and self-cleaning features. While homeowners aren't increasing the overall size of bathrooms, shower sizes are increasing. Overall, bathroom renovations open up the space, add more light, and create more "private" spaces in the bathroom to make the everyday routine easier.
"It's really about creating awareness when you choose what projects to showcase on your website or your Houzz profile," said Hegedus. "It's about how to be clear about the expertise you offer clients."