Phenix Marble Gets New Life
Peter J. Marcucci
Photos Courtesy Phenix Marble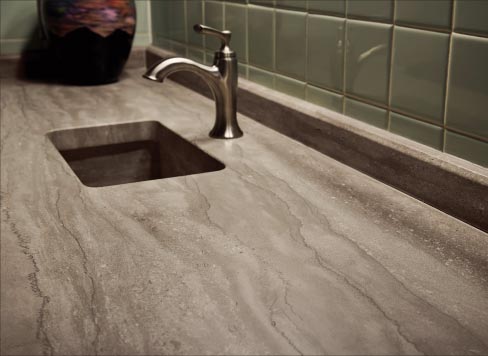 Above: Napoleon Grey marble from the Phenix Quarry has a beautiful, very distinctive grain that reveals the history of the stone and how it was formed.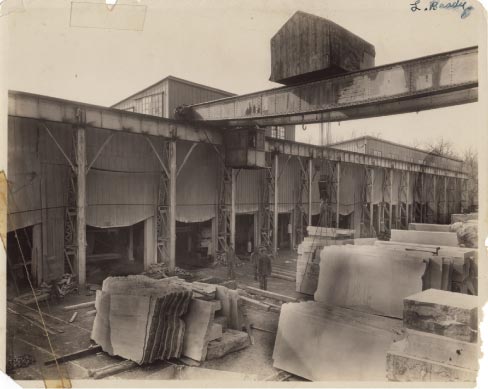 Above: Phenix Quarry stoneyard and processing factory, circa 1924 photo.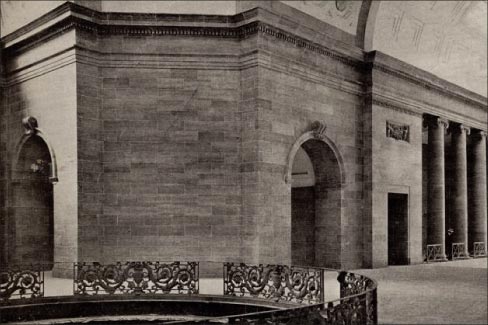 Above: Marble Work in Rotunda of Missouri State Capital at Jefferson City.
This archive photo shows the state stairwell and the east rotunda wall. The detailed carving seen elsewhere can be seen over the doorway. The work is entirely done in Napoleon Grey marble.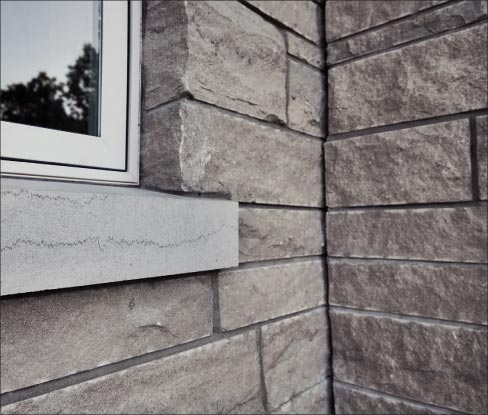 Examples of Phenix Split-Face veneer on a private residence. This project used Napoleon Grey cut in an ashlar pattern, with solid, saw cut sill pieces.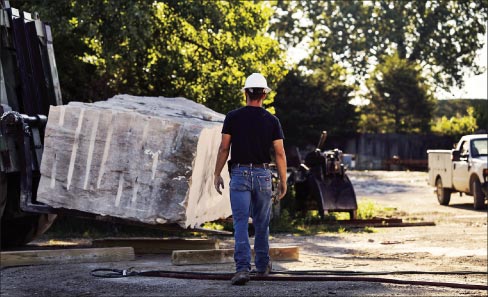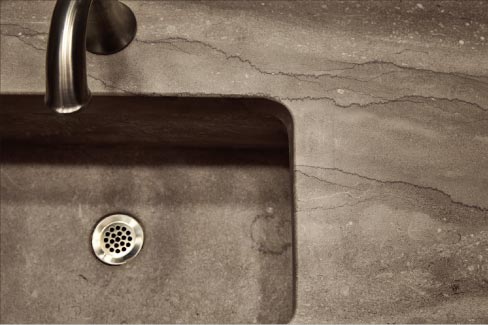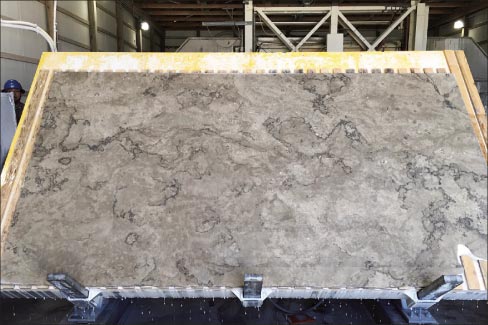 Above: Slab of fleuri cut Napoleon Grey, just off the GMM Polisher.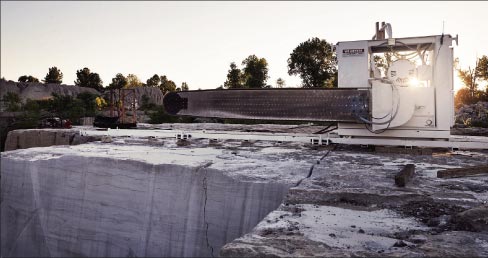 Above: A WF Meyers saw is the quarry's workhorse.
"The ledge we picked up on when we reopened the quarry has been a really good match for a number of projects, such as the ongoing historic renovation of the Missouri State Capitol," says David Karr.
If you're not familiar with the name Conco Quarries Incorporated, it may be because you're not from the Midwest. Here's a wee bit of context before we get to the meat and potatoes of this story.
Conco Quarries Incorporated (referred to as Conco from here on) is a family-owned American company that's had its roots in crushed stone and ready-mix concrete for 70 years. A progressive company, Conco is the 'Aggregates 'R' Us' of Southwest Missouri with quarries and ready-mix concrete plants throughout the region.
Now to the meat and potatoes — the rebirth of the Phenix Marble Company — Conco's latest venture, explains executive vice president David Karr, "Conco is now the parent of the new Phenix Marble Company. We are always looking for opportunities, and acquiring it just seemed like a chance to create a higher value added product line within our operation."
Karr has been with the company for 27 years, but both he and Conco are newbies to block quarrying for dimensional and fabrication use. "I have a lot of background in quarrying," continued Karr, "but it's all in crushed stone. Fortunately, we have a dedicated group of people that know what they're doing in terms of mining engineering and how to operate and maintain big equipment."
Waking a Sleeping Giant
Located in Springfield, Missouri, the Phenix story begins in 1884, when a vein of marble and limestone was discovered while constructing the Kansas City-Clinton-Springfield Railroad. The stone was first used for railroad bedding, riprap and bridges, eventually finding its place in building the expanding American west.
For the next 40 years, Phenix stone would supply the facades and foundations for many structures all across the United States. Two notable projects are the Palace of the Legion of Honor, in San Francisco, California, and the Missouri State Capitol building, in Jefferson City, Missouri. This beautiful stone structure, the third of five Missouri capitol buildings (and still used), was constructed in 1917 using Phenix Napoleon Gray.
Years later during the Great Depression, the giant that had helped build a nation was put back to sleep, and the machines once used to quarry were melted and repurposed into ships, planes and tanks for the World War II war effort. By the end of the Great War, the company town of Phenix had turned into a ghost town. (See page 12 for a more detailed look at Phenix Marble Company history.)
The Rebirth of Phenix
Fast forward to the spring of 2015, when Conco re-registered the Phenix Marble Company and became the principal owner. This acquisition breathed new life into the quarry and the Phenix Marble Company, explained Karr. "Our involvement with the Phenix quarry, a historic quarry, came about over the course of the last few years. It's about fifteen miles from our crushed stone quarry, and we've always been intrigued by what it was at one time. That said, we knew when we got involved there would be a learning curve for us, because dimensional and slab production is different than what we were used to. So it's been a stretch in terms of how to mine the reserves."
Getting Up and Running
"Getting going was a leap of faith that the demand would increase and the stone had its place within the industry," continues Karr. "It was at this point that reactivating from a complying point such as operating permits, reclamation and all the stuff that you do to bring the quarry back to life from a safety and environmental perspective, had to be taken care of first. We did put a sizable amount of capital into it, and it did take the better part of a year to study and source the equipment we wanted to use. Once the machinery was in place, the Phenix quarry started producing new blocks for the first time in almost a century.
"The ledges that were there were really very convenient and immediately available to us, because when the quarry stopped production, it didn't do so because they ran out of material. It was because the market for Phenix material had shifted. So we simply picked up on a 12-foot wide ledge, right where they had left off. The reserves are extensive, and we basically continued open pit mining the third and fourth ledges right where they left off."
Conco has always been a very healthy company with ample investment and growth capital, said Karr. "We're patient and we are long-term players with the ability to invest and to grow over time as the demand dictates. We think that's a plus. This is not just another quarry that is popping out of the ground. It's tied to an organization that has a long-term perspective and the ability to implement."
As fabrication was not Conco's forte, help was needed. Luckily, local fabricator Freddie Flores had been cutting and fabricating remnant Phenix blocks since the mid 1990s, and Conco joined with him to restore production.
"Freddie is a partner in the company," explains Mary Neely, director of marketing for Phenix. "We sort of stumbled upon him. There were many blocks leftover from when the quarry closed, and he had been using them for his custom projects for the last 15 years. Freddie is probably Phenix stone's greatest champion. The other members of the company as well have fallen in love with the stone and its story, and it shows in the quality of the work that they do and the way they represent it. I think that part of what makes us special is that everyone that's involved in this project is truly and passionately interested in the history and the stone, especially when dealing with the historical renovations of buildings that require a great deal of sensitivity."
Karr continued, "The footprint of Phenix marble and limestone is national, so our goal is to make people aware that it is again available on the same scale as it was in its glory days, not only for historic renovation, but for contemporary work as well. All the colors are available in polished or honed for fabrication and dimensional applications. It has very low water absorption and high compression strength, weathers well and doesn't experience streaking like some others. We are making slabs and starting to distribute them to wholesalers and fabricators around the country, with our first truckload of 3cm and 2cm slabs going to California. So a lot of what we are doing at this time is developing relationships and distribution with reputable players in the industry."
Facilities, People and Products
The Phenix quarry spans a total of 120 acres with 15 acres currently yielding stone. Modern equipment such as wire saws, hydraulic drills, and a WF Meyers diamond saw for vertical cutting, as well as the vehicles needed to transport, all play a significant part in the operation. Blocks are shipped 15 miles from the quarry to Conco's Willard facility for crushed stone.
"Our Willard facility is close to the metropolitan market," said Karr, "and more importantly, it's located where our staff lives. In terms of maintaining our equipment and the entire infrastructure needed for keeping the company running, all of these things exist here, too."
The quarrying staff consists of four people working full-time. One of them is Blake Thomure, a mining engineer who has taken on the quarrying of the dimensional stone. The other three men are machine operators and laborers; all of them have been trained and home-grown. "Everybody does a great job," continued Karr. "There aren't other dimensional quarries around us, so it's not like we had a vast group of people we could hire from. We really just took on a lot of people that were hard workers and willing to learn. We've gone down a remarkable learning curve in just the short amount of time. So I attribute the success of our start-up to the people that have been involved, who grabbed the bull by the horns and learned. That doesn't mean we haven't made mistakes. We just haven't made them twice. It's been really good.
"As far as quarried tonnage, we haven't even pulled out a year's worth. We are, however, mining five days a week to produce for current orders, and additionally trying to fill our yard with blocks for customers to view first-hand. You know as well as I, that when you're not having to wait for the block and have a yard that a client can pick from, all the better. So I fully expect that mining production will continue to ramp-up."
On the fabrication side, equipment consists of a Standish diamond wire saw large enough for slicing and dicing a 10.5-foot by 70-inch size block, a Park Industries Yukon 2 Bridge saw, two Park Industries splitters, a 60-inch and a 24-inch model, and a GMM single head surface polisher that's also used for gauging.

Phenix Marble Company fabrication equipment consists of a Standish diamond wire saw large enough for slicing and dicing a 10.5-foot by 70-inch size block, a Park Industries Yukon 2 Bridge saw, two Park Industries splitters, a 60-inch and a 24-inch model, and a GMM single head surface polisher.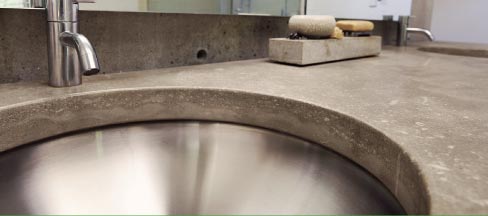 Above: Napoleon Grey is now being offered by fabricators on the West Coast.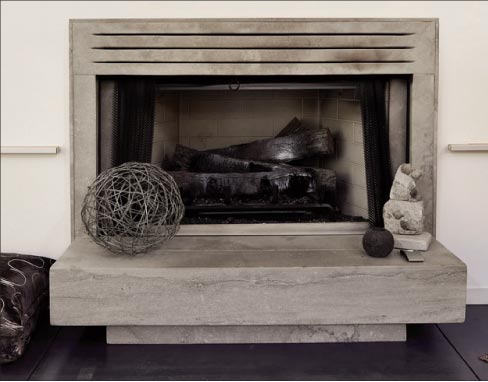 Above: Modern style fireplace showcasing the Napoleon cut; design and fabrication by Freddie Flores.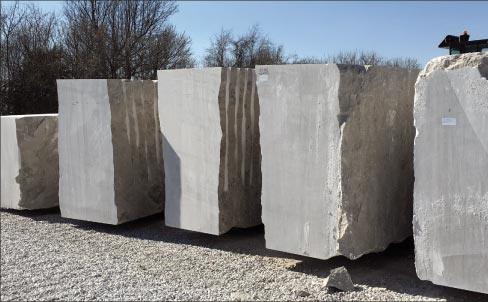 Above: "We are mining five days a week to produce for current orders, and additionally trying to fill our yard with blocks for customers to view first-hand," says David Karr, executive v.p. of Phenix.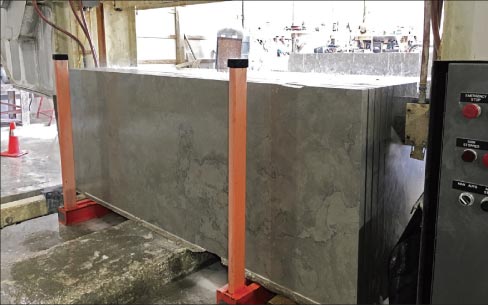 Above: Phenix Marble's Standish steel narrow belt saw can produce any thickness; their GMM face polisher produces kitchen-grade polished slabs.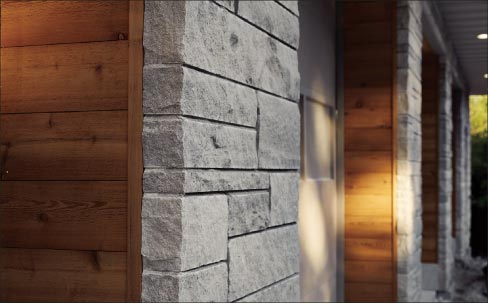 Above: This private residence showcases the beautiful texture of the dimensional stone products available from the Phenix quarry.
Various size strategically placed jib cranes round out heavy machinery for the processing operation. There are eight full-time fabrication people, said Karr, adding, "Brandon Roberts is the operations manager overseeing fabrication and he's been with Conco for many years. The remaining seven people, including Freddie, do the cutting, the polishing and the installation work. Chris Upp is vice president of mining and aggregates, and he oversees production as well."
At the moment, fabrication consists of kitchens, vanities and fireplaces that are mostly locally installed. As far as dimensional stone, the company supplies exterior veneer, sills and pool coping both locally and out of state. "The material is very beautiful, resilient and not difficult to match, because Phenix material is very consistent and lends itself well to historic renovation," explained Karr.
"We've done a lot of projects where it's Phenix or Carthage material that we were trying to duplicate, and we really didn't have to go around the quarry and search for a match. It really was just luck of timing that we got to supply this renovation. It was a great project, and it made us get the quarry up and running quickly. We produced over 80 blocks for it during the summer of 2016."
Conco partnered-up on the Missouri State Capitol project with Quarra Stone Company LLC, located in Madison, Wisconsin, explained Karr. "Quarra Stone had experience with handling large projects, and we relied on them for shop drawings and field templating. So we really teamed on it. We made the pavers and they made the steps. The finished components were then delivered to the job simultaneously. The first phase was completed in December (see "Historic Ozarks Quarry Supplies Missouri State Capitol Renovation," March 2016 Slippery Rock). There is a second phase, and we will submit our stone when bidding begins on that job, too."
"Napoleon Gray is the stone that put Phenix, Missouri on the map and it was distributed all over the country in the 20th century. There is no reason to think it's any less beautiful and durable now than it was then," continued Mary. "It is very high-density and wears incredibly well, even for those homeowners that are concerned and timid about the wear factor of marble as a countertop. People see the proof, and it does a lot for the marketing itself. Additionally, the sealer we tested from Braxton-Bragg (Stone Shield for porous stone) is everything that we thought it would be. I left some wine on our test countertop for two hours and came back, and there was no staining or etching!"
Karr: "Yes, the physical nature of Phenix materials enables you to do so many things. It looks beautiful polished to a glassy smooth finish, or honed. The stone is also carveable. Just look at the Missouri Capital building with its ornate carvings that have weathered well. People sometimes ask, 'It's marble and it's soft, so will it stain?' Usually when we get that question from clients, we refer them to the restaurants in town that feature Phenix marble on their countertops and tables. We don't hesitate to direct people to it and tell them that this is what it looks like after ten years of serving meals on it, day after day. It performs great in these areas, and normally we don't have to do anything else."
The Future
Karr continues: "We are a bunch of laid-back Midwestern people that do things with a handshake. You can trust us to do what we say we are going to do, and you can count on that. That really matters in this business, because things change and issues come up, and how you work through those issues really determines how a job finishes. So we are really a group of straight-shooters with integrity and honest dealings.
"Our corporate mission has always been to be an industry leader, and that extends into safety compliance and the use of technology. If you come and tour our facilities, you'll see that we are operating at the top of the industry in terms of best practices. The rebirth of the Phenix Marble Company is a marriage of the people who love the story, love the mining, and are happy to go down the learning curve quickly. It's also the marriage that's tied to a privately owned Missouri company that has a long, deep culture and the ability to implement. It's one thing to love and have passion about something, and it's another thing when you can execute. We've got that together, and that's what allows us to bring back this quarry in a credible way.
"We do need to get our stone into more showrooms around the country and display these big, beautiful slabs of Napoleon and Fleuri. Reaching out to fabricators and designers, to let them know that the stone is available, is really what our focus is right now. We met with a large fabricator and their entire sales staff last week, and we now have our first truckload of slabs going to California."
Mary: "We've been keeping our eyes on kitchen trends, and it looks like white kitchens are always going to be popular, but we've noticed a lot more people are using colors like terracotta, warm neutrals and darker tones. So we're hoping that during this small shift from bright white, we can introduce people to our stone. We've done kitchens, vanities and rustic fireplaces, and our Phenix stone complements all of these very well. We've sent out samples to designers and fabricators throughout America and Canada and received general inquires wanting to know about the operation and the stone itself."
Karr: "The ledges are big and solid and beautiful, and we are getting a very good yield out of the blocks. It doesn't matter that there is a vertical seam here or there that we may have to work around from time to time, because the stone can be used so efficiently for the types of materials we produce. If a block has an end crack in it, we're not going to make a countertop out of it; we'll simply take it to the splitter. Environmentally, this is a very good thing.
"Just last week we had an individual reach out to us with a stack of the most interesting old photos. In its heyday, the Phenix Marble Company employed 150 people, and Phenix was a company town with all of the families living in houses close by. A lot of that history is still here in the second and third generations of the folks that still live in the area. It's been fun to reconnect with these people, and I'm happy when historic stuff just pops up. I'll be even happier when I see Phenix material delivered nationally and gain back the same prominence it had back in the 1920s."
Geologists can only estimate how many cubic feet of prime marble and limestone lie uncovered. What is certain is that the sleeping giant has awakened and is back in business.
The Phenix Marble Company is a member of the MIA and the national and local chapters of the Association of Preservation Technology. For more information and samples go to www.Phenixmarble.com .