The Legacy of Phenix Marble
Phenix Quarry in Greene County, Missouri, circa 1920s. Photo panorama by B.F. Edmonson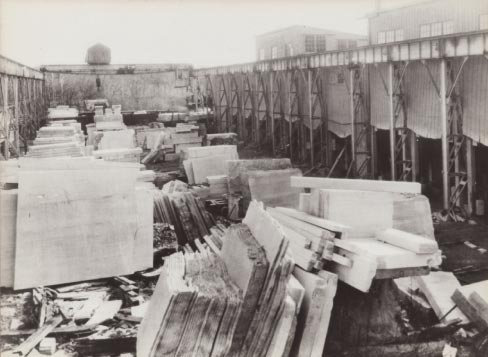 Above: Phenix Marble processing plant and cut stone yard. Note the massive gantry crane at the far end of the yard.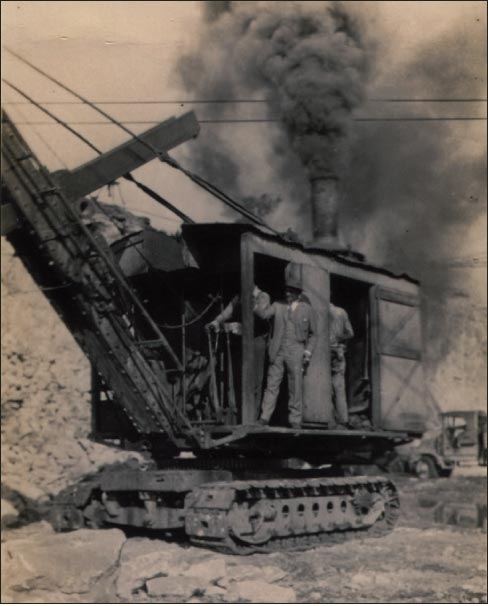 Above: From mule trains to steam shovels and cranes, the Phenix Quarry history spans the growth of mechanization and the spread of modern mining methods.
Above: Wire gang saws on the South side of the Phenix facility.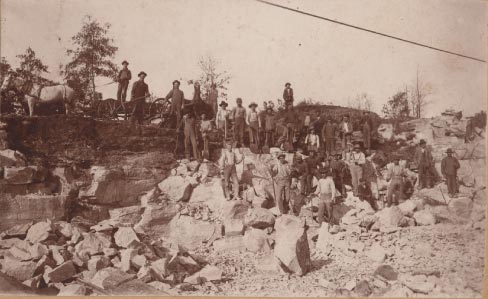 Above: Even in the early stages of mechanization, quarry labor still involved a lot of manpower with chisels and pry bars.
Photo by L. Brady
The Phenix Marble story began in 1884, when a major vein of marble and limestone was discovered near the town of Phenix, Missouri, while construction was underway for the Kansas City-Clinton-Springfield Railroad.
The stone was first used for railroad bedding, riprap and bridges, and soon after discovery, was distributed by the newly formed Phenix Stone & Lime Company, owned by Mr. C.R. Hunt, from Kansas City, Missouri.
By 1905, twenty-one years later, stone artisan W.J. Grant had realized the potential of the Phenix stone.
It was dense, absorbed little water, could handle a heavy load and best of all, could be polished.
Grant went to Kansas City to cut a partnership deal with C.R. Hunt. The Phenix Stone & Lime Company became the Phenix Marble Company.
It was this chain of events in conjunction with the nationwide marketing power of the Tompkins-Kiel Marble Company that eventually led to three consecutive decades of success for the company and its stone.
Supplying Stone for an Expanding American West
As America grew into the 20th Century, the wood and brick that had been a construction staple for generations was steadily falling to the wayside in favor of more lavish and sumptuous adornments such as stone for fancy new facades, interiors and foundations.
Phenix supplied stone for several notable, ambitious structures including the Missouri State Capitol building in Jefferson City. This beautiful edifice, the third of five Missouri capitol buildings (still used today), was constructed in 1917 using Phenix Napoleon Gray marble.
Other notable structures using the stone include the New York Stock Exchange trading room walls, the entrance of the Palace of The Legion of Honor in San Francisco, the Lawrence County Courthouse, Mt. Vernon, Missouri as well as many banks, hotels, museums, commercial buildings and train stations throughout America.
Unfortunately, the use of Phenix stone dwindled as the Great Depression laid waste to ambitious building projects. Phenix Marble Company, which once had employed hundreds of people and produced 250,000 cubic feet of stone every year, began to decline.
The machines that had once dug, cut and transported the stone were now move valuable for their metal, and were cut up, melted and recast into weapons of war.
As World War II raged and America continued to dig itself out of the Great Depression, the town of Phenix continued its decline, and was turning into a ghost town by mid-century.
Also by mid-century, 1945 to be exact, the Vermont Marble Company, with high hopes of bringing back the stone to its prior status, purchased the Phenix quarry. Quarrying and distribution did resume, but only briefly.
The war had destroyed much of Europe's industries, and there were only a handful of products available for export.
As you might have guessed by now, stone was one of them, and as the floodgates of trade opened, relatively cheap European stone poured into America.
Domestic stone could not compete, and the Phenix quarry, now owned by the Carthage Marble Company, would have to wait to regain its former stature. (Note: During this period, the Carthage Marble Company did minimally quarry and sell Phenix stone as Carthage Stone, a local and similar material quarried to the end of accessible seams, years prior.)
Decades later, when the Phenix quarry was purchased by Dave Richter, Dave began using the lower grade material for crushed stone, while Freddie Flores, a former fashion designer turned artist, used the high grade Phenix stone for art and utilitarian art fabrication.
Freddie Flores continues to work with Phenix stone, and has partnered with the new Phenix Marble Company owners, Conco Quarries Incorporated, to insure that Phenix Napoleon Gray and Phenix Fleuri continue to prosper into the future.
For an extremely detailed history of Phenix Marble, Phenix Quarry and other American quarries please visit www.quarriesandbeyond.org .