Stone Restoration and Maintenance Corner: Mess to Masterpiece
Bob Murrell
M3 Technologies
Photos by Bob Murrell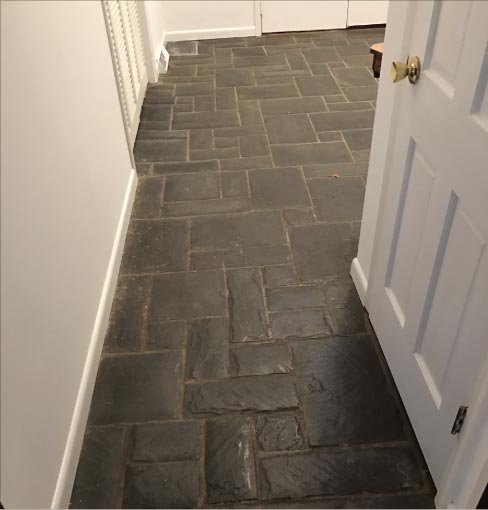 Above: This slate foyer was showing its age, but it should be no problem to restore, right? It's an easy job, and I'd be helping out an old friend. How many times have I said the first step is "do a test area" ?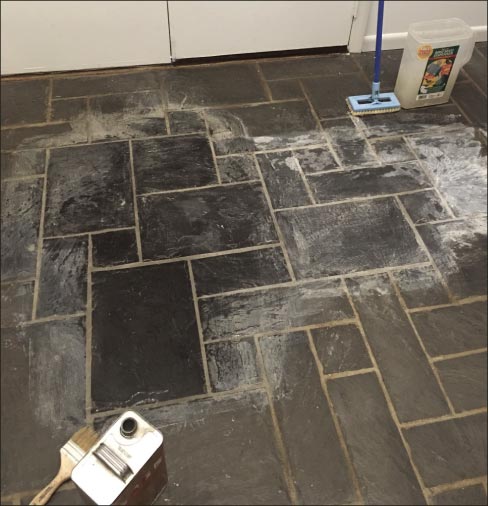 Above: Right off, I found it was more difficult to remove the multiple layers of urethane coating than anticipated. Each time we went through the tedious process of dwell time with harsh chemicals, there still seemed to be residue left. So, we stripped it again. And again. And again…
Let's be honest. At one time or another, we have all committed to that project that we should have walked away from, am I right? You know what your niche is and should probably try to stick to it most of the time. However, when calls aren't coming in and you need the work, you might go out on a limb and possibly even get reckless.
Desperate times can call for desperate measures. Going outside your normal project scope is OK, as long as you don't get bit in the rear doing it. It is especially bad when you have been doing this type of work for around 40 years and you may have become complacent, thinking that you know more than you do. It gets even worse when you overlook obvious issues with a potential project that were staring you in the face.
Of course if you aren't learning, you should probably do something else. If your job is not challenging you, it is too easy. All of these sayings are well and good until you do get that set of proverbial teeth in your rear.
The poor, pitiful contractor that had this happen to him, of course, was me! I had some high school friends who were remodeling their parent's house, which they had recently inherited. It was a fine stately home with large white columns from the early 1960s. They came to me with the old line of, "You've been doing this since Gerald Ford was in office; who better to help us than you?" I am a natural born sucker for that type of con every time.
The home had a "slate" foyer that had many old, decaying applications of urethane on it that they wanted stripped, cleaned, and restored to its original beauty. I knew that stripping old urethane was a real pain in the #$* but I had successfully stripped and color enhanced slate several times in the past, so no worries, right?
So the first problem is how do you strip urethane? Why, with paint stripper and a black pad, of course. You know, the cancer-inducing kind with methylene chloride in the formula! I am talking gloves, safety goggles, and respirators here! We were fortunate because the weather was nice and we were able to ventilate adequately and therefore ditch the respirators.
Stripping urethane is a stinky, skin-burning mess that is extremely hard to manage. It has to dwell for at least 5-10 minutes without being allowed to dry. It turns to gum if you don't use hot water and Deep Cleaning Stripper/Degreaser to rinse, at just the right time.
So if all of that weren't enough, we felt we had to keep stripping this "slate" as it looked like there was still residue left each time we did it. Finally, after about three or four repetitions of this process, we noticed that we really weren't making any significant progress, and in fact, some areas looked worse. One good point though –we had the grout looking like it was almost new.
Therefore, I started trying some mechanical methods to rid us of this most despicable and tenacious urethane. After all, I wasn't going to let it beat me, right? I tried 100g diamond impregnated pads on the hand tool with no significant improvement. I even tried a nylo-grit type brush with no luck. We did, however, start to notice a change, albeit not a good one.
Finally, my wife (yes, that's right, my wife!) says to me, "There is aggregate starting to show in some of the stones."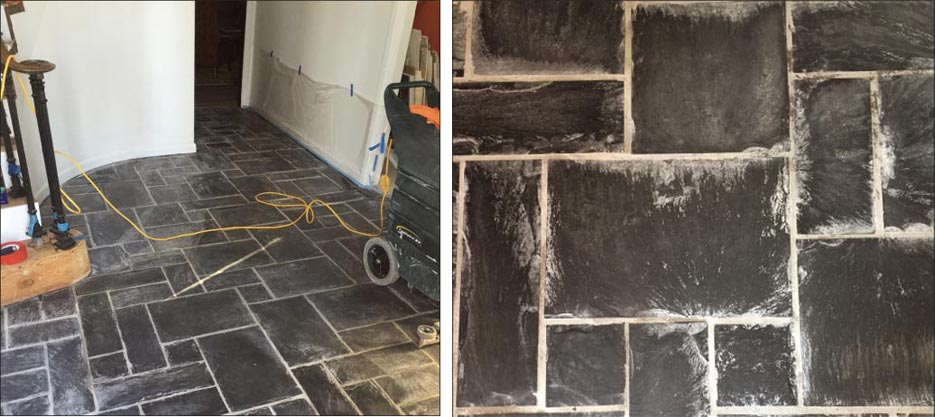 I resorted to mechanical stripping with 100 grit diamond pads — a pretty aggressive procedure that yielded little improvement. We eventually began to see a change, though — and not a good one. We noticed that aggregate was starting to show from grinding — especially noticeable next to the nice, clean grout lines. What's the dang deal with this crazy slate?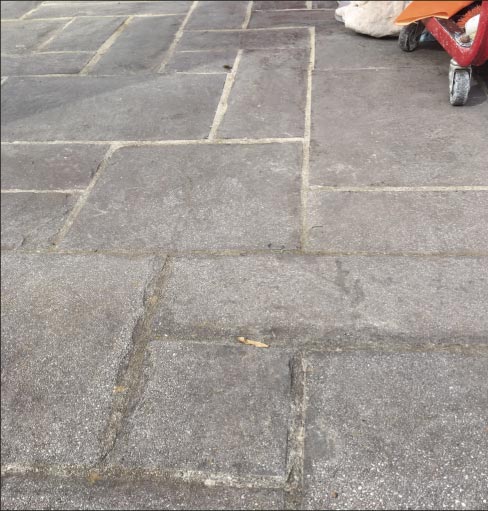 My wife pointed out that the front porch "slate" was actually precast stone, the same floor surface as inside, without the years of urethane.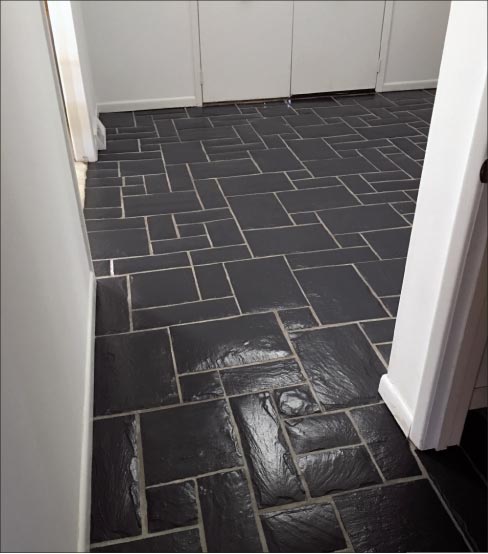 The moral of the story? TEST the material before charging ahead!
I said, "What? There is no aggregate in slate!" But sure enough, there it was, especially where I had been using a mechanical stripping method. She said, "I told you the 'slate' on the front porch (the same stone went all the way to the front porch and landing) looked totally different." The stone on the porch was very weather-worn, and aggregate was showing everywhere indicating that it was indeed a precast type of material.
…If only I had listened better or been slower to prescribe the remedy, or actually paid closer attention to the stone out front (and my wife). But hey, I was the one with all of the experience, right?
I had the experience, just not the smarts to slow down and smell the roses, or in this case, precast stone made to look like slate!
Having been in this industry for so long, I do have a network of industry peers to reference, and believe you me, I did just that! I finally talked to an old friend who happens to be the owner of a precast materials company. He told me that the white film I was attacking with the paint stripper was more than likely a type of gelcoat material that was resisting the stripper. It was this gelcoat that gave the surface of the precast stone its slate-like color and appearance.
So now that we knew there was no stripping this ugly mess off the surface of the stones, we had to develop a completely new strategy for successfully completing the project.
We tested with dye and sealer, and tested some more. We knew we had to restore the original charcoal black color to the stone in order to satisfy the owners. We finally settled on an achievable solution by painting the stone with an enamel floor paint, and then sealing both the stone and grout with a durable, water-based acrylic designed for pavers.
The problem with this scenario was that we had to hand-paint each stone while trying to keep the grout clean. It took time, but we were able to accomplish this feat. Once the several coats of paint had dried overnight, we came back the next day and sealed the floor twice with the acrylic sealer.
This was one of the biggest blunders I can remember making, but all is well that ends well. I will say that the project turned out quite nice and the owners were very happy with the results. We gave them proper maintenance products and instructions before we pulled out of the driveway, hopefully for the last time – at least work-related, anyway.
Sooner or later, we will all run into that nightmare project that catches us by surprise. In my case, it was complacency and over confidence that were my downfall. So, I cannot stress enough: always submit a test area to confirm the results and procedure before general application, and please consult your distributor for direction, products, and technical support.
Bob Murrell has worked in the natural stone industry for over 40 years and is well known for his expertise in natural stone, tile and decorative concrete restoration and maintenance. He helped develop some of the main products and processes which revolutionized the industry, and is currently the Director of Operations for M3 Technologies.