How Are Trends Built?
Michele Farry

Humblestone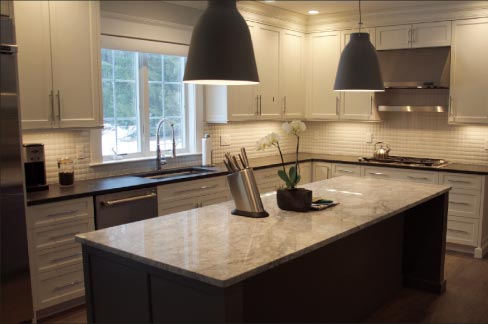 New 3D tile trend by Ann Sacks: "Context Pillowed."
Backsplash Installation by Humblestone.
Location: Metro West Boston, Massachusetts.
Builder: Morrell Construction Inc.
We have covered a lot of ground in the past few months in the articles "So You Think You Know Your Customer" (February 2017), "What Can Your Customer Profile Tell You" (March 2017) and "Stacking Up Your Competitors and Understanding Your Market Position" (April 2017). Measuring successes and setting goals while moving forward in the stone and tile industry requires establishing the basics of knowing your customers, competitors and market position. All too often, these structures in a business can be overlooked.
In this article we will slow the pace down just a bit, hone in on the different market positions in the coming articles and expand on the basic chart from last month's article. I interviewed two experts on being a trendsetter, and to help elaborate further, how trends are created in the industry.
It's amazing to see how new fabrication and installation technology advancements in tooling, setting materials and products can be game changers for what some businesses can offer in keeping with trends. Companies have asked me, "How do trends develop in our industry? How can we balance being on trend and anticipating how the trends will affect our current business?"
I asked Megan Lamontagne (B.F.A in Interior Design, Pratt Institute), Interior Designer at Phase Zero Design about who the trendsetters are, and she explained the process.
"When designers, manufacturers, fabrication and installation companies collaborate, you get a trifecta of experience and knowledge that can make very specialized designs become more easily replicated. These are the companies that are in trend market position.
The vision, the product and the installation all come together so that custom designs or market trend can be more easily replicated ultimately than creating design trends. Because of the profitability and public exposure in the commercial industry, it often is the driving force behind design trends. I see a lot of different stone and tile products from a variety of manufacturers. To keep up with the demands of the commercial industry it is my job to seek products that can tell my client's story. A lot of times this means creative manipulation - testing manufacturer's limits on color, shape, size and installation techniques. While manufacturers develop materials and technology, successful product is also limited by the installer's capabilities with tools and experience with the materials. Great product without great installation, and vice versa, does not effectively meet the customer's needs."
Understanding that some stone and tile fabricators are the trendsetters and some are following along with the trends, either way it can be challenging to have access to the tools needed at an affordable price. Manufacturers of tools are trendsetters too.
Ben Harris, owner at AccuGlide Saws explained the market trend perspective as a manufacturer of tools and supplies. I asked Ben, "How do you anticipate new trends and apply them to the marketplace needs with the products you sell?"
Ben said, "For us it's phone conversations with fabricators, in person, conversations at trade shows, and trade journal articles. These all help build a picture of what's current and what trends are soon to hit. We've found the most important conversations come from fabricators in metropolitan regions who tend to lead with material selection and a desire to keep up with designers and architects. As a machine manufacturer, knowing early is key in developing tooling, machine improvements or new machines to help customers embrace new trends, rather than shy away from them."
I asked Ben, "I understand you see clients that specialize in urban and commercial applications and materials adapting the trends first. How do you see it trickling down to more residential stone and tile providers in time? In this process, do tools and supplies become more affordable to meet the demand of new trends and more attainable by smaller stone and tile businesses?"
Ben responded, "Our customers who are focused on commercial work are definitely exposed to new trends first. A fabricator that generates the majority of their business in the residential market will want to keep a close eye on what is being offered in the commercial market and not be hesitant to offer their clients similar options. A past example of this would be the mitered edge detail as well as a variety of Quartz and Sintered Porcelain surfaces — all built traction in the commercial market first. Nothing is worse than a client coming into your showroom and requesting a specific edge detail or material, and you have no idea what they are looking for or how to meet their request.
"From a tool standpoint, we are very hands-on when it comes to a company calling in with a need. The faster we can develop and test for a new application, the lower the machine or tooling cost will eventually be to our customers down the line."
We can learn a lot about what trends the early adopters embrace—what need are these trends filling, and what will the demand create for new potential revenue streams. It is very exciting to see how the trend market position affects the push and the pull market positions. We will discuss this in more detail in June. Have a great month!
Michele Farry co-owns Humblestone and is passionate about entrepreneurship and small business growth. Michele has received awards for her work with profit-based and non-profit charity organizations.