Tools to Keep Installers Safe
Jessica Sherwood

Omni Cubed
"We were very excited to finally find stone installation tools that actually make the installation process easier and safer, which boosts employee morale. The Aqua-Jaw clamps are easy to use and an invaluable addition to the install crew. We have done several episodes of the DIY show Kitchen Crashers, and have had many compliments on how professional we look with these tools!"

— Mario Lemoncello, Top Installations, Inc. Chicago, Illinois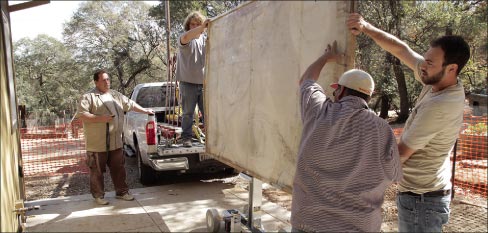 No strain, no pain! The Pro-Lift Automatic by Omni Cubed assists in the easy removal of a large slab from the A-frame cart in the truck bed.
Photo courtesy Omni Cubed
The human body is not designed to bear the weight of a 6-foot island, no matter how tough or strong a person is. With the increasing popularity of large, elaborate kitchen islands and bathroom walls, tools that ease the burden of heavy lifting are critical to worker safety, employment longevity, and quality of life.
When moving hundreds of pounds of fragile, expensive stone, even just a few feet can be a daunting and dangerous task. Transport carts and dollies with clamping capabilities greatly reduce the amount of time that workers have to manually transport stone and other heavy materials. Every second that a person's hands, arms, legs, and backs are not bearing that weight, greatly reduces the potential for injury. Lifting carts are relatively new to the stone installation scene, but have been monumental in the reduction of labor and back strain for installers. Unloading, lowering, transporting, and lifting heavy countertops is much safer for workers with the assistance of a lifting cart. Installations can be completed more safely, and with fewer people per job than ever before.
Carrying clamps are typically thought to be more of a convenience than a safety tool, but consider what hand-carrying entails: Workers have to bend close to the ground, manage to get one hand underneath a heavy piece of stone, stabilize the top weight with the other hand, and lift the piece several feet off the ground while bearing most of the weight on just four fingers — and that's just to pick the thing up!
Several problems arise from this method: 1) Unfinished edges are very sharp and can easily slice bare hands; 2) The weight of the stone can injure or fracture fingers; 3) Not being able to use thumbs for gripping decreases leverage and control;
4) Stooping or bending to lift heavy objects can lead to back strain and injury; 5) Carrying stone higher off the ground is overall very dangerous due to the greater potential for damage and injury when it's time to set the piece down. Carry clamps offer better weight distribution and allow workers to lift stone just a few inches from the ground which creates a lower, safer center of gravity, while keeping their backs straight and maintaining better control with a secure, ergonomic grip with both hands.
Even with the right tools, countertop fabrication and installation is no easy feat. However, if provided the right tools and instructions for proper use, workers can significantly improve their quality of life and prolong the number of years they are able to perform their job. Omni Cubed, Inc. designs and manufactures several tools that help make this tough job much safer and easier—in stock now at Braxton-Bragg. Learn more about tools that can help you increase safety and productivity at omnicubed.com.